Japan's Disgraced Olympus Says May Rehire Ex-CEO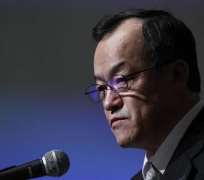 Japan's disgraced Olympus Corp said on Thursday it would consider reinstating Michael Woodford, the British chief executive it sacked two months ago and who blew the whistle on a fraud that has left it weakened and in need of fresh capital.
Woodford's return would mark a dramatic climb-down by the existing board of Olympus, which had unanimously fired him in October after he had queried the firm's dubious book-keeping. The firm later admitted to uncovering a $1.7 billion fraud.
"On what will happen to Mr Woodford, it is certain that he is among the options," Shuichi Takayama, president of the maker of cameras and medical equipment, told reporters in discussing the board's options for choosing a new CEO.
But there remained serious doubts whether Woodford would indeed be chosen against other candidates for his old job.
Takayama, currently the most senior executive after several resignations since Woodford's departure, said he had no plans to meet the Englishman, who some big Japanese shareholders and lenders privately oppose, according to a banking source.
"As of now, I have no plans to meet," he said.
Takayama has said that he and fellow directors will resign soon, to make way for an entirely new board to be elected by shareholders at a meeting to be held in March or April, and that the board wants to choose its successors before it quits.
Woodford, however, has attacked the existing board as lacking all credibility, saying it has no right to choose its successors. He is assembling his own team of candidates for a new board with himself at the helm as nominated CEO, a move that raised the prospect of battle for control of the company.
In a comment likely to antagonize Woodford further, Takayama added on Thursday that some existing directors might not resign after all. So far, only a few directors have quit, including the former chairman, and the head of internal auditing.
"There is no need for those who are not found responsible (of wrongdoing) to resign," he said.
NEED FOR FRESH CAPITAL OR TIE-UPS
The next CEO and board of Olympus faces major challenges, starting with a need to repair the once-proud firm's balance sheet, which was revealed on Wednesday to be $1.1 billion weaker than had been previously disclosed in its fraudulent accounts.
Olympus shares slumped almost 20 percent after Wednesday's corrected accounts were published, with investors now concerned it might need to merge, sell assets or raise fresh capital.
Takayama said on Thursday the company was considering capital and operational tie-ups, among other options, to relieve the pressure on its balance sheet, which was shown to have a very thin layer of equity remaining after the restatements.
Olympus forecast its troubled camera business to make a loss in the current financial years, but said unit sales had grown 15 percent in the six months to end-September, from a year earlier.
The firm, whose main income-earner is its very profitable endoscope business, avoided automatic delisting from the Tokyo Stock Exchange by meeting Wednesday's deadline for producing its overdue second-quarter accounts, giving some initial relief to investors who had feared it might miss the deadline.
However, the 92-year-old firm can still be delisted if the exchange believes the accounting deceit was grave enough.
REUTERS