ETISALAT PARTNERS WITH SAMSUNG GALAXY NOTE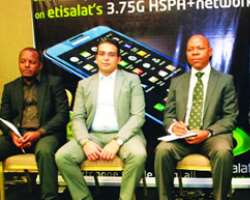 L-R: Head, Marketing & Products HHP, Samsung, Mr. Jude Omozegie; Chief Commercial Officer, Etisalat Nigeria, Mr. Wael Ammar;  Director, Products and Services, Etisalat Nigeria, Mr. Lucas Dada; and West Africa Regional Director HHP, Samsung, Mr. Fady Khatib, at the launch of Samsung Galaxy Note at Four Points by Sheraton, Oniru recently.
Photo: Sun News Publishing
More Stories on This Section
In an impressive show of business savvy and style, Etisalat and Samsung unveiled the new Samsung Galaxy Note into the Nigerian mobile device market. This makes Etisalat the first network to launch the Samsung Galaxy Note in Nigeria and Samsung opted to partner with the company in recognition of the value they bring to the telecommunications circle in the areas of innovation, quality of service and customer focus.
Samsung Galaxy Note is a high-end device, running on Android Gingerbread Operating System, designed to perform pocket digital assistance functions for downloads of applications, e-mails-at-a-go, editing-at-a-go, amongst other unique features.
The new Samsung Galaxy Note, which is exclusive to Etisalat and comes with a 12- month free bundled data and voice plan, combines all the functionalities of a personal computer and a mobile phone with features such as the Samsung Smemo (allows you create and edit documents and content on-the-go), Samsung Apps store, Social Hub (allow setup of multiple email, PIM & instant social networking solutions), Readers Hub (allows downloads and access to free and premium books, magazine and news content), The device also include Google Mobile Services(Android Market Place, Gtalk, Gmail, Latitude), a 5.3 inch HD touch screen, accelerometer functionality, WIFI functionality, WIFI hotspot, document creator and viewer etc.
Etisalat Chief Commercial Officer, Wael Ammar explained that the introduction of the new device in partnership with Samsung Electronics West Africa is a further entrenchment of Etisalat's position as a leader in the delivery of innovative services and world-class products. According to him, 'Etisalat thrives on innovation. We are happy to be the first network in Nigeria to launch this device to the Nigerian market because we always look for new opportunities to help us deliver unique products and services to our customers'.
In his opening remark, the Regional Director HHP, Samsung Electronics West Africa Nigeria Mr. Fady Khatib, said 'the Galaxy Note is a new concept in the Smartphone world; it is a TabletSmartphone. ?This new category is created by Samsung and it falls in between tablets and smartphones. It has all the benefits of a tablet with the freedom and functionalities of a Smartphone. The Galaxy Note comes with an S-Pen, which is imbedded into the body of the device maintaining its chic and stylish look.
With the S-pen the user will experience an optimal usability not yet experienced on other devices. Forget the old writing pads and diary, the Galaxy Note introduces a new concept for digital writing and drawing with its unique S-Pen experience'.
The Samsung Galaxy Note comes with an Etisalat SIM card which offers 100MB data access and call rates of 20k/sec to all national networks with no access charge every month for 12 months. Subscribers begin to enjoy all these freebies as soon as they purchase the Samsung Galaxy note and subscribe to the Etisalat bundle.