Jonathan Parleys Civil Society On Deregulation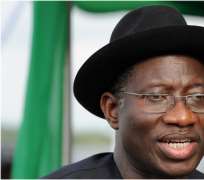 President Goodluck Jonathan has met with leaders of civil society organizations in Abuja, where he promised to undertake the deregulation of the economy headlong, saying that he is dodging a clear option of borrowing, which according to him will make life more  difficult for future generations of Nigerians.Huhuonline.com http://nigerians.huhuonline.com/ can report.  
  'The policy of deregulation was not aimed at punishing Nigerians but to create a conducive environment for private investment to develop and modernize the downstream sector of Nigeria's oil industry', he said.  
  The President said although Nigeria became a crude oil exporting nation since 1958, it has failed to add value to the sector, explaining that export of crude oil means that Nigeria has shifted job creation in the downstream sector of the oil industry and the real value of our oil resources to foreign countries which buy our crude and export refined products at 3 or 4 times the cost to other countries.   
  'Between 1958 and now, Nigeria ought to be a major exporter of refined petro-chemical products to the rest of Africa and the world.  This has not happened because government has insisted on controlling the sector to the detriment of its growth and expansion. 
 
  'Government has given twenty licences to private investors since 2000 who want to set up refineries and employ Nigerian youths, but which have not taken off because of government price control mechanism', he noted.  
  He pointed out that 'the situation we now face is that following the discovery of crude oil in neighbouring countries of Ghana, Benin Republic, Chad and Niger, the private investors who have been waiting for policy reforms in Nigeria are now shifting base to go and set up refineries there.  So if Nigeria does not act quickly by deregulating the downstream sector, we will soon face the embarrassment of importing refined products from Niger or Ghana into Nigeria.'  He however described this option as unacceptable because Nigeria has been an oil producing nation more than fifty years before those other countries.  
  President Jonathan urged the civil society organizations to appreciate the urgency of reforming the oil sector in order to open up vast new opportunities for Nigeria's school leavers and population of unemployed graduates to be employed into the new refineries and petro-chemical industries that will emerge after deregulation.  
  While assuring that government is working with private sector groups to establish three new refineries which will refine 400, 000 BPD (Four Hundred Thousand barrels of crude oil per day) into finished products for domestic consumption and export, he explained that 'We said if we add these three new refineries which will be located in Kogi, Bayelsa and Lagos States to the three existing refineries, which are already being rehabilitated by their original builders, Nigeria will, before the end of his administration, become a major exporter of finished products.'  
  The President, who said 'this will earn more revenue for Nigeria and create opportunities for employment of our youths, which is a major priority of his administration urged the civil society groups to carefully re-examine the difficult times we are in, particularly given the very low capital budget of 24 to 26% which government has in recent years been left with.  
  He said currently, the entire capital budget is borrowed, including part of the recurrent budget which makes it impossible to deliver on the major infrastructure projects such as power, railways, major road networks and the dredging of the River Niger which are meant to reposition the country for rapid development and job creation.  
  'What his government has decided to do is to deregulate the downstream sector of the oil industry and other sectors of the economy in order to attract ongoing capital outflows from Europe and Asia where investors are heading to Africa to set up shop. '  
  He said his administration is doing the same thing the Chinese did in 1978 in spite of domestic opposition by deregulating the Chinese economy, adding that because of that singular act, China has overtaken all those countries which failed to reform and has been able to take 300 million Chinese out of poverty in thirty years.  
  'Rather than allow the price control mechanism and wrong government policies to block the economy from developing, government has decided to embark on a wholesale review of these policies in order to modernize and transform the Nigerian economy to create jobs for our teeming young school leavers and prosperity for all our citizens.'  
  The President stated that he was 'encouraged to embark on this policy reforms following the clear success stories of similar deregulation of the telecom industry, aviation, and cement production which have over the last ten years grown from strength to strength and employed hundreds of thousands of young Nigerians following those reforms.'  
  He said 'government realising that the initial period of deregulation of the downstream sector of our oil industry will lead to increased cost in fuel price, has embarked on a programme of carefully selected social relief interventions to ameliorate the impact on the vulnerable sections of the Nigerian population.'  
  'The first is that, the NNPC will increase its stock of fuel availability and participate actively in fuel distribution in order to moderate profiteering in the initial stage of deregulation. As free marketers set up their refineries and bring in their fuel to compete with one another, prices will eventually come down and stabilize thereby removing all future scarcity of fuel products which occurred due to supply fluctuations that resulted from government price control.'  
  The social intervention of the programme, according to the President, will also include massive distribution of mass transit vehicles to transporters across the country at very low interest rate in order to stabilize transport fares, adding that the aggressive rehabilitation of railways which has been embarked upon by his government has already returned regular railway services to many parts of the country including major cities like Lagos, Ibadan, Ilorin, Mina, Kaduna and Kano, just as inter-state train services have also resumed between Lagos and  Abeokuta, Lagos-Ibadan-Ilorin, and Minna-Kaduna-Kano while work has reached advanced stage in the rehabilitation of the rail-line starting from Port Harcourt through Enugu-Makurdi- Lafia-Kafanchan-Jos-Gombe to Maiduguri.  
  'Government will use part of the proceeds from deregulation to complete the rehabilitation of railways in order to guarantee the masses cheap transportation for both goods and persons across the country. '  
  T he President further said the government is targeting the production of about Four Hundred and Fifty Thousand metric tonnes of rice from irrigation projects in existing dams located in parts of the country, noting that the intervention in agriculture alone is expected to create millions of new jobs for young Nigerians in the coming years following deregulation of the economy.  
  He therefore urged Nigerians particularly the civil society and youth across the country not to be afraid of the future but to rest assured that this administration is preparing a happy and prosperous future for Nigerian youths, clarifying that in every nation where there is transformation, there must be an initial period of sacrifice but that this sacrifice will surely not be in vain as his administration is determined to move Nigeria to the next level of rapid economic growth and job creation for young Nigerians.