Protests Across Russia To Test Putin And Opponents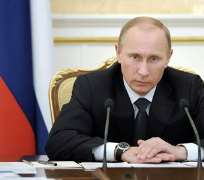 Prime Minister Vladimir Putin's opponents hope to bring large numbers of people out onto the streets across Russia on Saturday for rallies that will test their ability to channel outrage over allegations of election fraud into a powerful protest movement.
Demonstrations in dozens of cities, from Kaliningrad in the west to Vladivostok on the Pacific coast nearly 7,400 km (4,600 miles) away, will also gauge Putin's tolerance for pressure from the streets.
The parliamentary election last Sunday, in which his ruling United Russia party won only a slim majority in the State Duma lower house, showed growing discontent with his rule and the political system he has dominated for 12 years.
"People will come out tomorrow ... because they are sick of the party of swindlers and thieves," said Yevgeniya Chirikova, a prominent activist and one of the organizers, using a popular label for the ruling party that has spread on the Internet.
The protesters have permission to stage a big rally in Moscow. But police, whose show of force doused protests after a rally on Monday turned into the biggest opposition rally in the capital for years, have vowed to stamp out any illegal actions.
This has increased investor jitters about political stability before a presidential vote in March which is expected to return Putin to the Kremlin.
Opinion polls show Putin, 59, is still Russia's most popular politician. He could rule the world's biggest country and energy producer until 2024 if he is elected in March and again six years later, but his authority is now under threat.
The decline in support for United Russia was a sign of frustration with corruption, fears of economic stagnation and resentment over the huge gap between the rich and poor.
Putin's plan to swap jobs with President Dmitry Medvedev next year has deepened feelings of disenfranchisement among Russians who believe they are powerless to influence politics.
Rival parties and politicians barred from the election say even the official result was inflated by violations such as ballot-box stuffing, and allegations of fraud have spread on the Internet along with calls to turn out for protests.
The biggest protest is expected in Moscow. Emboldened by an crowd of some 5,000 at Monday's rally, organizers hope for an even bigger showing on Saturday. By noon on Friday, nearly 60,000 people using Facebook and the Russia site VKontakte had pledged to show up.
In the Pacific coast city of Vladivostok, Artyom Samsonov, a communist elected to parliament, said he and others in his party would protest "in solidarity with the whole country."
"Votes were crudely and cynically stolen from voters and given to United Russia," he said.
Along with a police crackdown on unapproved demonstrations in Moscow this week, Putin has used a mix of threats, criticism and hints of compromise to try to defuse the protests over the election and blunt calls for an end to his rule.
He has accused the United States of inciting protests and said foreign countries were spending hundreds of millions of dollars to influence Russian elections.
Moscow resident Roman, 23, said he did not think the United States had anything to do with the protests, but that he would not join demonstrators on Saturday.
"I don't agree with the election results either, but I don't want a revolution now," he said.
CRACKDOWN AND COMPROMISE
Putin and Medvedev have both said that Russians have a right to protest but only within the bounds of permission granted by local authorities who normally allow demonstrations only at specific locations and limit turnout.
Saturday's protests in Moscow was initially planned for Revolution Square, steps from the Kremlin, where authorities granted permission for 300 people to protest -- a likely recipe for a crackdown if thousands show up.
But city authorities said on Friday they had granted permission for 30,000 people to gather at a less prominent, and less symbolic, location across the Moscow river from the Kremlin.
Putin may hope to show his government will tolerate peaceful protests within the limits it sets but will crack down on anyone who ventures outside those boundaries. Some Putin foes vowed to protest in Revolution Square as planned.
Some Russians oppose the protests. Yelena Kislyova, a 42-year-old woman in the Ural Mountains city of Yekaterinburg, said protesting the results of the vote was like "raising your fists after the fight is over."
"I am categorically against any protests," she said.
Investors are asking whether Saturday will be a bump in the road or a sign of growing instability. That uncertainty contributed to sharp declines in the value of Russian stocks and the rouble on Friday.
"Domestic factors could improve after this weekend if we see the opposition movement pass without any major force," said Nikolay Podguzov, head of fixed income strategy at VTB Capital.
China, Russia's huge neighbor and frequent ally at the U.N. Security Council, showed where its sympathies lie. Organisers of China's Confucius Peace Prize awarded it to Putin, praising his opposition to NATO air attacks during violence in Libya.
REUTERS