I'm a dress person----Rukky Sanda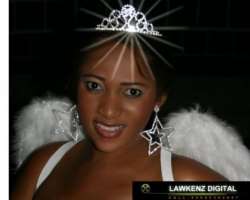 My Louis Vuitton bag is pretty expensive too
The most expensive item in my wardrobe is my Louis Vuitton bag.
My Favorite designers are Gucci and Louis Vuitton.
I love MAC make-up brand:
It is the perfect make-up brand for me.
My hair routine:
I retouch once every three months with designer touch hair kits products.
My favorite hair product is Remy hair and Pantene Pro –V. It nourishes my hair and makes it stay beautiful.
I'm not a make-up freak but…
I don't wear make up regularly except I am going out or working. But if I must, I go very simple with just a touch of lip-gloss and mascara.
I love COCO and Cascade
My favorite perfume is COCO Mademoiselle by Chanel and Cascade by Chopard.
Beauty ritual
Honestly, I don't have any specific beauty ritual but I make sure I take my bath twice daily and I visit the Spa at least once a month for a more glowing and radiant look.
I'm a dress person
I am neither a trouser nor skirt person because I love dresses. I can describe myself as very feminine so I am more of a dress person.
Oldest item in my wardrobe is…
Right now the oldest thing in my wardrobe should be the vintage purse I took from my mum.
Story by http://nollywoodgists.com