ROBBERS CHASE OUT ACTRESS BENITA NZERIBE FROM HOME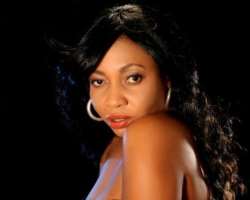 Not too long ago,Benita Nzeribe was reported to have been robbed on her way back from location in Kaduna which she bluntly came out to debunk,but before that,you may recall that months back,the Coordinator,Anambra State Center for Integrity and Development in Nigeria,was assailed by a set of hoodlums where her Range Rover Suv was snatched from her.
The latest news about the sexy actress is that she has been sent out of her abode at Lekki Phase 11 by men of the under world without taking a pin.
According to a close friend of Benita who revealed the secret to us,Benita received the unwanted visitors at the said abode in Alfa Beach Road,Lekki before Chevron round about one night where her goods were taken away from her with lots of money.
This,we scooped,made her not to think of it twice before she got a much secured area in Ajah Lagos.