Uche… It's sexy, playfully cool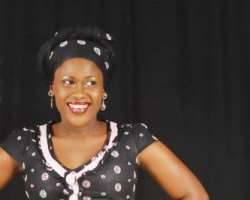 SHE's got everything working for her: a scriptwriter, actress and now, a producer. Uche Jombo is, indeed, one of Nigeria's favourite actresses and well-dressed celebrities. Over the years, the curvy, pear-shaped actress has stood out in the movie and fashion world with her talent and style.
Recently, the beautiful stunning celebrity shed a whole lot of weight and revamped her style to earn a trendier look, which fashion experts and writers have applauded.
From her trademark cropped jacket and suspender to classy, simple and sophisticated look, Uche has been able to prove she knows her body and how to dress it.
Let's help you achieve her perfect style
We all want to look our best at all times, no matter our budget or personal style. Follow the tips below and adopt them as appropriate to define your look and personality.
Work with proportion
Your clothes may fit properly, but if you do not get the proportions right, you will still be off the mark. Choose looks that are either 'short over long' or 'long over short'. Whatever body-shape you have, let your outfit fit well. For instance, petite people elongate themselves with a slim cut; for slim hips wear straight leg trousers/skirts and avoid flared ankles. For curvy hips balance them out with an A-line skirt, not a bias cut. To hide hips, wear flared trousers and a classic cut top; wear a blouse with a short skirt or a trim jumper with a long skirt. Heels are always slimmer; wear the right jacket, length and bulk, for they are important here.
Rock it high
There is nothing sexier than a great pair of high heel; that is, if you can master walking in them. Heels are always slimmer. When it comes to shoe designs, Uche says, "I think it's the new BCB generation, I love the heels."
Simple and sexy
Uche's style is all about simple, comfort and sexy clothes. Lots of simple dresses with very little embellishments. This style is all about showcasing the body; so, fit is important. She says, "my style is sexy and playfully cool; I don't like too much drama dressing."
Opt for Little Black Dress
LBD has over the years become the epitome of timeless fashion — the answer to every lady's question of 'what should I wear to...?' This fashion piece has not changed; rather it's the height of style and elegance. No wonder, Uche considers it her favourite. "The Little Black Dress because it's always handy," she says.
Experiment with scent
Over the years, Uche has not been known with a particular scent, because she loves experimenting with different makes. In an earlier interview, she admitted her love for mixing different fragrances to get a unique smell. "I don't have any signature scent. It is boring to have one, when you can always change and smell different everyday. But I love Flowerbomb by Viktor and Rolf."
Let the designer work the curve
"Locally I love any designer who can work the curves, internationally it has to be Stella McCartney, I think her designs celebrate and flatter a woman's shape," says Uche.
Your make-over
When it comes to make-up, Uche cannot leave the house without her lip-gloss and Iman powder. She adds, "I love Iman because it is good on black skin."
Invest in quality fabric
Like aphorism, "you get what you pay for," which is the gospel of fabrics. Cheap fabrics tend to be less flattering while higher-quality fabrics look better, last longer and hold their shape."
Confidence is key
One thing about celebrities, especially the well-dressed ones such as Uche, is, confidence. Some of the most attractive people in the world are not always the most fashionably dressed, yet they radiate self-assurance that makes them noticed. While you can easily lose your poise if you are not comfortable in what you're wearing, the right clothes can lend you some of your attitude. The rest has to come from within.
Create a signature look
Uche has rocked it all, from long hair to short, dread, bald, weaves, just name it. Years back, cropped jacket and suspender became her style signature, though, as she grew older, her style changed. You can create a signature look that is bold or subtle, such as always wearing something lavender or a stack of bangles. Repetition isn't boring—it is the mark of a confident woman who knows what she likes and what suits her best.

Choose the right shade
The shades of colour that suit you depend on your skin tone as well as the colour of your hair and eyes. Don't go overboard—stick to a maximum of three colours in any given outfit. Any more, the colours lose their punch.
Wear it wisely
The most sophisticated way to wear jeans to work is to pick a trouser cut in a dark rinse. Wear them with a jacket, a refined top and heels or flats. The best way to wear a colorful pair of jeans is to make them the standout piece in your ensemble. The rest of the outfit should be neutral and simple.
Dress up pants
When it comes to dressing up a pair of pants, simpler shapes are often better. Sleek black pants or a pair with tuxedo stripes are good for the evenings. Add shimmer and femininity with metallic, beaded or ruffled tops.
Invest in chic bags
Classic handbags are worth their hefty price tags because you can carry them for years. You can stay your basic shades, but also try one in a bright colour; if well crafted, a bag is ageless, timeless and fun.
Build core wardrobe
Build a simple core wardrobe and also experiment with inexpensive, trend-driven items.
Invest in quality pieces
Just like Uche, establish a lasting wardrobe of the best basics, investing in the highest quality you can afford. Play with your accessories, but also collect some real jewelry as well.
Know your body shape
Pear shaped women should love vertical lines, V-necks and skirts with slits up the side. Straight or A-line skirts to just below the knee. Dark tights and shoes with colour or pattern in a blouse or top; tops should hang past the hips. Classic cuts on top in lighter colours draw the eye away from the hips. Accent the V-neck with a V or Y- shaped necklace.
Dress to suit your personality
Whatever style you choose — accessorise and clash a little, but keep it feminine — take advantage of the wonderful high street fashion, stunning yet simple. Experiment — taking the contemporary fashion and adding a dash of your own personality to spice up things. And if you want go with Uche's style, then opt for sensual fabrics, a splash of colour and scent.
Know the right accessories
Uche loves simple detailed accessories. To get her look, know the right accessories for you. For instance, V and Y — shaped necklaces draw the eye down, round necklaces fill the neckline while ultra long earrings elongate the neck. A long, trailing belt elongates the legs, cocktail rings add fun and colour and a bit of sparkle to a casual outfit. A matching jewelry brings an outfit together. More so, just like a few celebs, Uche is a lover of wristwatches. She discloses, "my favourite accessories is wristwatch because I like to know the time. I love Cartier.'