DANGOTE CEMENT CREATES 7,000 JOBS AT NEW IBESE PLANT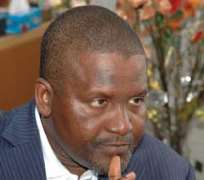 • Dangote
About seven thousand job opportunities are now created, as the new six million tons per annum Ibese plant of the Dangote Cement gets ready for commissioning.
President of Dangote Group, Aliko Dangote, has disclosed, saying the opportunities would come both through direct and indirectly jobs. He promised to continue to lead other investors to ensure Nigeria becomes an industrial giant that is self-sufficient in production, rather than being a leader in importation.
Dangote assured that with his group's massive investments in the cement production, not only will Nigerians enjoy reduced price stability, the nation will also become exporter of the commodity to other countries.
He told newsmen after he conducted the Ogun State Governor, Senator Ibikunle Amosun, round the six million tons per annum capacity cement plant in Ibese, near Ilaro in Ogun State, that his continuous investment in Nigeria and the rest of Africa was borne out of the fact that the country was a fertile ground for investment and that no one outside Africa would be genuinely determine to develop Africa except African themselves.
He explained the efforts put into the multi million dollars plant as worthy when perceived from the standpoint of the fact that there is the need for job and wealth creation in the country adding that these two critical necessities could only be achieved through manufacturing.
The Dangote President pledged that he would look into other areas where the group could further create jobs and wealth for the citizenry saying agriculture holds the ace and that he has invested in some other areas in agriculture like fertilizer, to help the farmers and to provide jobs while striving to create an industrial giant nation through investments in manufacturing.
Alhaji Dangote appealed to the state government to help in the provision of security for the investments saying though the host community of Ibese and others have been very cooperative, government should help in putting in place security arrangements for the business to thrive. In his earlier presentation he said Dangote cement has become the largest producer of cement in the country, saying that the journey to self-sufficiency was almost completed with the Dangote Benue and Obajana cement plants already in full productions.
He disclosed that the national consumption hovered around 18 million tons per annum and that by the first quarter of next year, all the cement companies in the country would have been producing up to 20 tons per annum with the Dangote cement accounting for over 70 per cent of it.
Governor Amosun stated that citing the companies in Ogun state was not enough but ensuring that all employees who reside in the state but work in other states pay their taxes into the coffer of Ogun state government, so that the state government could meet its obligations to the citizenry whether corporate or individuals.