EXPLOSION ROCKS KADUNA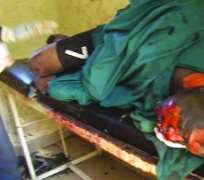 Barely 24 hours after the Arewa Consultative Forum (ACF) held a two-day peace conference on the way out of heightened insecurity especially in the North, a devastating explosion yesterday killed seven people in Kaduna metropolis.
The blast occurred at 9.am. The inferno from the explosion razed several houses and shops at Ori-Apata, a highly populated commercial/residential area.
Eyewitnesses who did not rule out bombing by the Islamist sect, Boko Haram, said they saw two men riding on a motorcycle near the scene and that one of them was killed in the explosion.
They claimed 15 people might have died but the police were yet to ascertain the death toll by Press time.
When Daily Sun visited the area yesterday, charred human bodies littered the place, just as fire fighters battled to put out the fire to no avail.
Several vehicles parked within the area had their windscreens and other parts smashed as a result of the heavy impact of the explosion.Law enforcement agencies cordoned off the place, barring sympathizers from getting closer to the scene.
It was also observed that before noon yesterday, Red Cross and National Emergency Management Agency (NEMA) officials had recovered over seven bodies from the rubbles. but eyewitnesses said over 15 people were killed even as the police refused to give the exact figure of casualties.
Eyewitnesses said it was a bomb blast as its sound was deafening with quick impact that set many houses and shops ablaze immediately after the explosion at about 9 am, but police said that they were still investigating the actual cause of the incident.
Unconfirmed report said two persons suspected to be members of the Boko Haram rode a motorcycle to a nearby shop in the area and dropped the alleged bomb which killed one of them as it exploded while his accomplice sustained injury and was rushed to an undisclosed hospital by sympathizers.
But the state government, through its media spokesperson, Reuben Buhari, said 'it was a cylinder of gas that exploded and moreso that the shop-owner, we understand, was selling motor batteries. But we are appealing to people in the state to remain calm as security agencies are on top of the situation.' Several other victims who were injured had been rushed to Saint Gerald Catholic Hospital as well as Rekiya Memorial Hospital and other clinics within the city.
'The kind of sound we heard was not a small thing, just this morning at about 9 am we heard a loud noise, and all of a sudden, several houses and shops went up in flames,'an eyewitness, who simply gave his name as Uche, said.
Another victim, who could not give his name said amid tears rolling down his cheeks: 'All my family, my wife, my children and my father are trapped in the burning fire, it is bomb oh! it is bomb oh!!. My workshop is close to my house here. My own don finish oh!' According to the state Police spokesman, DSP Aminu Lawan, 'The emergency agencies are still working and we cannot give any figure of casualty now until they come up with the figures.
'We cannot also say it is a bomb until we finish our investigations because that will amount to jumping into conclusions because people who have shops there sell batteries, generators, gas and other things capable of causing explosion, so for now, it is an explosion.'Our bomb experts are already trying to establish the cause of the explosion and until investigations are concluded, we cannot say precisely that it was a bomb explosion.'
Also, the state Coordinator of Operation Yaki (security outfit of Kaduna State), Colonel Dangana Mamman (rtd) said: 'We need to be very careful ourselves; we must make sure that we comb our environment personally. Like what has happened now, it is from somebody's shop. He came in the morning, opened his shop and this thing happened; I cannot imagine that somebody threw something. The allegation that people came on a bike is still an allegation yet to be confirmed. This thing was inside the shop, the explosion came from the shop. It is an explosion I can confirm.'
The Acting Zonal Co-ordinator of NEMA, North-West, Musa A. Lailah, said: 'Reports reaching us said there was a bomb explosion and I contacted all the stakeholders, the Red Cross, Civil Defence, FRSC, and we ran here to provide the needed assistance and see what prompted the incident. As at now, we don't know the number of casualties but I can assure you that there are some deaths.'
The Eze Igbo-elect, Chief Sylvanus Aneke, visited the scene and addressed the Igbos operating shops in the area.
Aneke called on the Igbos to remain calm and be law-abiding, pleading that the government would come to their aid. Here are some eyewitness accounts:
Emeka Udoji
I came this morning (yesterday) and just about to settle down for business and I heard a loud blast. I sell motor parts. The blast happened at the back of my shop. There are people living there, no one sells batteries or gas cylinder around here. From my experience and what I saw there is nothing like explosion of gas or battery, this is a bomb explosion.
Abdulwaheed Oyewumi
I am a mechanic around this place, from my shop, I saw somebody running and burning and people started pouring water on the man, so we ran to discover that some shops were in flames shortly after we heard a sound of explosion.
Fabian Ozochukwu
One of the bombers on the bike had his body burnt and ran down there I don't know whether he died or not, I can't tell. There were two people riding a bike, I was outside chatting and they were carrying something and that something they were carrying exploded more than five times. There were about four or five generators around there, so, immediately the thing exploded, the generator exploded also. They were passing and the thing exploded on the bike.
Hycent Nwafor
My shop is adjacent to the place that the explosion took place, I sell spare parts. We just heard a loud voice and all of a sudden, we started seeing fire and smoke everywhere. I cannot confirm the number of casualties now, but so many people died. Some of the victims were evacuated to the hospital I was told. There was no explosive in the shops.This happened in front of my shop though I cannot say precisely the exact time but it was in the morning. About three people died.
Meanwhile, President of Christian Association of Nigeria, CAN, Pastor Ayo Oritsejafor, has urged the Police to get to the bottom of the incident and allay the fear of Nigerians that the explosion was not the handwork of religious bigots.
Oritsejafor, who was in the Kwara State capital, Ilorin, for the second quarterly meeting of Nigeria Inter-Religious Council meeting on Tuesday, said the security agencies must rise above religious, ethnic and other primordial sentiments to demonstrate their avowed neutrality to the whole world that they are not part of a grand design by a clique who are bent on destabilising the nation on the altar of a particular religion to the disadvantage of the other.