UPDATE 1-Blast In North Nigeria's Kaduna Kills At Least Six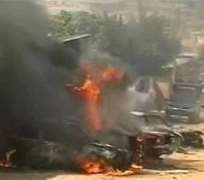 A powerful explosion struck the northern Nigerian city of Kaduna on Wednesday, killing at least six people, eyewitnesses said.
A local journalist contacted said he saw six bodies removed from the wreckage of the blast, which tore down several shops.
Another witness, Shehu Sani, a member of the Civil Rights Congress of Nigeria based in Kaduma, said there were several dead, but did not have a figure.
"There was an explosion in the suburb of Kaduna a few minutes ago. It destroyed buildings, shops. We are seeing human bodies being pulled out by security men. There were ambulances picking up mutilated human bodies."
It was not clear what caused the blast. Police did not immediately comment.
"The National Emergency Management Agency can't estimate a figure of casualty from the explosion in Kaduna as rescue officers are currently collecting mangled body parts into bodybags provided by NEMA," agency spokesman Yushau Shuaib said by text message. "All stakeholders are at the scene."
Security is worsening in northern Nigeria, where various Islamist armed factions loosely grouped under Boko Haram are waging a low level insurgency against the government of Africa's most populous country, a significant oil exporter.
The group, whose name means "Western education is forbidden" in the Hausa language, appears to be growing in sophistication and security officials believe it has made contact with al Qaeda's north African affiliate.
Churches, homes and the police headquarters in the small northeast Nigerian town of Geidam were set ablaze in a wave of night time gun and bomb attacks at the end of last month.
Boko Haram has also struck the capital twice, including a suicide car bombing at the United Nations Nigeria headquarters in Abuja that killed 26 people in August.
On Tuesday a sect member was sentenced on Tuesday to three years in prison for criminal intimidation, while charges against a senator who is accused of working with him were filed in Abuja's high court. (Reporting by Joe Bavier and Mohammed Garba in Kaduna and Tim Cocks in Lagos; Writing by Tim Cocks; Editing by Mark Heinrich)
REUTERS