U.N. Urges Halt To Killings In Yemen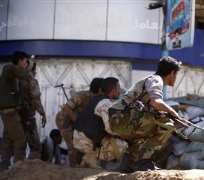 The United Nations called on all factions in Yemen on Tuesday to cease attacks on civilians and urged the government to allow access for aid supplies and U.N. human rights monitors.
In coordinated statements, the U.N. human rights office, the U.N. Children's Fund (UNICEF) and the Yemen Humanitarian Coordinator voiced concern about the deteriorating situation despite the signing of a peace deal nearly two weeks ago.
"We condemn continuing attacks on civilians particularly in Taiz where we are seeing reports that 22 people have been killed in shooting and shelling since Thursday last week (December 1), including two children," Ravina Shamdasani, a spokeswoman for U.N. High Commissioner for Human Rights Navi Pillay, told a news briefing.
"The continued use of disproportionate force by part of the government security forces despite commitments made to investigate serious human rights violations is extremely disappointing," she said. "The killings must stop immediately and we urge all sides to halt the use of violent force."
Forces loyal to outgoing Yemeni President Ali Abdullah Saleh shot dead a woman at a protest march in Taiz on Monday, witnesses and activists said, despite tanks withdrawing under a ceasefire pact.
Anti-Saleh tribesmen brandishing Kalashnikov rifles and members of the Republican Guard, led by Saleh's son Ahmed, were still on many of Taiz's streets, witnesses said.
UNICEF said that its figures showed that 3 children had been killed and 7 injured in the latest round of violence in Taiz, some 200 km (120 miles) south of the capital Sanaa.
"That brings the total number of children killed so far to 138, the majority through live ammunition. This includes bullets, shelling and missile attacks," UNICEF spokeswoman Marixie Mercado said, adding that 568 children had been wounded to date.
"Our youngest victim thus far was 3 months old, killed in Taiz on the first of December," she told reporters in Geneva.
Heavy shelling and street fighting have damaged civilian neighborhoods and forced many residents to flee their homes in Taiz, the Yemen Humanitarian Country Team that links U.N. and other aid agencies said in a statement issued on Tuesday.
"Access to basic social services is increasingly limited and schools and hospitals have been occupied or come under attack by armed forces and armed groups," depriving more than 100,000 children of access to schooling or health care, it said.
"We call upon all armed actors involved in the conflict in Taiz to ensure the safety and protection of all civilians in accordance with universally recognized principles of human rights and international humanitarian law," said Jens Toyberg-Frandzen, U.N. humanitarian coordinator for Yemen.
REUTERS