BIRNIN-GWARI IN RUINS?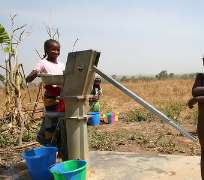 Birnin-Gwari is the commercial nerve centre not only to Kaduna State but to the nation as a whole. Its contribution goes beyond boosting food production and rearing of animals to its people and environs. It is also one of the local governments in the country contributing immensely in generating sound and good revenue to all the three tiers of government.
The people's main occupation is farming, mostly cash crops such as rice, cotton, groundnut, cashew, onion, cassava, yam and milk which come through their rearing of animals mostly cows. The local government has mineral resources in abundance mostly Gold and others.
But despite all these potentials and the peaceful co-existence which made people from different ethnic background to turn the local government as their second home, the local government has been neglected. Apart from the General Hospital built during Makarfi administration, there is nothing to write home about. One of the problem facing the commercial nerve centre that need urgent solution is the dam, which was established in 1975 by the administration of Brigadier-General Abba Kyari.
Since establishment to date, there is been no given time when the silting and evacuation was carried out. This important aspect that was neglected has made it to become a danger zone to the society, through the washing away of farmlands and lives of people of the area during rainy seasons. Another problem facing the area is are the bad roads that have become death traps to the people every given time.
The roads include Kamfanin Doka and Gwaska Goron Dutse Road, which is a link road between Kaduna and Zamfara states. Farin Ruwa-Salauwa Road established by Governor Balarabe Musa administration in 1980 has not been rehabilitated, including Bagoma-Bugai-Dogara roads. Others are Randagi-Kuki (ii), Randagi-Unguwar Kuga Road and Unguwar Ado/Kubau bridge/ Kiobi Roads that links between Kaduna state and Niger and Kwara states respectively.
Rehabilitating the roads will not only boost food production, but will also provide huge revenue generations to both Kaduna, Katsina and Zamfara states as well as federal government in general through transportation of farm products to various markets as well as good transportation between these states. It therefore timely for the administration of Governor Patrick Ibrahim Yakowa to come to the aid of this commercial nerve centre by attending to its numerous problems in order to free it from these menace.
Alkammawa writes from Sultan Bello Road, Kaduna, Nigeria. 07030399110, [email protected]
Disclaimer:

"The views/contents expressed in this article are the sole responsibility of

thewillnigeria.com

and do not necessarily reflect those of The Nigerian Voice. The Nigerian Voice will not be responsible or liable for any inaccurate or incorrect statements contained in this article."
Articles by thewillnigeria.com