THE WORLD'S FIRST WALKING BEINGS ARE AFRIKANS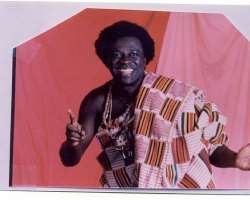 THE WORLD'S FIRST WALKING BEINGS ARE AFRIKANS OR HOW MAMAAFRIKA TAUGHT THE WORLD HOW TO WALK UPRIGHT , c) 2011 by Prof. Afrikadzata Deku, Docteur d'Etat; Doctorat d'Etat (PhD); DESS (M.Phil); M.Sc.; DIPLOME de l'IIAP, (Post-Grad.Dipl ;); BA Double HONS etc, Founder, AFRIKAMAWU MIRACLE MISSION, AMI INC; [email protected],
1. To Spiritual Continental Afrikan Beings living for countless seasons in the Outer and Invisible Space World of Mother Continental AFRIKA, living on Earth as physical Human Beings is not only a miracle of the Invisible becoming Visible, it is also, the birth of the world's first Human Science and Technology in Ancient Continental AFRIKA.
2. For countless seasons, Children of MAMAAFRIKA in their Invisible Continental Afrika learn and master the Power of living as the world's first Human Spirits of all Spirit Beings.
3. For countless seasons, they know and experience only their holy, perfect, harmonious and balanced Spirit World in Holy Continental AFRIKA without Negative Beings like Crime, Sin, Evil, Lack, Suffering and Death troubling them.
4. So, leaving their Invisible Continental Afrikan Abode for an Earthly Continental Afrikan Paradise is therefore not only courageous and revolutionary decisions and acts on the part of our Holy Continental Afrikan Ancestors, it is also the Divine Creation of Human as Spirit Beings in Human Flesh or Body.
5. Without this, the impossible in Life cannot be possible for all Positive Life of all Shapes to enjoy for life.
6. Through this miraculous Human Birth and Development in Holy Physical Continental AFRIKA, the Spirit becomes Flesh for the Flesh to be the Spirit, the living and the dead become one, the Day is the Night for the Night to become the Day, the Invisible becomes the Visible for the Visible to experience also what the Invisible is and vice versa.
7. As the world's first Spirit Beings in Human Flesh turned into the world's first Physical Beings, Children of MAMAAFRIKA know their first sacred task is to give birth to themselves as Spirits in Human Flesh equipped with all they need and want to be Success or failure, Rich or poor, Happy or unhappy, Powerful or powerless, in tune or out of tune to their Divinity and to live in Heaven on Earth or suffer hell on Earth.
8. For three million seasons, Children of MAMAAFRIKA as the World's first Human Beings in the Sacred Garden of AFRIKAMAWU in Continental AFRIKA, master the Power, Duty, Responsibility and Challenge of being a Successful, Well balanced and Totally Whole Human Being.
9. Like their countless season old Holy Invisible Continental Afrikan Ancestors, the three million season old Continental AFRIKAN SPIRIT Human Beings live in perfect and total Peace with themselves and their Environment like the Nose and the Air.
10. From Continental AFRIKAN Spirithood to Continental AFRIKAN Peoplehood, means learning and mastering the world first Science and Technology of Successful Birth Giving.
11. The world's first Science and Technology of Creation of Life by another Creation becomes thus the world's first Sacred Duty for all Creation to honor and ensure their Continuity and Immortality in life.
12. Through the process of DIVINE CONTINENTAL AFRIKAN SCIENCE, TECHNOLOGY AND ART OF DUPLICATION and MULTIPLICATION, Continental Afrikan HUMAN Beings, like their Holy Continental Afrikan Spirit Beings, people the Earth in Continental AFRIKA with countless physical beings who achieve their Perfection and Holiness by living permanently in tune to their Creator AFRIKAMAWU within them.
13. The more they Positively live and stay in tune, they more guarantee they offer themselves as Divine Creation or Manifestation of their Creator AFRIKAMAWU on Earth in Holy Continental AFRIKA.
14. By constantly living in tune to their Divinity which is all Perfection, Immortality, Holiness, Happiness, Honesty, Justice, Sincerity, Joy, Bliss, Peace of Mind, Harmony or Positivism, Children of MAMAAFRIKA are able to say No to everything negative, evil, criminal or fatal.
15. This means, living as long as they like, need and want without sickness or death to uproot them from the comfort of their Earthly Paradise in Continental AFRIKA.
16. After teaching themselves how to change from Spirit to Human through the Power of AFRIKAMAWU within them, Children of MAMAAFRIKA move to the next stage of Human Development and Growth.
17. For the first time in the history of Mankind, Spirits turned into Human Beings learn to breathe or suffocate, eat or starve, drink or go thirsty, wear cloths or go naked, live in home or be homeless, sleep or go sleepless, see or go blind, hear or be deaf, be born, or die, become a child to be nursed and cared for, crawl, sit, stand up, walk upright, speak, sing, dance, think, create, invent, dis-cover, be good or bad, happy or unhappy, rich or poor, healthy or sick, run, jump, hide and live in Heaven or hell on Earth as they deserve and are entitled to.
18. So, instead of flying Spiritually from one end of the Invisible Universe to another, flying from one Invisible Tree to another and living in the Spirit World in the Invisible Holy Garden of MAMAAFRIKA as Invisible Spirit Beings in Invisible World of Holy Continental AFRIKA, children of MAMAAFRIKA discover for the first time in the history of Mankind, the power and benefits of using effectively and carefully their physical feet as the world first means of transport available, free of charge to all Creation to use as they choose.
19. From Childhood to Manhood and Womanhood, standing upright without falling cannot be achieved without perfect Co-operation between all the Parts of their Body.
20. Standing erect means the acquisition and mastery of the Divine Power of Self Control and Self Balance Technology with the Feet as the sole Driver of the Body as the Vehicle.
21. By their perfect knowledge, invention and application of the world's first Technology, Science and Art of Foot Transport as the world's Oldest, Ancient and the most reliable and faithful means of Transport System, Children of MAMAAFRIKA are able to move, travel, run, jump, hide, work and enjoy life to the fullest as the world's first accident free visible drivers of the Human Body.
22. In the absence of airplanes, cars, bicycles and the likes, the Technology, Art and Science of Walking Upright without falling is the world's first Ancient Continental Afrikan Transport Technology, upon which today's transport devices are built and based.
23. Likewise, the Divine Power to walk upright all the time automatically confers upon the Children of MAMAAFRIKA and their future generation in and outside continental Afrika the Inner Power to use their hands to make tools, carry things, create, work, help each other, write, paint, draw, eat, build, and do things that they need and want in life as Human.
Source : Extract from the world's First AFRIKAHOLYBIBLE, Chapter 12, 1-23 which you can purchase online for the Whole AfrikaMiracle Story of How Ancient/Traditional Continental Afrikans Performed the World's First Unthinkable and Unheard of MIRACLES upon Miracles when they lived in Tune to the Limitless Power of their Mind, Spirit, Ancestral and Divine Power of AFRIKAMAWU within them . Email us for more details :
By COPYRIGHT (2011) Prof Afrikadzata Deku, Docteur d'Etat, PhD; *Doctorat d'Etat (Ph.D.) * D.E.S.S. (M. Phil) * Diplome De L' I.I.A.P.(Post-Grad. Dipl.) * M.Sc. * BA. Double Majors *
Emails: [email protected] ; [email protected]; [email protected]; [email protected]; ; [email protected], [email protected]
*SKYPE : AFRIKAPHARAOH or AFRIKAFIAGA or WindowsLiveID: AFRIKAPHARAOH* ;
*URLS: http://www.youtube.com/profafrikadzatadeku ; https://skydrive.live.com/redir.aspx?cid=4d3310fc746b4eaf&page=play&resid=4D3310FC746B4EAF%21107, http://www.myspace.com/profafrikadzatadeku; http://afrikacentricitybooks.blogspot.com/
Disclaimer:

"The views/contents expressed in this article are the sole responsibility of the author(s) and do not necessarily reflect those of The Nigerian Voice. The Nigerian Voice will not be responsible or liable for any inaccurate or incorrect statements contained in this article."
Articles by Prof Afrikadzata Deku