BIAFRAN WAR COMMANDERS ON OJUKWU: HE WAS A BRILLIANT OFFICER -COL CONRAD NWAWO (RTD.)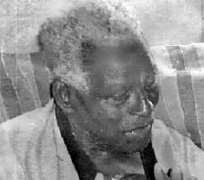 One of Nigeria's leading military officers, before he transferred to the defunct Biafran Armed Forces, Col Conrad Nwawo (Rtd.) has expressed deep grief and pain on the passage o Dim Chukwuemeka Ojukwu.
In a formal reaction yesterday, Nwawo who was one of the prime military officers in the Biafran Army during the fratricidal conflict expressed regrets that he was unable to see his General before his death; much as he yearned for that. He reflected on the war days where he served as a General in the Peoples Army exhaling the deep respects the late Ojukwu had for him.
Nwawo spoke of their meeting when he served at the 4th Area Command in Benin City and the late Ojukwu's interest in him, describing him as a 'brilliant officer.'
Below is the full text of his reaction.
'The death of Chukwuemeka Ojukwu came to me as a shock. I only knew that he had problems with his sight. And I wished to see him then but I didn't know that he had been ill.
Chukwuemeka Ojukwu had great respect for me throughout the Biafran war and I knew that. He showed me a great measure of respect. And he was always saying it that he had great hope in my capability which was understandable. He knew that I was there with my whole being. And there was no question about that. He always said it.
Recalling his swift movement from the Nigerian Army into the Biafran side, he said 'It was at the 4th Area Command in Benin City and Emeka Odumegwu Ojukwu was very keen to have me in particular. And you know, it was a question of loyalty.
He was a brilliant officer. Nigeria will surely miss him.'