DAY OKOROCHA PEPPED UP IMO CARNIVAL IN LAGOS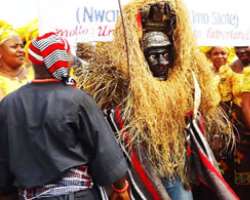 Indigenes of Imo State in Lagos State recently celebrated the Imo Day and Cultural Carnival, an event that brought together all sons and daughters of the state living in Lagos.
This year's event had several dignitaries in attendance, including the Imo State Governor, Rochas Okorocha. It was double celebration for the indigenes as they also marked the silver jubilee of the carnival. The event took place at the training pitch of the National Stadium, Surulere.
President of Imo State Towns Development Association (ISTDAL), Mazi Tony Ohakwe, said the theme for this year, Onye Aghala Nwanne Ya (Be your brother's keeper) is a word of advice to all sons and daughters of Imo not to neglect their brothers, to imbibe the cultures and traditions of the state and to boost the tourism aspect of the state.
He also informed the governor of the needs of Imo people in Lagos. 'Your Excellency, we your people in Lagos are having some challenges, which we would want you to respond to. Our children who are in higher institutions are crying for hostels, they are also pleading that you pay them bursary allowance, which has been stopped. Our people here do not have a hall and we wish to have one. Above all, we want you to make buses available this season that would convey us to Imo State.'
Responding, Okorocha said his government was determined to transform Imo State. His words: 'A lot has been put in place for the betterment of the people and I would not relent until Imo State is transformed. With me as the governor, Imo has been blessed. I want to toe the path of Mbakwe and I assure you that right now the infrastructure that he put in place that has stopped working, is being reconstructed. Within five months in office, my government has paid outstanding salaries to civil servants, and pensioners who were neglected for twelve years have received their pensions. Right now, all the bad roads in Owerri, Orlu and Okigwe are under construction.
'I want all of you who are into businesses to come home and set up branches. In making this realistic, I have discussed with some banks to grant loans to you. For those of you who are into electronic business, I will arrange with an electronic company that would be supplying goods to you for free so you can pay back later. I have also given orders that lands be allocated for all businesses.
'For bursary and hostels, back there in Imo, my government is paying bursary to primary and secondary school students. We are paying a hundred and twenty naira (N120, 00) to primary and secondary school students. The money is small but it is a way of telling them that we love and recognize them. I will resurrect the payment of bursary to Imo students. We are going to give ID cards to all Imo indigenes in Lagos so that if you have a problem, you can call on us to come to your aid. I do not want my people to be intimidated anywhere, so the ID card would enable us identify with you in the time of problems.'
He advised them to keep their hands clean and desist from illegal activities.
Other dignitaries present included Chief George Umunnakwe, former president of ISTADAL, HRH Eze Samuel Agunwa, Obi of Orodo, Chairman, Imo State Council of Traditional Rulers, Eze Hyacinth Ohazuluike, Eze Ndi Igbo of Lagos State, Nkiru Sylvanus, actress and a Senior Special Assistant to the governor and many other top Imo sons and daughters.
Other activities at the event were cultural dances, a parade by all the villages, masquerade dance, among others. The governor was honoured as the life patron of ISTDAL even as all patrons, past patrons and past leaders of the association were also recognised.