I was not impress with D'Banj and Danfo Drivers---Dr. Alban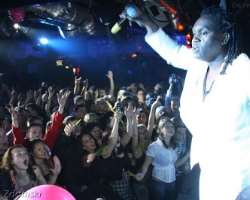 Sweden-based musician, Dr. Alban, who has been in Nigeria for some months now working with his cousin, Charly Boy, has taken out time to express his displeasure with top Nigerian act, D'Banj and Danfo Drivers. According to the musician, who has sold over 16 million copies of his albums, the disposition of D'Banj and Danfo Drivers when he approached them for collaborations is one of his reasons for working with Charly Boy on his newly completed album.
In his words: "I have made efforts to talk to D'Banj and Danfo Drivers but the result that I got was not impressing at all and that was why I decided to work with my cousin, who has no airs around him. I contacted the Danfo Drivers to work with them while I was in Sweden and I flew them both to Sweden, lodged them in a five-star hotel and even secured a show for them and we recorded a song. I still have the song with me but I couldn't release the song because the duo is having problems and they even talked about suing me.
"When I got to Nigeria, I called up D'Banj and intimated him of my intention to do a collaboration with him but all he could tell me was to call up his manager to arrange that. I felt so pissed and I wonder why these artistes are endowed with so much attitudinal problems. I have sold over 16 million copies of my albums worldwide and my songs are used for commercials and movies. I know what I'm worth but I decided to do something back home but I get artistes giving me attitude."
Story by http://nollywoodgists.com