DOCTOR GETS MAXIMUM SENTENCE FOR KILLING MICHAEL JACKSON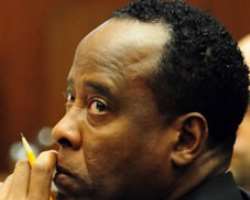 • Dr Murray … yesterday Photo:AFP
Pop star, Michael Jackson's personal physician, Dr. Conrad Murray, yesterday was sentenced to four years in jail and denied probation for his conviction on a charge of involuntary manslaughter in the pop star's death.
'Thriller' singer Jackson died of a drug overdose in June 2009, principally from the use of the surgical anesthetic propofol as a sleep aid. That drug had been obtained and administered to Jackson by Murray at the singer's rented home.
Earlier this month, a jury convicted Murray of involuntary manslaughter, or gross negligence, in his treatment of Jackson after witnesses testified propofol should not be administered at home and, even if it is, it must be given only with the proper life-monitoring equipment on hand. It was not.
Dr. Murray had agreed to care for Jackson ahead of the singer's planned comeback concerts in London, and had negotiated a salary of $150,000 per month to care for the singer.
In sentencing Murray yesterday, Los Angeles Superior Court Judge Michael Pastor called Murray's actions 'money for medicine madness that is simply not acceptable to me.' Murray sat in his chair, dressed in a gray suit and purple paisley tie, and did not express any emotion.
Pastor, in a lengthy statement delivered before sentencing Murray for involuntary manslaughter, said he felt a significant responsibility to determine the appropriate sentence, utilizing his 'sense of fairness and decency.'
'There are those who feel Dr. Murray is a saint,' he said. 'There are those who feel Dr. Murray is the devil. He's neither. He's a human being. He stands convicted of the death of another human being.' Pastor said that while he had considered the entire 'book' of Murray's life, he also had 'read the book of Michael Jackson's life.'
'Regrettably, as far as Dr. Murray is concerned, the most significant chapter, as it relates to this case, is the chapter involving the treatment, or lack of treatment, of Michael Jackson.' Jackson died 'not because of an isolated one-off occurrence or incident,' Pastor said. 'He died because of a totality of circumstances which are directly attributable to Dr. Murray … because of a series of decisions that Dr. Murray made.'
Murray, he said, became involved in 'a cycle of horrible medicine.' He cited Murray's 'pattern of deceit and lies. That pattern was to assist Dr. Murray.' A tape recording of Jackson's slurred voice was Murray's 'insurance policy,' Pastor said.
'It was designed to record his patient surreptitiously at that patient's most vulnerable point. I can't even imagine that happening to any of us because of the horrific violation of trust.' He said he wondered whether that tape would have been offered for sale, had Jackson not died and a rift had developed between the two in the future.
Testimony during the trial revealed that Murray gave propofol nearly every night in the two months before the singer's death on June 25, 2009, as Jackson prepared for his comeback concerts set for London the next month. Prosecutors asked for the maximum four years behind bars, and for Murray to pay Jackson's children more than $100 million in restitution. Defense lawyers requested probation.