WILL KATE HENSHAW LOSE PROMASIDOR ENDORSEMENT DEAL?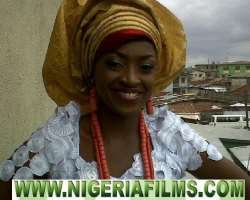 It is no longer news that star Nollywood actress Kate Henshaw has separated from Mr.Roderick Nuttal,her erstwhile husband.
The crash of their former cozy relationship seems to be unfolding other stories surrounding her business and life.
According to information gathered from reliable sources,there are strong indications that Ms. Henshaw is in danger of losing her endorsement contract with Promasidor.
The deal that has not only taken her to different Universities around the country,made her popular in various states of the federation,but also positioned her as one of the best mothers in Nollywood.
As gathered,the irreconcilable differences between the estranged husband and wife is on the way to bring financial damages to the actress.This is because Mr.Nuttal was alleged to be the brain behind Ms. Henshaw's Onga Seasoning endorsement owing to his relationship with the Managing Director of Promasidor,the makers of Onga Seasoning.
The Briton citizen was said to have capitalized on his personal relationship and influence to get the endorsement for his wife.
As the relationship which produced one daughter is no longer in existence,insiders disclosed that Ms. Henshaw has lost this endorsement deal,insisting that the contract will not be renewed after this season.
Reason being that Mr.Nuttal will no longer speak on behalf of Ms. Henshaw who is no longer his wife.
click the link below to go to...
THE UNTOLD STORY OF KATE HENSHAW'S CRASHED MARRIAGE.
STILL ON KATE HENSHAW AND EX- HUBBY.
STAR ACTRESS KATE HENSHAW'S MARRIAGE CRUMBLES.
THANK GOD I DID NOT MARRY A NIGERIAN(ACTRESS KATE HENSHAW NUTTALL.