Avoid Errors Of Your Predecessors, Jonathan Warns New NDDC Board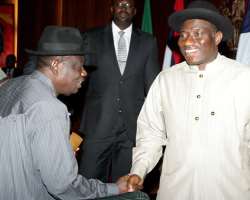 PRESIDENT GOODLUCK JONATHAN (R) CONGRATULATING THE CHAIRMAN OF THE NEW BOARD, DR. TARILAH TEBEPAH (L)
ABUJA, November 29, (THEWILL) - President Goodluck Ebele Jonathan inaugurated a new board for the Niger Delta Development Commission (NDDC) Tuesday in Abuja, strictly admonishing its members to learn from the errors of their predecessors, avoid partisan politics and focus on their task of contributing meaningfully to the development of the Niger Delta.

Jonathan said that after the unpleasant and very disturbing experience Nigerians had with the last board which was plagued by strife and infighting, he expected the new NDDC board to set new standards of creditable performance.

"You are all conversant with the issues in the Niger Delta which are not just Nigerian issues, but also of global interest. You have a very challenging task and the expectations are high.

"Learn from the mistakes of your predecessors. Do not play politics with your jobs. Focus on your jobs, not politics. I do not want to hear of things such as NDDC camping political thugs in hotels again," the President warned members of the new board who are expected to serve out the tenure of the board dissolved in September.

Jonathan also warned the board members not to try to use their new positions as a platform for the furtherance of any political ambitions they may have.

He said that amongst other things, he expected the new board and the Federal Ministry of Niger Delta Affairs to complement the Amnesty Office's training of repentant Niger Delta militants by helping to train other youth in the region to give them new skills and abilities that will make it easier for them to find gainful employment.

The Chairman of the new board, Dr. Tarilah Tebepah assured President Jonathan that its members will work together as a team to meet the expectations of Nigerians, especially the people of the Niger Delta.

He pledged that the new board will embark on programmes and projects that will facilitate a positive transformation of the Niger Delta.

Other members of the NDDC board inaugurated by the President are: Mr. Edward Orubo (Member), Dr. Christian A. Obo (MD), Dr. Ibitamuno Aminigo (Member), Chief Solomon Ogba (Member) Mr. L.E.J. Konboye (ED -Finance & Accounts), Engr. Imaobong Johnson (Member), Engr. Edikan Eshett (ED-Projects) and Barrister Aloysius Nwagboso (Member).

The new board also includes Mr. Omogbemi Oladele (Member), Barrister Peter Ezeobi (Member) Mr. Dominic Aqua Edem (Member), Mr. Osabon Imaru (Member), Mr. Joe Jakpa (Member), Senator Garba Yakubu Lado (Member), Rima Shawulu Kwewum (Member), Senator Tunde Ogbeha (Member), Minister of State Finance (Member), and Minister of Environment (Member).