…TELLS EX-PRESIDENT TO DEFEND ALLEGATION HE LOBBIED PRESIDENT BUSH TO BACK 3RD TERM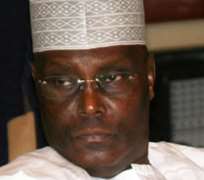 Atiku
Former Vice President Atiku Abubakar has advised former President Obasanjo to defend himself against the allegation of lobbying the former George Bush administration to support his unpopular third term ambition in 2006 which was contained in the recently published memoirs of former Secretary of State, Condoleezza Rice.
Obasanjo told the National Mirror newspaper that his former deputy destroyed his own chance of succeeding him in 2007. Also, Obasanjo said in the interview that Atiku is unreliable and that he lacks the vision, orientation and experience to step into his shoes.
Describing the allegation as diversionary in a statement issued by his media office in Abuja, the former Vice President said, he was unbelievably shocked by the distortion of truth by Obasanjo who is supposed to speak honestly like a statesman.
The former US Secretary of State was quoted on page 638 of her memoir entitled 'No Higher Honour' as saying, 'In 2006 when President Olusegun Obasanjo of Nigeria sidled up to President Bush and suggested that he (Obasanjo) might change the constitution so that he could serve a third term, President Bush told him not to do it.' In Bush's words, 'You have served your country well. Now turn over power and become a statesman.'
Reacting to these allegations, however, the former Vice President said his problems with Obasanjo had nothing to do with these charges.
Instead, Atiku recalled that his opposition to Obasanjo's third term ambition was the beginning of his travails.
Atiku maintained that Obasanjo had no succession plan from day one, and that he wanted to be Nigeria's Robert Mugabe.
The former Vice President also accused Obasanjo of handing over power to the late President Umaru Yar'Adua reluctantly as a face-saving measure following the collapse of his third term ambition on the floor of the Senate on May 16th 2006.
The Turaki Adamawa explained that he opposed tenure elongation of Obasanjo on the grounds that the constitution should not be amended for the sake of granting one man's life term ambition rather than public interest.
On the claim by Obasanjo that he didn't discuss third term ambition with anybody, Atiku recalled that the former President sent two senior cabinet ministers to him to deliberate on a draft constitution. Curiously, Atiku said, the draft was silent on term limit, which made him to smell a rat and that his courage to confront Obasanjo over this controversial plan was the beginning of his troubles with his former boss and the subsequent plots to frustrate his ambition to become President.
In what appears to be one of his bluntest public statements, Atiku accused Obasanjo of imposing a crisis - prone last minute succession by bringing a medically challenged late Umaru Yar'Adua to succeed him as a means of punishing Nigerians for rejecting his life Presidency ambition.
Atiku praised Nigeria's past leaders including General Yakubu Gowon, Alhaji Shehu Shagari, General Ibrahim Babangida, Ernest Shonekan, Gen.
Abdulsalami Abubakar, statesmen, legislators, past Chief Justices and the media for coming together to pull Nigeria from the brink and ensuring an orderly succession to the Presidency by the then Vice President Dr. Jonathan Goodluck. 'Without this, Nigeria would have been plunged into yet another major crisis arising from the actions of one man,' Atiku said.
On the allegations of inexperience, incompetence and unreliability made against him by Obasanjo, former Vice President Atiku Abubakar said, Obasanjo is the last person to lecture any Nigerian on reliability.
With the recent revelations by former U.S. Secretary of State,
Condoleezza Rice in her published memoirs in which she disclosed how
Obasanjo lobbied former President Bush to support his third term bid,
Atiku Abubakar advised his former boss to defend himself on this latest moral challenge to his reputation before he could question then reliability of others.
Atiku also dismissed as preposterous, the allegation against him by Obasanjo that he is inexperienced. He challenged Obasanjo to disclose any responsibility or task that he assigned to him while in office, which he didn't discharge competently.
Rather than losing his head to underserved flattering newspaper attention, former Vice President Abubakar said, Obasanjo should apologize to Nigerians for dragging our politics into disrepute because of his disregard for fair play or the basic rules of democracy.
He accused Obasanjo of being obsessed with the myth of indispensability and the false notion of being the cleanest person.
According to Atiku, even President Jonathan and the late Umaru Yar'Adua are not safe from Obasanjo's self-righteous attacks on other leaders.