Jerry Amilo in Ghana to shoot 'Snitches'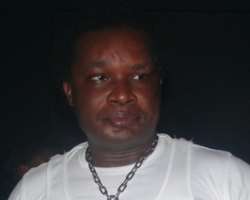 Celebrated Nigerian movie actor, Jerry Amilo is currently in Ghana to shoot 'Snitches', his current production already running on Viasat 1.
In an exclusive interview with Myjoyonline.com, Jerry revealed that he is in Ghana to shoot the series and hopes to be in Ghana till the middle of December.
He disclosed that he will be shooting 26 episodes of the highly educational TV series in Ghana and hopes to unearth fresh talents too.
"I want to use new actors and actresses who have never acted before for my production here. I will use 80 percent fresh talents and 20 percent will be actors and actresses who are already in the business."
Some big names in the Nigerian movie scene- Hank Anuku, Monalisa Chinda, Segun Arinze and others will also be in the country later to take part in the shooting.
The Snitches story, he says, is aimed at opening the eyes of Africans who are seeking greener pastures to the challenges of the world when it comes to racism and drugs. He said the whites have used blacks against each other for a long time which is not goodand this must stop, stressing that whites pretend to like blacks but it is not true.
He added that 'Snitches' also looks at the drug war which the whites first brought to South Africa, then to Nigeria, from Nigeria to Ghana and later to Kenya.
He hinted that after the 26 episodes in Ghana, he will be moving to Kenya where he will be shooting episodes of the series there.
Touching on his acting career, the actor said his acting career started when he was a kid. "I started as a kid around the age of 7 to 8 years. I was born into a Catholic family and I was a member of the drama group at church.
"I also joined the drama society in secondary school where I started doing a lot of writing too."
His first movie, 'Riches to Rags, Rags to Riches' was shot in 1987 but he said the movie never saw the light of day. "That movie never saw the light of day because of lack of experience."
His major movie to hit the industry was 'Bruno and the law' which was shot in 1992 but released in 1993. He was the lead actor.
Jerry is a graduate of the University of Lagos, Nigeria, were he obtained a degree in Mechanical Engineering in 1997.
Asked why he didn't venture into engineering but rather acting, Jerry's solemn response was, "It is what I loved doing. I was popular in school because of the acting and I have no regrets doing acting."
He has never looked back since entering the career and he boasts of starring in more than 80 movies which include; 'Bloody Humanity', 'Across the Border', 'Across the Bridge', 'Across the River' and 'Across the Desert' which was released in January.
The multi-talented, multi-tasked personality is an actor, a writer, producer, director and an executive producer and he has earned more than 13 awards for his good works.
With his huge experience, Jerry has trained a lot of film directors, producers, actors and actresses and script writers in Ghana and Nigeria, notably among them is Frank Raja of Venus Films.
Giving his take on the current Ghanaian movie industry and its challenges, Jerry attributed some of the challenges to the size of Nigeria to Ghana. He said Nigeria is bigger than Ghana which affects sales.
He noted that "Ghanaian movies are coming up", but the actors and actresses are sometimes failing to move themselves from who they are to the new role they have asked to play, "A new suite gives you a new shape."
"They need to understand to play what they are asked to play and the ability to express yourself is really important," he advised.
Jerry praised Ghanaian actor, Majid Michel describing him as being 'robust'. "He explodes into a good character." This he says is very promising.
"Discover yourself, know who you are and learn to deliver. Make sure you get an education, it is really important. Make sure as an actor not to let people detect your accent," is his advice to upcoming actors and actresses.
Jerry Amilo is married to Rosemary Amilo and he is a father of one.
Story by Aglanu Dela Ernest
Story by http://nollywoodgists.com