BOXING: OMOTOSO ESCAPES NIGHTMARES IN NIGERIA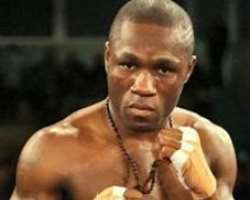 Omotoso
The Grateful Dead's Jerry Garcia famously sang, 'What a long strange trip it's been,' relates to Oyewale Omotoso, who escaped the gang-riddled streets of Lagos, Nigeria to Australia and now walks the neon-bathed streets of Los Angeles.
 Omotoso's nickname is 'Lucky Boy' (prominently tattooed on his chest) but has the skills as not to rely on good fortune to fight his way into title contention. A constant in Omotoso's journey has been his travel mate: boxing. This leg of Omotoso's trip has been about improving that aspect of his life, teaming with trainer, Freddie Roach.
 For many boxers, the ring represents a sanctuary, certainly the case for a young Omotoso. He grew up with five siblings, losing his mother before reaching his teens, and Omotoso's father passed away a couple of years later. The dual losses left Wale to find a makeshift family on the streets. Omotoso, 19-0 (17), ran with a local gang, gaining a reputation for an ability to fight with his hands instead of a gun or machete.
 That skill led to a 47-1 amateur boxing career, affording him a glimpse of life beyond the boundaries of his Lagos-bound gang. He won tourneys representing his homeland in Algeria, Ivory Coast, and Togo, fashioning himself into a premier amateur and attracting attention from English promoters. Omotoso improved consistently, fighting his way from 165 pounds down to 147, winning titles at every stop.
 It was during this time that a still impressionable Omotoso learned of former Nigerian World Champion Dick Tiger, quickly growing to idolize him. 'He is the greatest Nigerian boxer of all time. He went to America and won world titles as a middleweight against Gene Fullmer and also won the light heavyweight title by defeating Jose Torres. Dick Tiger is a legend in boxing and it is my wish to follow in his footsteps.' Omotoso matured into an All-Africa champion but soured on the sport when his spot was given to a lesser boxer with political connections for the prestigious Commonwealth Games. That snub coincided with word of his skills, mentioned by another Nigerian who had emigrated to Australia, reaching trainer Murray Thomson. Omotoso jumped at the chance to turn professional, leaving Nigeria on an athletic visa.
 Australia's recent pugilistic history has been enriched by taking in and supporting foreign boxers, with some going on to make world title runs. The most famous, of course, is Russian-born Kostya Tszyu, a Hall-of-Famer who still lives in Australia and runs several successful gyms. Tszyu owes much to the financial and emotional support of the Australian fans, who adopted him as much as Tszyu has Australia.
 Vic Darchinyan is the most recent to achieve champion status, though the Armenian does not enjoy the fervent fan base of the charismatic Tszyu. Africans Sakio Bika, Lovemore Ndou, Naoufel Ben Rabah, Gary St. Clair and Solomon Egberime never won world titles but have had opportunities and squared off against many world champions. It was Omotoso who looked like the African with the best chance to join Tszyu and Darchinyan in bringing a world title belt back Down Under to share with boxing fans.
 Murray Thomson is a well-respected trainer in Melbourne and a former amateur standout. His Fighters Factory gym houses fitness-minded Sunday boxers, journeymen and contenders on the national level. It is a gym depicted in Hollywood movies with well-worn floors and chipped paint covered by faded fight posters. The ring was bought at a prison auction and the admonition 'I hope you're reading this because you are doing sit-ups. Not because you forgot to keep your hands up and head down' is inscribed on the ceiling.
 Murray thought Omotoso would be the boxer to take his gym to the world level and they seemed on pace for that kind of success. Outside the ring, Omotoso adapted to his new surroundings, is a respected member of his church (a devout Catholic) and married a local lady with whom he has a child. Omotoso told Ray Wheatley, Australia's senior boxing journalist, 'I respect Murray very much, as a good man who has guided me to become a world-rated welterweight boxer.'
 The respect for Thomson remains. However, Omotoso has moved on, which many in Australia see as a lack of loyalty. Thomson had convinced locals and businesses to sponsor Omotoso's fights, so as not to sign his career over to a promoter. Omotoso repaid them with 18 victories, scoring 16 stoppages, winning the Australian and prestigious OPBF titles. They made national sports shows when Omotoso hit Tia Koswara with a punch, dazing him into walking in the wrong direction before crashing to the canvas.
 Thomson negotiated a national TV deal for a fight with Emanuel Augustus, whom Omotoso dominated in a fashion that promised world rankings. Since their initial pairing, Thomson encountered health issues including weakening eyesight, leaving him unable to drive, which might have factored into Omotoso's thinking about leaving. Also, in 2009, a training tragedy occurred after Omotoso sparred with Andras Nagy. The Hungarian would collapse into a coma, passing away six days later. Those relevant issues aside, Omotoso's contract expired, leaving a man who knew he had to make some hard choices to better his life.
 Since arriving in America, Omotoso has made the same favorable impression as he did in Australia. Within weeks of arriving, the powerful Top Rank promotional firm swooped in to offer Omotoso a contract and Freddie Roach agreed to train the newcomer before singing his praises. 'He's a great prospect and I think we're gonna have a new Nigerian champion on our hands very soon.' That is Omotoso's goal, his respect for Roach spurring a journey of 8,000 miles. 'I heard so much about him. Freddie is the best trainer there is in boxing. Already, he has taught me footwork, to attack from different angles, how to throw hard punches. He is the best and now I am with the best promotional company in Top Rank.' Not bad for a boxer few in America, other than hardcore fans, had been aware of at the beginning of the year.
 While Omotoso has only had one fight in 2011, a stoppage of journeyman Calvin Odom in September, he has been busy inside the ring. Omotoso quickly became a sparring partner of choice at the hyper-competitive Wild Card Gym and despite promotional rivalries, sparred Amir Khan (a Golden Boy boxer) and stablemate Julio Cesar Chavez Jr. It was during the Chavez session that Omotoso was spotted by Top Rank matchmaker Bruce Trampler, ''Lucky Boy' is skilled and he hits real hard.
 He got my attention real quick.' The two divergent foes reveal Omotoso's various skill sets. Speedy enough to take on a fast junior welterweight like Khan but strong enough to bang with a Chavez Jr. who stepped into the ring for his last fight at middleweight. A key to both is Omotoso's strong jab, whispered to be comparable to fellow African Ike Quartey. Omotoso needs to see quality live-fire foes, since he was surprisingly dropped in the first round of his last fight. A singular mistake, which Omotoso rebounded from to score a knockdown and fifth round stoppage.
 In style, I find Omotoso reminiscent of Erik Morales, sporting a long and lean frame (5′ 10_' with a 67_' reach) that seems to stretch punches just enough to reach its target. Floyd Mayweather Jr. is his favorite current boxer and Omotoso's defense is acceptable, though based on reflexes and instinct more than planned evasiveness. Lacks maturity at times, abandoning the basics to showboat. When unloading, Omotoso is standup-ish and not fluid. Roach will work on bending at the waist more but his charge does not hesitate to throw combinations when he spots an advantage.
 Accuracy shone through in a win over awkward Emanuel Augustus (who never repeats the same move twice), tagging and stopping the veteran in the same round Mayweather stopped 'The Drunken Master.' Omotoso was falling in love with that power, averaging 3.4 rounds a fight, cranking back on punches in search of highlight kayos. This worked against one-time prospect Sam Colomban, whose orbital socket was broken by that ambition. Whether breaking hearts or bones in Australia, an intriguing aspect of Omotoso is that no one can be certain where this world traveler's story ends.