Senate Silent On Anti-Graft Police Chief Sack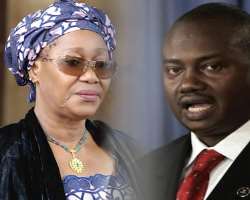 EX Chairman of EFCC, Mrs. Farida Waziri (L), and her replacement Mr. Ibrahim Lamorde (R).
ABUJA, November 24, (THEWILL) - The Senate maintained sealed lips on Thursday over the sack of Chairman of the Economic and Financial Crimes Commission (EFCC), Mrs. Farida Waziri, and her replacement with Mr. Ibrahim Lamorde, saying it is not yet in a position to make comments on the sudden change.
Chairman, Senate Committee on Information, Media and Public Affairs, Senator Enyinnaya Abaribe, said that it was the prerogative of President Goodluck Jonathan to make changes where he felt the need to do so.
President Jonathan Wednesday approved the sack of Mrs. Waziri from the commission in a statement.
Abaribe said that the Senate could only comment on development in the EFCC when Waziri's replacement is presented to the Senate.
He added that the Senate would support all actions of President Jonathan aimed at making the country to work efficiently and as well as efforts to reduce corruption.
"It is the job of the President to make sure that all the agencies of government are working effectively, all those agencies that are under him.
"Any decision that the President takes within his powers is not our duty to make any comment regarding that. The only time we will make comment is when he presents to us the person who will take over from her (Waziri).
"But of course we have always said that anything that will make Nigeria work efficiently, reduce corruption and ensure that Nigerians get the full benefit of this democracy, the Senate will support," the spokesman said.
The Senate, he said, will support Jonathan in taking actions that are within his constitutional powers.