China November Factory Activity Slumps To 32-Month Low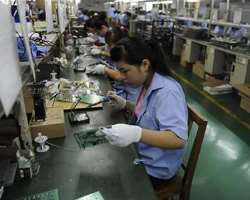 AN EMPLOYEE WORKS ON CIRCUIT BOARDS AT AN ELECTRONIC COMPONENT FACTORY IN HEFEI, ANHUI PROVINCE AUGUST 1, 2011
Chinese factories battled with their weakest activity in 32 months in November, a preliminary purchasing managers' survey showed, reviving worries that China may be skidding toward an economic hard landing and compounding global recession fears.
The HSBC flash manufacturing purchasing managers' index (PMI), the earliest indicator of China's industrial activity, slumped in November to 48, a low not seen since March 2009.
The data showed the world's growth engine is not immune to economic troubles abroad, and could further unnerve financial markets already roiled by Europe's deteriorating debt crisis.
November's flash reading is a sharp three-point fall from October's final figure of 51 and indicated Chinese factory output shrank on the month in November. A PMI reading of 50 demarcates expansion from contraction.
The last time the PMI slipped below 50 was in September, when the index hit 49.9.
"Industrial production growth is likely to slow further to 11-12 percent year-on-year in coming months as domestic demand cools and external demand is set to weaken," said Qu Hongbin, a HSBC economist.
In line with the dismal headline number, the flash output sub-index tumbled to a 32-month low of 46.7, a steep drop from October's final reading of 51.4.
The marked slowdown in activity cooled factory inflation sharply. The sub-indices for input and output prices sunk around 10 points each to below 50, hugging lows last seen in April 2009.
New export orders were the only bright spot in the survey, holding steady from October to stay above 50.
But the sub-index for new orders suffered its biggest drop in 1- years to sink well below the 50-point mark, suggesting factories received fewer orders on the whole in November even though export orders held up.
Unlike China's official PMI which is published by Beijing and tilts toward large state firms, the HSBC PMI surveys are skewed toward private companies that have been harder hit by China's monetary tightening campaign.
As recent as July, China raised interest rates for the third time this year in a bid to calm rising consumer prices.
STILL A SOFT LANDING?
Weighed by tight domestic monetary conditions and waning demand in its two biggest export markets, Europe and the United States, China's economy lost steam in the third quarter and all signs suggest it would slow further.
Easing activity puts pressure on Beijing to relax monetary policy at the margins by loosening bank lending restrictions, for instance. But until Europe's crisis gets out of hand, few analysts think China is ready to cut interest rates.
Growth in exports hit eight-month lows in October as manufacturing output grew at its weakest in a year. The exuberant Chinese property market is also coming off a boil to drag on real estate construction and investment.
But HSBC's Qu argued China is still headed for a soft-landing as cooling inflation gives Beijing more room to ease policy and support economic growth if needed.
"As inflation is likely to decelerate at a faster-than-expected pace, it will leave more room for Beijing to step up selective easing measures, which should gradually filter through to keep China on track for a soft-landing," he said.
A slackening economy pulled China's inflation to 5.5 percent in October, down from three-year peaks of 6.5 percent struck in July.
The flash PMI is based on up to 90 percent of total responses to the monthly survey and is a snapshot of the final data. HSBC stared publishing the series in February.
REUTERS