I'LL SUPPORT MIMIKO FOR SECOND TERM, SAYS ENIKUOMEHIN, PDP CHIEFTAIN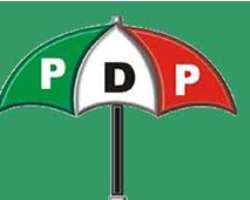 As the Peoples Democratic Party (PDP), prepares for its National Convention slated for March 2012, a lawyer and chieftain of the party from Ondo state, Benson Enikuomehin has a preference for the former Gongola state governor, Alhaji Bamanga Tukur.
Enikuomehin, who was a Commissioner on the recently dissolved Niger Delta Development Commission (NDDC), spoke with newsmen on his choice as well as his qualification to be National Secretary of the party. RAZAQ BAMIDELE brings the excerpts:
On the reconstituted NDDC board?
My take is that the new board must have a fresh beginning. It shouldn't be a continuation of the former board. The life span of the third board of the NDDC came to an end on September 13 as soon as Mr. President dissolved it. If one or two members had been removed or even one was left, it is understandable that the former board was continuing. I think that we should get this straight. While the President might have acted in the interest of the country, the National Assembly should set the record straight so that we won't be having problems with court cases in the future on tenure of the new board.
The members should serve out their four years and that is my major concern. I am not interested in going back to the commission. I had told everybody that I only want to serve out my term and return to private law practice. I served for one year and eight months and I am fulfilled. I have done my best and I leave posterity to judge my membership of the board.
Ondo guber race
There is nothing bad in trying, but I believe you must strike when an iron is hot. Striking a cold iron will mean you will extract more energies and efforts. My take is that while one is eminently qualified, one must not also be seen to be swimming against the tide. My party is still in a state of comatose and different factions are fighting for the soul of PDP. The party in Ondo state is like a doll with different parts in different hands. So, if I want to contest, who will I work with? Is the structure strong enough? I don't just want to contest for the sake of contesting. To be a councillor is better than to be a presidential aspirant. I don't want to be a governorship aspirant for the fun of it. And in any case, Governor Olusegun Mimiko is doing some good works, though he is not a member of my party. It is the same with Governor Babatunde Fashola in Lagos. So, since I believe Mimiko is doing some good works, I may not be opposing him to get second term.
Are you eyeing the Labour Party?
Because I said the governor is doing some good works? Am I also of the Action Congress of Nigeria (ACN) because I acknowledge Fashola is working? Because I acknowledge Amaechi is working, then I am also of the PDP in Rivers? When we see good governance, we should own up even when the performers are not of the same party. Let's face the fact. I am not of the LP but of the PDP.
Plan for next convention
For now, the coast is not too clear. I am aware that the National Secretary of PDP has been zoned to the South West and many gladiators are coming out. Between now and next March is long. Only God can determine who will be alive then. If I am offered the post after due consultation, I will take it. But before then, the head of the fish determines how good the fish will be. The head of the party will determine how the party will perform. Of all the gladiators coming out, I find out that Dr. Bamanga Tukur stands out. He was Governor of Old Gongola State, Chairman of NEPAD and Africa Business Roundtable. He had made his name and money. If he comes to the party, he is making a sacrifice. He has character and will not be begging governors for contracts as party national chairman. He has connections and pedigree. His name opens doors any where in the world. I think PDP needs a man like him now.
Does the PDP need a recycled politician like Tukur again?
One of the arguments against former Eagles coach, Samson Siasia, was that he did not recycle some of the players and we lost the Nations cup ticket. You don't change a winning team. You only remove a dead wood. When a wood is still working, you make use of it. Awolowo was 78 and was actively involved.
If something can be recycled and it works, then go on. Is he a dead wood? Did he not do well in NEPAD or Roundtable? If he is not a dead wood then let's recycle him.
Yes we need new breeds but we cannot dispense with experience. The young ones must continue to learn until it is their turn. We need the wisdom of elders.
As long as someone is useful, you keep using him.
Are you contesting for PDP National Secretary?
The consultation is still on and like I said, I will strike when the iron is hot. If I study the terrain well, I will jump in. It is an idea you must work out well. Those who have declared can move on. If you are going to Maiduguri and someone else took off earlier with a bicycle, you just watch until midnight. Then, you can take a flight and get there much faster. It is not when you declare but the network involved.  I will be prepared for anybody when I am fully convinced of contesting.