SAMSUNG BEACH SOCCER INTERCONTINENTAL CUP 2011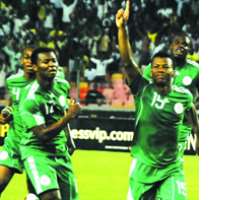 Russia has not slow down a bit in the fast pace that made her European Champion and World Cup Champion in last summer. In her debut match in the present Samsung Beach Soccer intercontinental Cup, she gave no chance to one of the kings in Africa, Nigeria, to top group A.
Right from the blast of the whistle, the Beach Eagles knew that it was not going to be a smooth and easy evening for them. Shaykov and Gorchinskiy pulled the score 2-0 for Likhachev's side in the opening minutes and, although Tale wisely took advantage of a misunderstanding between Filimonov and his defence, Eremeev made it 3-1 in the very following seconds.
Russia did not miss two of her best players, captain Leonov and goalkeeper Bukhlitskiy, who could not get to the match venue on time after being honoured by the Russian FA in recognition of their brilliant performance in the last FIFA Beach Soccer World Cup 2011, played in Ravenna (Italy), where they raised the MVP and Best Goalkeeper awards. The remaining powder was, however, powerful enough, as the balls began hitting the net to a loud final 8-1 that sets the beat for whoever may try to bend the World Champions in Dubai.