Why I Have A Steady Marriage ¬¬¬--- DORIS SIMEON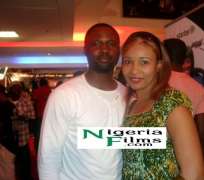 For the lovers of Nollywood, Doris Simeone Adenimokan is one actress they love very much because of her almost scandal free life. Married to a top notched movie director, some would expect their union to be like the usual celebs failed marriages.
In an interview with Osaremen Ehi James of NigeriaFilms.Com, this Okpella born screen beau talked about herself, her marriage and her career. Excerpt
Doris, how did you get into the movie industry
I heard about an audition for Papa Ajasco and company, I went and I was taken to be in it. That was about 10 years ago; I acted as Papa Ajasco's secretary.
How has it been afterwards
Well, it has been wonderful and great, but is has not been smooth, I must confess. Because I love much, I enjoy what I am doing.
What was your first major movie
My first major movie was 10 million but it initially had its working title as Abanikedun, which was in 2000.
How was your experience acting as a girlfriend to a younger actor in Ghetto Dreamz, especially the kissing part
It made no difference to me playing that role; it was just the same thing to me. On the kissing part, there weren't any serious kissing scenes, but if I was to do serious kissing, I think it is my job that must be done in a proper way. Film is a make-believe thing.
How easy is it for you shuffling often between the English and Yoruba films genres
I don't see anything hard in it because we are all Nigerians, English is our lingua franca. It is the whole industry under one umbrella; we should be able to act in whatever genre we can. In fact, I would love to learn more languages to act in their films.
Which of English and Yoruba films do you feel more comfortable acting in
Both.
Where are you from
I am from Okpella, under Estako local government of Edo State.
Your husband is a director, and you are an actress, how did you meet each other
We met on a movie set. It was his first produced and directed film titled Omo Jaiye Jaiye. We became friends thereafter, because I loved the way he worked and interacted with his actors when on set. He doesn't make them feel scared, I saw all these in him and I felt he was a serious minded person to be with. I decided later we start working things together, the rest is now history.
What was running in your mind when he made his intention known to you, were you expecting him to do that?
Not really, funny enough, the first time I saw him, I saw him as the normal play born. I never knew it would go this far, I only just zeroed my mind and decided that whatever comes out of it, I take that way. But I liked him when I first saw him; I am not the secondary school girl that will say, 'I will think about it.' (general laughter)
What has been the bite that has kept your marriage with him intact, especially where celebrity marriages don't really last long
It has been the grace of God, it is not easy been in the industry and holding your home as a wife. I just thank God that he has always been there. Prayer has always been a key to everything I am into. I also thank God for the kind og husband that I have, because he is also in the industry, he understands the nature of the job, and there supporting me always.
Sorry about this question, has there been anytime you felt like quitting your marriage
Not at all.
He must be a near perfect man
Nobody is perfect, but only God is perfect. Even when there are situations, I only think of the future and not now. Because if I say I want to leave the marriage and go for another, do I know what I face in the next one? I will better stay with this and bear whatever I get from it. Fela sang suffering and smiling (laughs), you just have to face and tackle your problem, no matter what, don't run away from it.
As a beautiful woman and mother, how have you been able to stay away from controversies and scandals
Hmm, like I said earlier, I don't think about now, but the future, I am a person that doesn't take life too hard. I am content with what I have, it is not that guys don't come to woo me, but I try ton let them know what I want and no boundaries passed. You come around, be my friend, but if you don't want to be one, and then be my enemy.
What has been your worst regret being in the industry
That is, me not having my privacy anymore. If I go out, everybody would know that I did, if I put on slippers, they would know I did, if I buy roasted corn, they would make noise about it, and so on.
>

Are you not happy with being a celeb
I am, but some people take it as a big deal, but I have not regretted it. I don't see anything wrong with me buying and eating these things. I have flesh and blood running through my veins. You take me that way or leave me.
If you were not into acting, what would you have become
I would have probably been a presenter or a newscaster, I love entertainment.
What did you study in school
Hmm, I didn't go to a higher institution. I went to a film school after I started acting. But I initially had it in mind to study Mass Communication or Theatre Arts.
What do you do outside acting
I am into business; I sell shoes, wears, I used to have a shop at Ikorudu where I sell these things, but I closed the shop when I moved away from there. I love making hair, I intend opening a beauty salon very soon.
How do you relax
I go out with my family to have a nice time out, stay home to watch movies, and play with my family.
What is your favourite food
I love garri Ijebu to kan ba je (very sour garri) with groundnut, akara or beans (laughs).
What informs what you wear
The occasion I am going to informs what I wear, but I love being comfortable in whatever I wear.
Any words to your fans
I want to say that I love them; I also thank them for their love and support. And they should keep away from drugs and always pray.
What can you never be caught with
Cigarette or igbo (laughs), it is only in films you will see me smoke.
What about drinks
To be sincere, I do once in a while in films or with friends or when I am at locations.
© 2011 Nollywoodgists.com. All rights reserved. This material may not be published, broadcast, rewritten or redistributed without the express written consent of the publisher