LACK OF PROFESSIONALISM, MAJOR HEADACHE FOR BANKS, SAYS JAIYEOLA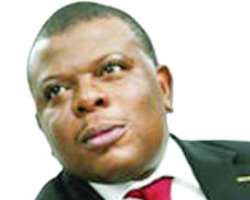 • Laoye Jaiyeola
As the President/Chairman of the Chartered Institute of Bankers of Nigeria (CIBN), Mr. Laoye Jaiyeola is far from being satisfied with what he has to contend with in the nation's banking terrain. According to him, the level of skills and competence in the financial industry is far from being satisfactory.
This may be one of the reasons for the problem in the sector. He argues that there is urgent need to create best practice in building a workforce, who has specialized knowledge in the field.
His words: 'There is dearth of sufficient competence and professionalism in the industry. Obviously, we are not satisfied with the level of skills and competence we have in the financial industry, which is why we have to revved up our activities to ensure that we do whatever we can to build it. So, the level of competence and professionalism is not as much as we desire.'
He also takes a retrospective look at the banking crisis and the on-going reforms in the sector and, looking into the future, assured stakeholders that all will be well. 'As a professional, I think the Nigerian banking industry is significantly healthier now than where we are coming from. In this interview with Daily Sun, Jaiyeola delves more into sundry issue affecting the industry and the economy as a whole and proffer solutions on the best way forward.
Excerpts:
Faculty Board
The Act setting up the Chartered Institute of Bankers clearly states that the key responsibility of the institute, which is more central to us, is the development or setting up the competency framework of those working in the financial industry in terms of standard setting, building them up, certifying and accrediting people. You will then discover that at the core of our responsibility is how to build a body of professionals in the industry that are ethical, knowledgeable and, in the long term, be of benefit to the industry.
So, what we are doing today is to set up the Board for the various faculties. You can call them one group which we expect that practitioners in the industry will particularly become. You will agree with me that the banking industry is not a one-cap-fits-all calling. There are specializations; different units of banking. Then, we set up a Faculty board called the five units. They can be more than five units but we just want to start with five groups, and these people who are the members of the board have been given responsibilities to ensure they back this work group, which expects all members of the banking industry to be where they belong, hoping that their being there will help them use their competencies. Be much more professional and there will be sufficient interactions between professionals in the industry.
On what the institute is doing to produce future generation of bankers
Practitioners should keep on learning so as to become an authority in whatever areas they find themselves. When we are teachable, that will make our profession very good. However, we must understand that the banking profession is not one-cap-fits-all. People will be encouraged in becoming more professional and we believe that as people share more ideas, they will become more knowledgeable.
We expect that if you work in the banking industry and, as we talk with ourselves - regulators and other stakeholders - you should be able to learn more to shape your career, and after you have your FCIB, what next? You have an Association of the Chartered Institute of Bankers (ACIB), you find yourself working in the treasury but you must strive to be a seasoned treasurer, who understands all the issues in the treasury. You are a risk manager with FCIB, but to what extent do you know what the issues are in risk management?'
Basically, what will make a bank unhealthy?
A bank tied down by non-performing loans, which prevent customers from withdrawing their money when expected to. But significantly this has been taken out and AMCON has done a reasonable derisking of the industry. Before AMCON did that, if you look at the industry's non-performing loan ratio to the performing loan assets, it was huge. Sometimes it ran to over 20 per cent. But today, it is significantly down. Given the fact that if there is serious focus on risk management, which is being pursued, it will really make it healthier. If we all get to the level of International Financial Report Standrd (IFRS), full disclosure and governance structure, it would be better than in the past. And from where we are coming from, it will be more healthier.'
Reducing sharp practices
Generally, at the institute today, you pass your exams; you work at the institute; you are just everywhere. We don't have an institute that has platform where people can relate together based on specialization. What we intend to do is that, depending on the work of these boards that have been set up, we are going to have five pair work groups: One, Governance, Risk Management and Compliance. Everyone assigned to work in this group is to do a number of things - helping in curriculum development, teaching and mentoring and, research work. Two, e-Banking, Payment and Settlement system, whether we like it or not, is catching on significantly.
Those who work in related areas should have one group on how they can sit together and share ideas, network and determine how things should work out. Three, Finance & Financial Market Development - all garments of financing, what to do about deficit and surplus, and what is being done in various financial markets; be it the money market or capital market. Four, International Banking, Framework and Documentation - we do local banking and international transactions. So, we must look at peculiarity of working things out and;
Five, Legal Framework and Practice of Banking - all the legal framework; practice of banking and the key issues and elements of banker; banker-customer relationships are here.
What we have done is to bring together all the professionals; senior people in the industry, academia and members of council of the institute. We gather all the stakeholders that could impact on how things are done. When they come up with these ideas, we expect that if you work in the banking industry and as we talk with ourselves, regulators and other stakeholders, you should be able to learn not less than two of these, which will help shape your career.
There will be certification and they will advise us. They are purely advisory and other committees in the institute will pick up on what should be done next. There are also other aspects of the institute that deal with ethics and professionalism because we have panels that will investigate misbehavior and stem the tide of bad attitudes. Our major concern is to restore the banking confidence back to what it used to be in the good old days.
Sanctions
Every professional body has a code of ethics. And when you breach this code, you will be dealt with. Currently, not all the people that work in the banking industry are members of our institute. But by statue, they are expected to be. One of our drives is to make people join and, when they do so, it makes it easier for us to discipline them. What we are looking forward to is a situation of getting people to come forward and report frauds in the industry, so as to be able to discipline offenders by getting the person or body delisted by the regulatory authorities. In recent times, you will see the regulatory authorities and banks adhering to some of the pronouncements of our investigation panel.
Micro-finance banks
It is not the institute' job to screen the new CEOs of micro-finance banks but that of the Central Bank of Nigeria (CBN). But we know that from time to time when you apply, the institute goes through your records to ascertain if you have a record of misbehaviour. We have organized two significant training and exams for them, after which we issued certificates to them. Another set will be writing exams in the next two months. It is an on-going exercise. Beyond writing exams, we have said there will be mandatory continuous professional education, so that from time to time we will keep them abreast of developments in the banking sector.
Reaching out
Currently, the structure in the Council of the Institute of Bankers is that we have representatives at the National University Commission, Ministry of Education, and National Board of Technical Education. And, each time they go to the universities and polytechnics for accreditation, ours is to ensure that they accredit what the institutions do. So, when this Faculty Board comes up with curriculum and how things should be done, we expect that it will be passed on to them to help the universities work with the curriculum.
In addition, we have what we call linkages with some universities. Our desire is to roll into all universities…but not all the universities have come on board. The linkage is such that as you read for your degree, you are also being prepared as a banker such that by the time you are leaving school, you are left with just two papers to become a Fellow of the Chartered Institute of Bankers (FCIB). But don't forget that this new idea is not all about the fellowship, but about helping someone to be a professional all through his or her career. Having FCIB is the first, you then belong to a work group; preparing new researches, where new development in the industry will be made known to you.
Training bankers in other countries
Basically, we recognize that Nigeria is not an island and, therefore, we belong to a community of nations, and it is not sufficient for our people to just write exams here in Nigeria. We belong to a body called an Alliance of African Institute of Bankers. It is made up of all institutes of bankers in the Africa sub-region. We have a situation where our exams are modulated together in which we have a Memorandum of Understanding, such that with the qualification, you can work in any sub-region of West Africa. But we must recognize the fact that not all the sub-regions have an institute of Bankers.
In the alliance, Nigeria is the current chairman and we took it upon ourselves to encourage people that are established to build other people. So, we have taken the responsibility as the first by going to the West African coast, starting with the English speaking West African countries, and we are in this with Ghana and have established in Gambia. It is just a new project entirely. At the beginning of this year, we went there to inaugurate; we will have a few of them write exams this October with the intent to build them up to have their own institute to help them. Thereafter, we intend to go to Sierra Leone and Liberia.
There is always a challenge about building up an institute. What we desire is that we have FCIB, holders of our professional Institute of Bankers certificates that will be accepted and work anywhere in the world. What we have done is not peculiar to Nigeria; we have actually taken the fight to the international scene. I was at the International Bankers Conference earlier in the year, and I recognized that we don't have a strong network at the international level. And, about 10 of us came together to agree on how to establish a network, whereby 10 nations will be meeting in Malaysia to drive that. Nigeria is the only African nation in the network. Although it will take money, but what we want to build is an international network, where our people can feel free and learn. We can draw strength from each other but I think when we are teachable that will make our profession very good.
Agric sector
Government has focused on how to generate revenue from the agriculture sector. The sector alone accounts for about 40 per cent of the economy. Government has designed a focused strategy for the development of the agriculture sector. I realize that about 10 particular products have been identified and the details of work done and, along with the value chain of the agric sector and with focus and more funding, we will see a turnaround in that sector. In addition, steps have been taken to de-risk that sector so that fund can flow into it. There is still work to be done but they believe it is not yet time. We should double the amount of funding that goes for the sector and this will bring growth to the economy.
Foreign reserves
The quest by CBN to diversify the foreign reserves base to include the Chinese Yuan is a good form of risk management. All this while, I believed we have been putting our eggs in one basket. It is a successful diversification so that if the Dollar and the Euro are going up and Yuan is falling, we may divert our attention to any one that will benefit the economy. I think it is a wise move by CBN. However, you will also notice that some of our importers import from China with this, and they can settle their bills in those currency.
Credit
Banks are reluctant to lend, this has been a major concern of the banking and not to the CBN alone. One of the questions being raised at the Bankers' Committee is that 'why should we put money where we know that it is going to fail?'
The banks have considered key issues to ask which sector of the economy you want to invest our money in. What are the challenges we can face in this area and what can be done to make those projects bankable?
We have done a lot about power and in terms of what should be done, the engagement is not only at national level, even at state level. Recently, some of the state governments are saying we have done power plants that cannot take us to the national grid.
Maybe we should review our constitution to see how we can move distribution from exclusive to concurrent list, so that those things can serve the people. We are working with them; we have done detailed work on infrastructure and transport and we are doing a lot of work in agriculture. It has been the resolve of the banks to lend to the real sector, projects that will grow the economy and products that will enable us get our money back. The banks have said that if they see such products in the market, they will take out time to lend. I am not sure we want to go to the capital market again to lose our money. We believe that the capital market should grow, but should be borne out of poeple's long term savings, and not people that will just go there and borrow money and run in and out.
Misappropriated funds
Because of our land tenure system, I believe that a time will come when the funds allocated to agriculture will trickle down. If the land tenure system is such that people just have small land in possession, how can you put your money on smaller land other than that on commercial level? The smaller land will feed the household of a farmer and alleviate poverty, but the bigger land can feed even those living in the urban areas.
I think the arrangement is not to give to only the commercial people, but also the smaller people. The problem of agric is not all about money. Let me give you an instance…. When an international organization came to Nigeria and said they have money to give, the Federal Government told them that it is not about giving money, that we have been giving money through CBN's Agricultural Guarantee Fund.
The most important thing is to have an agric sector to get what is needed to make it funded successfully. Deal with those issues and money will roll in. Some farmers are saying that we are not giving money, but we are simply saying, 'we don't want to give out money that will be shared as national cake'.
Let's deal with the fundamentals. I grew up in a place where we used to grow rice. Not long ago, I called my brother to ask what can we do? I realize that the seedlings my father used in the 50s are still being used today. Agric is good but it is done on a shared family land under cultivation.
The concern is that we must have better yields. I see farmers when they go out to toil morning and night, without coming out with something tangible to see them through the next season. The concern among the banks and Ministry of Finance is how to ensure that the seedlings they use give them high yields? How can we ensure that when they have bumper harvest, it is preserved?