The Guardian Publisher Alex Ibru Is Dead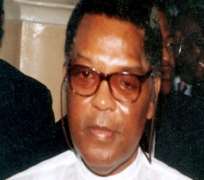 SAN FRANCISCO, November 20, (THEWILL) – Mr. Alexander Ibru, 66, the publisher and founder of The Guardian Newspaper, one of Nigeria's respected newspapers has died from an undisclosed ailment, multiple sources told THEWILL on Sunday.
THEWILL gathered that the publisher died mid Sunday after a prolonged battle with the ailment.
Alexander, one of the prominent Ibru brothers, was Minister of Internal Affairs from 1993 to 1995 during the military regime of General Sani Abacha.
He survived an assassination attempt on February 02, 1996 during the Abacha regime after gunmen suspected to be members of Abacha-killed squad trailed and shot several rounds into his car around Falomo Bridge, Ikoyi, Lagos.
Hamza al-Mustapha, a former Chief Security Officer (CSO) to Abacha and others were docked for the murder attempt.