SOLDIER-PRIEST IN THE TWILIGHT OF AGE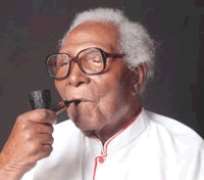 Monsignor Pedro
At 12 noon, last Wednesday, November 16, nearly every available pew at St. Charles Borromeo Catholic Church in the highbrow 1004 Flats, Victoria Island, Lagos, was occupied. The dignitaries came from all walks of life, defying the inclement weather, the scorching heat, the sporadic showers, and the perennial traffic gridlock that now defines that part of Victoria Island in Lagos.
They genuflected, and did the sign of the cross as they stepped into the church, their eyes instantly sweeping through the auditorium, searching for vantage positions. Everybody wanted a good view of the altar. And for good reason.
Although mid-day Mass is mandatory in this church as in all Catholic parishes, this was a different kind of Mass. It was a unique day, and a unique audience for a distinctive personality, Monsignor (Col.) Pedro Ayodele Martins (retd), who clocked 101 years on earth that day. 'Today is a very important day for us,' the Reverend Father Debres Trinkson, the parish priest, said with a luxuriant smile as he explained the reason for the celebration-to rejoice with this distinguished Nigerian, an officer and a gentleman in man's army, and a General in God's army, a man who has served his God and fatherland with unparalleled passion, the centenarian that everybody calls Baba.
The time was 12:07p.m., seven clear minutes after the Mass ought to have been underway. But the grand old man was yet to make his grand entry into the church. 'Baba is on his way,' the priest told the audience apologetically. 'He would soon be here.'
As the clock ticked away, adrenalin pumped faster. The excitement and expectation among the congregation were thick. Many of them fixed their gaze on the entrance. 'Are you sure Baba would be here?' a female parishioner whispered to her friend. 'Will he be able to make it?' She didn't have to wait too long for a reply as the birthday 'boy' was wheeled into the altar by two young men, one of them in full military gear. There was a mild stir as the congregation strained to catch a glimpse of the man of the moment.
The entry of Baba, his hair snow white, wearing a pair of eye glasses, and bedecked in his priestly robe on a lace-up canvas, quickly set off a flurry of activities. The battery of priests, the altar boys, choir and entire congregation were all caught in the stir. His skin glowed under the luminence of the church's glittering chandeliers. It looked very fresh and well oiled. A few minutes later, Baba was lifted out of his wheelchair and helped onto a sofa as the sound of the organ tore through the atmosphere to signal the commencement of the special service. 'Priestly people, kingly people, holy people, God's chosen, sing praise to the Lord,' the choir sang rapturously as they led the congregation with the processional hymn.
Indeed, for the relation and friends of Baba, there was no better thing to do than praise God. And he just sat there still, wrapped in dignity and grace as if mocking the ravaging hands of age. For the two hours the Mass lasted, he held everyone's attention. Aside from lifting his hand here and there to wipe his lips with a checkered handkerchief, Baba was very calm throughout the Mass. No fewer than 20 priests, led by Monsignor Bernard Okodua, Vicar General of Lagos Diocese, were in attendance.
In his homily, Monsignor Francis Ogunmodede noted that Baba himself has broken his own record, which he set last year. 'In the history of the Catholic Church in Nigeria,' he said, 'no priest has ever attained the age of 100.' The oldest priest the Catholic Church ever had died at 99. 'Does it make any meaning that today, we are here gathered to rejoice with a priest who has just clocked 101?' the officiating priest asked the congregation in his sermon titled: 'Secret, meaning and value of old age.'
Monsignor Ogunmodede noted that in a country where life expectancy was daily experiencing a free fall, it behooves everyone to pray for longevity and the grace to attain old age like Baba. Old age, he remarked, is about the only thing that comes to us without effort. He said although old age takes away strength, life's beauty, it nevertheless remains the peak of human life and existence.
Reacting to an observation by someone that Baba napped on and off through the Mass, one of the priests noted that the old man reserved the right to do so having worked so hard in the Lord's vineyard. But Baba was all smiles as the congregation swarmed on him for photo shoot with him as he was being wheeled out of the church. 'Baba, your boys who you love to knock on the head are here,' a man decked in a white native outfit teased. 'Please, get up now and knock them.' The remark sparked a bout of laughter from everybody, including the grand old man.
True, age has laid its heavy hands on Baba, and dealt the once active soldier, priest, teacher, poet and composer a hard blow, it can never vitiate his enviable record of firsts. Born on November 16, 1910, Monsignor Martins is a man of many firsts and enviable records. He is the first Lagosian to be ordained Catholic Priest, the pioneer Nigerian Catholic Chaplain of the Nigerian Army, first Nigerian Director of the Nigerian Army Chaplaincy Services (Catholic), the oldest living catholic cleric and oldest living retired military officer.
In this special celebration of the icon, we cull a few chapters from Pa Martins' biography, titled: In The Shadows.
Enjoy it.
The lineage
Ayodele is the 2nd but 1st surviving child of Marcelino Domingo Martins and Regina Clarice 'Iyawo' Martins. Pedro was baptized Augustine, but his grandfather named him Pedro, Spanish for Peter, 'he says I was born with a fist.' His grandfather Domingo Martins was a known slave merchant who was very wealthy. Baba recounts a story of how his grandpa once acquired all the women he was shipping off as wives, to allow for easy passage of his cargo of slaves. It was under this similar circumstance that Ayodele was christened Pedro; his grandfather was trying to account for the lot of slaves he had, so he put forth all the children among the lot as his, including Ayo who was with him at that time. Being his real grandson, he got away with it.
His base was the Wydah Port in Republic of Benin, which explains why the Martins clan spread that far: 'I once went to Cotonou and unearthed a horde of cousins I didn't even know existed. You could tell their lineage from the facial resemblance.'
Ayodele's lineage is quite diverse; his grandfather, Pa Domingo was a Brazilian by origin, while his paternal grandmother was of Hausa stock. Catholicism was the first religion he was introduced to and he received his first Holy Communion at the age of 8. Ayo exhibited signs of restlessness, curiosity and mischief very early in life and he believes that was probably the reason he was sent off to school at age seven, which was pretty early by the standards at that time. Growing up in Lagos Island, there was a peaceful mix of Muslims and Christians: 'As children we all used to queue up at the Islamic school to partake of the Mossa often distributed to the children.'
The price for that goody though, was a recitation of the Quran, which young Ayodele had to master, so he could partake of it. His childhood days were made more interesting by the fact that everyone lived in a community that was one big family. Ayo, for example, was sent to live with his paternal uncle, Theophilus Martins 'T Mighty,' an offspring of one of the slave women grandpa Domingo acquired, who had no offspring of his, who was a paymaster in the Ministry of Works, and a Methodist.
His mother and siblings called him Fofo, (Benenoise for brother) but was better known as Ayo. He was as much the child of the larger community, as he was of the Martins. Baba's account of his relationship with his father was one mixed with awe, respect and a sense of camaraderie. It was clear that he was a chip off the old block: strong willed, determined and intelligent enough to know they had met their match in each other.
To give an indication of the kind of man Marcelino was, Baba often narrates the tale of how his father came for a prize giving day at Kings College and though his son won several prizes, made him take off the shirt he was wearing, because it was Marcelino's. You would think that implied an unfeeling and uncaring dad, but Baba thinks otherwise. His fondest memories of Marcelino in his younger days, was him in his uniform as a soldier in World War 1; complete with the musket and cepi (the official cap).
You must have been close to your father?
We are friends. We are great friends. Hehn… you see it was a question of hit me I hit you. My father knew that if he did anything to me, I would retaliate.
How come you were that close because I understand he was a merchant?
He was!
And most merchants have more time for their businesses than…
He was different in that way. He was different. I can say this much. That I never wore any clothes sewn in Nigeria while my father was in business. He went abroad to buy me things. And on one occasion, somebody said to him, 'Aren't you spoiling him?'
He said, 'that one is my master, what he wants I'll give to him. For one thing, I can rely on him'. Hey! My father when it comes to that he was very generous. That doesn't mean that he spoiled me o! And he hit me hard. One day he got the 'sabarumo*' to come and tie me, to flog me. When the 'sabarumo' was coming, I jumped and pushed him down. My father started laughing. O ni 'look at this one o, e ni ti o ba na omo, o fi di jan le. (He said, look at he who is supposed to discipline a child, fell smack on his bottom!)
The 'sabarumo' said 'Mr. Martins, you no good,' and that was the end of the punishment. To punish me, my father had to take precaution to see that there was nothing damageable around. By himself, he would stand at the window and say, 'Come I want to beat you', I would go and he would whip, pa! pa! pa! I would say thank you. Thanks papa.
Whenever he asked me to bring something…the typewriter was often my target. Any time he asked me to bring it, I made sure that the typewriter drops when I am carrying it. He would say 'ha? ha?', and I would say 'Papa I am sorry, I am sorry.' 'Ma se mo o! Owo ni kini yi cost o!' ('Be careful,' he would admonish, 'that thing cost money o!')
I always did that to him. I will give you another instance. He used to give me money, and he would be calling for it from time to time, asking me to write down the records. Then suddenly, he would say 'account'. However, he didn't always tell me the items he wanted the money for. And one day he said I was short. He just said 'on demand', what does that mean on demand?
So I said, 'do I know what you do with your money?' He then beat me, and I threatened to report to my mother that he usually gave the money to other women. 'Mama, so fun oko re o! Ba wo ni mo ma se mo oruko awon asewo ti on fun lo wo?' (Mama, tell your husband o! If he gave his money to prostitutes, how can I know their names?) My mother reacted: 'Nitori olorun, ma le mi kuro ni ile oko mi!' (For God's sake, do not drive me from my husband's house).
You must have been close to your mother too.
I was close to the two of them because the thing was that I enlivened their lives. You see… hmn, some of the things I did. I give you another example. Saturday in Lagos used to be for masquerades and I loved following the masquerades around because they were doing magical things, running to Olowogbowo, Ita-Ifaji, kin won ma na eyan ka kiri, (beating people up and down). I loved that, you know. So, eyan nba egun jade. (So, people did not go out because of masquerades). Regardless, my father sent me to Lafiaji, (he had a house on Simpson Street), to go and collect the rent. 'Kiniyi nisinyi ti eyan fe ba egun jade'.
('What is this now, that one has to go out with the masquerades'). So I ran quickly to deliver the message. But instead of coming home to give an account of the result of my enquiry, I went to the Egungun. I came back home late thinking that father would not have returned, only to find him sitting on the arm-chair, enjoying a whisky and soda, mo ni ye! Kini ma se wole. (I said yea! How am I going to get in?) I went back. Mo lo gbe ago Egungun fun ranmi wayi mo wa ni (I went back, put on the Egungun dress and came back and said to my father… Martin you are blessed!). My father gave me two pence.
Nigbati mo wa pada de tan, baba ti ready igi sile, tori o fun mi ni kobo meji. Ni o ba ko bomi. O ni kobo meji mi da. (When I returned my father had prepared a whip and gave me the beating of my life, asking for his 2 pence).
Mama ni 'iwo omode yii ki ni ma tie se? Ewo ni el'egun.' (My mother said what will I do with you? What is all this with masquerades?). She was wondering why a Christian boy would go and carry Egun. They didn't realize that I had a bit of imagination. What was going on in my mind was that, if I can arrange a rapproachment between my father and the Egun, the rent would be more lenient towards my misdemeanor.
What about his money? You had his money, the rent you collected.
I didn't meet the man. Boya iyen lo je ko na mi. Ko nse nitori egun ti mo gbe. (Maybe that was why he beat me and not because of the masquerades). I didn't think of it that way that time o. Days afterward my father said, 'Nje eyan ni wo yi sa?' (Are you a human being, you this boy?) He enjoyed it o! My father enjoyed it.
My father was not a churchgoer as such, but daily Rosary was compulsory in our home, yet he thought I was mad when I decided to become a priest. In those days the priests were white; so to him it was more like 'Were dun wo loja, ko se m'bi l'omo' (you may enjoy watching a mad man in the market place, but never desire him for a child).
The day I was going to the seminary, he asked me one question, 'Have you lost your mind?' I said 'No.' He continued, 'Mon Dieu! Mon Dieu!' He tried to hit me but dragged me across the room and said, 'We can talk privately.' All this happened in the presence of my younger brother Dominic (Don), who found it all amusing because that meant he would then be the next of kin. He said, 'Ehen get out of the way', because he always felt in competition with me. I pitied my father, but my mind was made up at that time. For once, I saw my father cry. He is a strong man, and I told him 'be a man' and that disarmed him. He walked out and I walked out too. I left home without saying goodbye to anybody.
However, a lot of events that week had run up towards this final decision. I was a very good sportsman, cricket was my favourite sport, but I played football and many other sports actively and was pretty competitive too. I headed a team that was in straight competition with one headed by J. Koshoni Randle, my closest friend and rival. He had a stronger team, but mine had more endurance. After a series of competitive games at our final annual sporting event, my team lost to JK's overall, because we lost out at the Tug-of war event. I was devastated.
JK and I are like Yin and Yang; or if you like, two sides of the same coin, so he knew that I would brood over a failure and therefore my team's loss was even more painful to him. It was painful because it was our last year, and there was no chance to 'retaliate', and like my father, I always like to prove a point. I wanted to teach Randle a lesson by doing something I could excel in that he couldn't and the priesthood, which I was already being drawn to, seemed the perfect ground for that. He was one of the few who already had sensed the pull the Church had on me. I remember the first time I told him, he said, 'Don't finish their wine o!' referring to Holy Communion. He knew that if I lost, I would go to the priesthood. That is the mystery of faith and grace, when you are close to someone, he can read you like a book. JK had seen.
On that last evening I had gone to play a game of cricket in 'Toronto', a parcel of land in front of Kings College, took my bat home and decided to sacrifice it all. The comfort of my home, sports, cricket and even my favourite brown shoes! It was not easy but just like my father, when my mind is made up, I never look back.
That was also the week I was supposed to have taken the test to get into Oxford, as was planned between my father and my principal in Kings College, Mr. Peacock. When I dropped the bombshell, Peacock gave me a kick and said, 'This is what I get for introducing you to Greek and Latin'; he thought it was the fancy for languages that attracted me. The truth is, I could not myself tell why I decided to become a priest. I knew that I would grieve my father because he had such hopes that I would succeed him. Yes he had four other sons, but I was more like him than the others!
So I finished breakfast the next morning and I went to the Bishop. I said, 'Do you know I want to be a Bishop?' He was scared and replied, 'I don't want your father's palaver.'
Which Bishop was that?
Bishop Terrien of the Lagos Vicarage. He said, 'I don't want your father's palaver.' You see, I was a friend with a young Irish priest, Fr O 'Flaherty, who was the religious instructor at Kings College. He used to draw me, and teach me about art and famous artists like Durrel. Everybody thought that he would at least have known about my inclination. I didn't tell him either. The day I left, when the day had been spent and there was no sign of me, my father thought he had seen me playing football at Kings College. But as it got later, (as they later narrated it to me), he said, 'This is unlike him.' Then my mother who suspected said, 'Why don't you go and see the Bishop?' But my father said, 'It is rather late', and therefore did not go that night. By the next morning I was already in Ibadan. So when they eventually went to the Bishop the next morning, he told them, 'He said he wanted to be a priest.' My father said 'leave him there', and so I was left there.
They didn't come looking for you?
Oh no! Looking for what? My Father! I told you the kind of man he was. On one occasion I was so angry with him and I went and jumped into the Lagoon. He fished me out and when they took me to him, he looked and said, 'I told you that you are useless. You can't even kill yourself?' So that gives you a bit of my background, a tough one. I will give another illustration of just how hard my father was. Think of the Victoria Beach (Bar Beach today) in the years around '22, '23, when the beach was farther away than it is today; for you to call your son, (I couldn't have been more than 12 or 13 then), 'go to beach and get my shirt.'
I had borrowed a shirt of his and had worn it to the beach earlier in the day, and returned home without it. Seeing it was pretty late, my mother offered to go with me but he refused, saying, 'You are my wife, you are not going anywhere. He is a man let him go!' I returned home…(we lived very close to Tinubu Square) I returned to my house that morning at 2 o'clock.
A.m.?
A.m! From my childhood, I have been tough. I was brought up tough. Look, my father was a very hard man. Very hard man, hard on himself too! But I admire him for one thing. He knew precisely what he wanted and we were not going to stand in his way. He gave me that character.
Why exactly did you decide to be a priest?
Well, you know it is a very difficult question to answer, you know my answer, my stock answer is this, you cannot ask the Lily why it is white. By that I mean this: the popular flower found itself white and accepted that it was white, I cannot explain. This is something that has to do with the in working of the Holy Spirit, and you know that at a tender age when you are still innocent, the contact with the Holy Spirit is a direct encounter and you can understand the Holy Spirit, but when you became a sinner like you, and you, then you begin to look for interpretations and read meanings into actions. That is my answer. I cannot explain it myself.
So if you feel an inclination, if you go into the realm of psychology, inclination, the propensity innate in you, and your response to that inclination is what you find yourself doing. In other words, this is something happening outside you, and brought into you. You cannot explain that.
As Africans, even in other parts of the world, we believe in fate, don't you?
Certainly! We all believe in fate. So what we are saying is this, there is … the Holy Spirit that always inspires the soul to do this or that.
(For Ayodele, the journey to priesthood certainly began with a series of events that culminated in that final Fiat! It probably started with the early admiration for the holiness, grandeur, order and purity of the earliest priests. Monsignor Ayodele Pedro Martins would as a teenager witness the ordination of Nigeria's first indigenous priest, Fr. Paul Emechete.)
Fr. Emechete was a very very clean man who walked majestically. His soutane was always immaculate, and I have never seen a cleaner person. He was trained locally by an Italian priest, Fr. Zarpas, and was ordained in Lagos in 1928 or so…no, before. He was ordained long before our first Nigerian priest from this side (Lagos). I was at that ceremony at Holy Cross and I got a prominent position to see.
My mother could not go, so when I got home I said, 'Mummy you know what, once they got to the imposition of hands on him, he became white.' She said 'shut up', claiming it was an exaggeration. Later I realized it was the eye of a very fascinated youth who had, before then, only seen white priests! Later in life I told Fr. Paul the story and he said, 'You are right, my soul was white.' He was the first one and how he pushed through I don't know. That may have been the catalyst for my decision to renounce everything. I was so impressed and taken in by the ordination that I 'saw' a black hand turn white.
Another strong impression was made on young Ayo by an SMA priest who lived at the cathedral, which incidentally was very close to Kings College and had a backyard that was in full view of the boys.
Terrien was an SMA priest, a very holy man. He was Bishop of Lagos, and it was the fifth day of the Ascension into heaven of Christ after Easter. I was a youngster living around the cathedral, and there he was saying his prayers, going up and down. So I was intrigued, and wondered to myself, 'What is he mouthing.' He saw me. I wasn't' admiring him, I was just wondering why all this back and forth. I was there watching for almost half an hour. And what intrigued me most was that he was going up and down and was making no sound, though his lips were moving.
He noticed me and when he closed the book he called me up. I went up to see him. He asked me who I was. I told him. I was only a youngster of about fourteen, but I was already in King's College. So he said, 'What were you looking at?' I said what were you doing with your mouth going like that…I acted it out for him. He was so fascinated that he called another priest to witness it asking me to repeat the description, which I did, and the two of them were laughing their heads off. He took me to his room and I looked at the gilded book he had been holding, I opened it.
I saw red and black lettering and once he stepped out of the room, I picked it up again, marveling at the different coloured lettering. It was the Breviary, a compendium of prayers.
When he was coming back… normally a child, knowing that he was doing something wrong would have ducked, but I didn't. So he looked at me and said, 'How old are you?' I said I am thirteen, fourteen. He said, 'What did you read out of that book?' I said I read something. He said go on. I took the book and I read out, 'to my father, my father and your father.' It was written in Latin. He looked at me and said, 'You can do that? What are you doing? Why don't you become a priest?'
He injected the poison. He injected the poison all right! You know, after that he took an interest. In King's College in those days on Sundays you went to Church and after mass I would run to him to come and read more Latin texts to me. But it didn't occur to me that I was going to be a priest. It didn't occur to me.
If you talk about priests who influenced my life, the second priest was Bishop Taylor. When Bishop Taylor came to Nigeria he started teaching scriptures in Kings College. This was in the twenties and he was a very liberal-minded Priest, very slight, hardly raised his voice. But he can be very sarcastic, but he understood us very well and his classes were usually fun because he always came down to our level and he never took us for granted. He understood us. He knew what we wanted. He was good. Now, then Taylor left and I didn't see him, for many years.
When I left Kings College… this is a very sad part. This is where my father and I disagreed. My father was preparing to send me to Oxford, because I showed aptitude in Latin and Greek. Reverend Payne, Vice Principal of Kings College then took an interest. The interest was two fold, because he thought anyone with the flair for the Classics like I had, could either be a pastor or classical scholar.
He encouraged me a great deal and in fact, it was through him that I read many Latin authors. Now Payne had told my father that it would be a tragedy if I didn't do Classics. Of course my father too, proud and pompous, as he was, saw his son going on to Oxford to study Latin and Greek. My mother was a more practical woman. She said, 'Let him look for a job first here, do some job here before you send him abroad.' There was disagreement and my father was (obviously) thinking that because we were close, I would be on his side. I just said 'No!' I didn't want to disappoint my mother and yet I didn't want to play into my father's hands, so I left home. That was the situation when I left home.
At what age?
I was about 19 or 20.
What for? Ibi ti a ba ti so pe o daro a ko tun so pe e kale mo. (When we have said goodnight, we do not go back and say good evening again) I left with all my things stuffed in a pillow case and went straight to Ibadan (seminary) paying my fare of two and six with my saivings. Dad used to give me pocket money of five shillings every week.
Fr. Freyburger, a French German was the superior who received me. After reeling out all my basic statistics of who I was and where I was from, I told him 'I go to mass every morning. I would like to go to the seminary.' He said, 'I will get in touch with Lagos to confirm.' Though he didn't have the needed shilling to send a telegram, he said God would be the judge of whether I would proceed to the seminary or not, and so if it was His wish, the shilling would show. It showed how truly spiritual he was like most of those early priests, he left everything in God's hands. I believe it was God's wish indeed, because I had enough on me to cover the cost of sending that needed telegram to Lagos seeking confirmation of my claims.
(Though he ended up in the seminary, Ayodele was no different from any active young boy of his time, to the extent that, boys will be boys, full of pranks. His Kings College days were particularly full of them.)
As little boys, our housemaster, Mr. King was also the mass server until he went back home to England to get married. Upon return, his wife used to poke her nose in our affairs as matron of the boarding house and we did not like that, so we devised a means to keep her away. We painted our faces black and marked around our eyes with white chalk to scare her once when she came to the dormitory, she screamed and ran away and never again bothered us!
My inclination has always been towards the sciences. As a boy I was very curious and wanted to know all about human nature, so (I) loved the sciences, especially as there were fewer ambiguities; you are either right or wrong; not like with the arts, like English for example. Our English teacher was Mr. Hammersmith and he used to constantly ask us to write essays. Many of us knew what he wanted. If you suck up to him you get good marks and I was a rebel, so I always wrote what was on my mind. I used to say to myself, 'What is all this, Ayo Martins is this what you want to say, or what the teacher wants to hear?' I would then say, 'Take your choice'; of course poor marks were the result. He'd then say, 'If I were you I wouldn't use that word', and I would say 'What word would you use?', and we would go back and forth on the issue. Poor Hammersmith, I knew what I was doing, I was just teasing him, but he never lost his temper. If it were myself, I am sure I would have broken any such child's neck.
As boys, JK and I gave the girls a lot of our mouth. Our specialty was teasing them. I remember one in particular, one Miss Akerele, she used to come and take history classes at Kings, and was therefore the only female in class (she went on to become a medical doctor); we used to tease her a lot, telling bawdy jokes that could shock the average girl into silence, but not her. She was our match and we all ended up as friends.
So, priesthood for me was never a case of not liking women or not wanting to be around them, it was a matter of choice and response to a calling I couldn't resist even if I wanted to. Then again I always thought that being a husband is a more difficult vocation, also I didn't want to be saddled with any of the young women around me at that time, for the rest of my life.
At my ordination, my mother, like the typical woman, was busy cooking and entertaining and preparing but she did come in at the last moment. I was afraid that if I saw her, she might break down. It was too much for her. I was her everything, her gem. In the first place she couldn't believe that her own son would ever take to the priesthood because I never gave her any indication as a boy that I am the goody-goody boy, no! I was a proper boy o, and I made no secret about that. No, no, no. I was surprised myself when I was being drawn irresistibly towards this thing. It was never my life. I never sat down to say 'this is what I want to do'. But then all of a sudden this thing came along. I didn't resist it. I couldn't have, in any case.
However, my mother was proud of me eventually, my decision to go was her sacrifice.
When things were really hard on me in Asaba, I had my doubts too, but didn't give up because how would I be able to tell people that it was the food that was driving me away. I was used to my first coffee in the morning and here was I in Asaba with no coffee or even tea, morning, afternoon or night!