Kefee begins European tour next week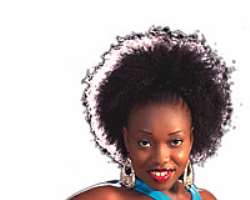 Honoured with the prestigious United Nations award as Young Ambassador for Peace, Kefee is greatly armed with a warm spirit, a tender and thankful heart and a desire for everyone she comes in contact with to have the same experience.
A prolific song writer, a skilled dancer and a passionate singer. An artiste whose music is not only encouraging but inspiring and motivating. Kefee's European tour which begins early next month is aimed at offering vibrant music lovers the opportunity to relax with quality and electrifying live entertainment.
There will also be appearances from other talented musicians during the tour which will take her to Britain, Belgium and other countries.
Born to Deacon and Mrs. Andrew Obareki in Sapele, Delta State. She started singing at an early age in the children choir, ever since, she has been transformed from one glory to another.
Kefee, the Branama Queen studied Public Administration at the University of Benin, Edo State. By this time she had already written well over 20 songs and had a greater passion for music.
In 2000, she playfully composed and released an album entitled Trip with a friend; the album was a success and got them shows alongside artiste likes Tony Tetuila, Plantation Boyz and a long list of others.
The album gained some recognition as the videos where the talk of the town in Benin, being the first female group to break off from the usual approach, the two friends parted after school but Kefee did not give up.
In December 2003 she signed on with Alec Music and released her first solo album as a female artiste. Kefee's Branama sold 9,000 audio cassettes in just three weeks of the album release and over two million copies of CDs/VCDs in a month.