Senate Moves To Reorganization NYSC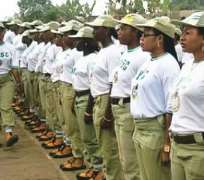 ABUJA, November 17, (THEWILL) - The Senate on Thursday urged the Federal Government to reorganise the NYSC scheme, saying a reorganization would allow the scheme meet its original objectives.
The resolution was sequel to a motion sponsored by Senator Sahabi Yau and 33 others. They sought the resolution to get the Federal Government to stop forthwith the rejection of youth corps members posted to them during any service year.
The prayer as amended by Senate Leader, Victor Ndoma-Egba, which was passed by the Senate urged the "Federal Government to ensure that the NYSC scheme is reevaluated and reorganized to enthrone its original objectives."
Leading the debate, Yau noted that the national programme had recently been buffeted by sundry challenges including attacks on some corps members, resulting in calls from some quarters that the scheme be scrapped.
He said the attacks on corps members had been worsened by the serial and unjustified rejection of corps members by the organizations of their primary assignments, even as he alleged that these federal establishments had refused to pay them stipends.
"This attitude is a sabotage of the sublime objectives and ideals of the programme and works to demoralize these youths in their pristine patriotism and eagerness to serve the country, and if not checked, the routine rejection of corps members by federal establishments would blunt their zeal to serve and provide a psychological template for misguided national human capital," the senator stated.
In the ensuing debates, senators acknowledged the derailment in the scheme resulting in corps members engaging in influencing their posting to ensure that they serve in locations of their choice.
Deputy President of the Senate, Senator Ike Ekweremadu, said it was not possible to force agencies to take corps members which they do not require.
He said, "I may beg to differ from opinion expressed by my colleagues, the sense of rejection by any agency has some psychological implications but it appeared the issue is based on sentiment. If you send 1,000 to NASS, does it have the ability to accommodate all of them?
We should rather be thinking of how to reposition NYSC to make it more productive.
"If we take a resolution that coppers sent to public sectors are accepted, what are the capacities to these agencies, how do we guarantee that it will work? I think what should border us is how to reform the NYSC scheme to add value to the system. I share the sentiment but in terms of workability, it might be difficult. Let the committee in charge of NYSC think of ways to reform the scheme," he added.
Datti Baba-Ahmed also spoke against the motion, saying, "I speak against this motion based on three solid grounds. The first is that I feel there are certain emotional attachments to NYSC by people who moved this motion. There are lapses in the planning system. The other ground is that there is expectation to re-orientate youths to go against what they have seen for about two decades. The value they require should not be achieved in one year. To say the truth, the system has failed."
But Ifeanyi Okowa and Suleiman Adoke argued that it was wrong for agencies of government to reject corps members, but they agreed that corps members should rather be sent to states instead of bringing all of them to Abuja.
President of the Senate, Senator David Mark, in his final comments complained that corps members were involved in circumventing the system to have them posted to areas of their choice.
He said, corps members want to serve in Abuja, they don't only want to serve in Abuja, they want to serve in NNPC or PPMC. So we are running into series of problems. I believe that the NYSC has been seriously bedeviled by lack of proper coordination, otherwise why do you send people to where they need only one person and then you say that the ten must be absorbed, nine of them are going to be employed in any case and they become a problem.
"I think what we should really look at is what will make the NYSC achieve its own objectives, the reason why it was set up, that is national integration. There are people who are serving in various places that they didn't know existed in this country at all, but they got there, they settled down; the villagers, the communities accepted them.
"These days the communities are not even ready to accept NYSC in addition to the dangers that they go through. In my candid opinion I think we need to go back to the drawing board and make sure that we organise the NYSC in such a way that it achieves the original intention, that is, to bring about national unity and to ensure that there is national integration so that we all get to know a lot about this country."