Call me if you can blow N.2m within 48 hours — Shade Salami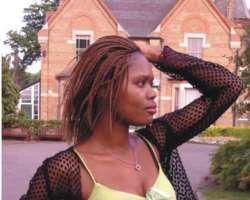 Are you a fashion enthusiast with a nice spending ability? Then get ready for the new show that is coming to town which aims at giving you a chance to spend N200k within some hours. How Not to Dress: The Nigeria Makeover Challenge is sure to give you that surprise and excitement you have been dreaming about. SHADE SALAMI, the diva with a passion for fashion in this chat with AHAOMA KANU reveals how her drive for passion took her through the whole nine yards.
You are in the fashion business, what got you interested in fashion?
I have always been interested in fashion since I was a little girl and again when I studied and lived in England for many years. Though I worked as a teacher and also worked for the Royal bank of Scotland. I never saw myself as a 95-set of person you know and wanted to do something in fashion because I had a passion for fashion. I went into modeling when I was studying and knew that I would do something in fashion so started with opening up a clothing line called Bloomingdames Boutique four years ago. I went into that because I had a flare for picking nice clothes.
I discovered Bloomingdames stocks mainly western styled clothing and we are in an era where we want to rebrand Nigeria with even our products, why don't you have Nigerian stuff here?
Fashion is all about style and we all have our different styles; talking about Iro and Buba, that is not my style but that is not to say that I don't wear them; I love the whole African print but I love them when the designers are creative with it and give it a blend of style that will be appealing and stylish. But very soon, we will be stocking some African designs like Modella Designs that will be stylish and nice.
How fashionable will you say a typical Nigerian woman is?
Nigerian women are really stylish trust me. When I was studying in England, most times when I see a really beautiful and stylishly well dressed black woman, I do say to some of my friends, that's got to be a Nigerian woman and when you really go closely, you will discover that she will indeed be a Nigerian.
Definitely you have taken your game to another level with the introduction of a reality TV show that we hear is very interesting, can you let us into your show?
Yes it is a very interesting make over show where each week we pick one person from across the country and give that person a N200, 000 transformation. When we pick the person, we will invite the person to our studio here in Lagos and give that person the sum of N200 000 to go and shop for a wardrobe upgrade or transformation money. But before they can come on the shop, they have to nominate themselves or have family and friends nominate them as either needing or deserving or both for a makeover. Some people will because of the money nominate themselves and make up stories that is why our camera will follow them secretly for two days if you are shortlisted. We may just call you and inform you that you have been shortlisted and then, we don't tell them that our crew will follow you anywhere you are in the country to get an insight into their sense of style and lifestyle as well so that we can ascertain anybody that doesn't really deserve to be in the show.
Are you telling me that if someone is nominated inside the creek in the Niger Delta is nominated; your crew will be there?
Yes, we will find that person out in any hole they may be; we are that thorough and ready.
What inspired the show?
I will say that my passion for fashion did. Like I told you Nigerian women love to look good and dress well and a lot of people will love to dress well but many of them can't afford it. There is this challenge of limitation especially in the area of finance; people want to look good and can't afford it. So this show is not about transforming people and making them look like stars, No; it's going to teach them how to shop on a budget. We will give them a budget and rules on how to shop. We have a medical doctor who has come on the show and that you can't say she is challenged with finance but she is always very busy and works so hard with her patients and does not have the time. Our duty is to show you how to do it right. We are not going to take you outside what you wear, your style. What we do is to call you and you come into the studio and the in-house stylist, Modella will give you the rules; you will have a chance to watch what your family and friends said about your sense of style and then you go shopping and shop according to the rules.
Are there specifics on the kind of wears anybody chosen should wear like can somebody that loves traditional be allowed to buy what he or she loves?
The rules we give them is to buy clothes that fit them; we look at their figure, their lifestyle and guide them to buying what fits.
So anybody with any figure is welcome?
Of course, whether you are slim, fat, medium, you are welcome. Just watch out for the show, How Not To Dress: The Nigeria Makeover Challenge. We are not afraid to take challenges and have taken the initiative to give you the most exhilarating 30 minutes of excitement on television. The first person that came on the show is a policewoman that was plus size with some tummy and I mean, massive figure but at the end, she simply appeared gorgeous.
How can someone by nominated into the show?
You just send a text message of the person to our hotline. You do so by texting MO/Name/Location and then briefly say why you or the person you nominate needs or deserves the transformation and send the sms to 35811.
How is the show going to be run?
It is going to be a weekly series; the show has got a national appeal and will be shown on national TV stations. The good thing is that a percentage of what is made from the viewers participating through sms will go to charity. I am promising Nigerians to get their seat beats ready for the most exciting reality TV show they have not seen for a long time.