I BECAME AN AUTHOR BY ACCIDENT -OGUNNUBI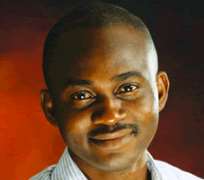 •Ogunnubi
Gone are the days when Nigerians did not read but today the trend has changed. People have started reading as they now know the importance of books. Yinka Ogunnubi, a Finance expert observed that more authors are now writing books for people to read.
Ogunnubi hails from Ogun State and his first book Honey, Is it in the Budget serves as a guide for married couples to help them in their finances.
In a chat with Daily Sun, Ogunnubi explained how he became an author, his sources of inspiration, his challenges, role models among others.
Biography
My name is Yemi Ogunnubi and I hail from Ogun State. I had my first degree from Ogun State University now Olabisi Onabanjo University, Ago-Iwoye and later had my Masters Degree in Financial Management from the Federal University of Technology, Owerri. I have done so many programmes on finance especially on Treasury and these have really broadened my knowledge on finance.
Becoming a writer
I became a writer almost by luck because I never dreamt of becoming a writer. I found myself at different times organising seminars with various organisations on the subject of finance and most times i found myself teaching cash management. I realised that whenever I presented a seminar, I never had any material to give to the participants. I later got the idea to produce my presentations into manuals which participants can take home. thereafter i thought of writing a book instead of a manual and that's how I became an author almost by accident
.
Publications
The title of my book is Honey, Is it in the Budget? The book describes what goes on in a family where the husband would ask the wife, is that in the budget? or the wife would ask the husband, the same question. This is a popular phrase in my family, it stems from a lot of kitchen table jokes which my wife and family usually throw at me. What makes my book different from others is that it comes with a working tool.
Challenges
As a first time author, the first challenge I had was information. There was virtually not much information on what to do particularly on how to publish a book. So I had to learn as I went along. I learnt through that way. There is also the problem of renowned publishing houses, they don't seem to help upcoming writers. So upcoming authors are on their own, so in order for them to make a mark, many of them go into self-publishing.
Writers block
For me, I don't experience writers block because as a writer, before I set to write. I already have an idea of what to write. For me, it doesn't take me long to write because I always have an idea of what I want to write about.
Role models
My role model is Pastor Sam Adeyemi because he has inspired me in a lot of ways. I like his commitment to excellence. He is a man who doesn't compromise standards. Another person is Dr Habil Mensah, a Ghanaian. He is a very resourceful person. He is an accomplished man and his works are very challenging.
Target audience
My target audience is the working class people who are either married or yet to marry but they are earning an income. Everybody who earns an income, has to make financial decisions with money. I envisioned an housewife for instance, whose duty is to take care of her family. She needs financial enlightenment on decisions on what she purchases in the market. The book is designed in such a way to appeal to that class of people to make it suitable so that they don't feel the this book is not relevant to them.
Choice of words
I deliberately used very casual words, and the idea is to make the subject of finance unambiguous. What I realized from my experience in Finance in seminars and lectures is that the subject of finance is very threatening to those who doesn't understand it. When people talk about terminologies in their various professions, people are scared away and they wouldn't like them. So, I try to use everyday language that is common to every body.
Time of writing
Whenever I want to write, I need to take some time off from work. I would leave my house and go to a quiet location and begin to write. I prefer to write in the morning.
Inspiration
I am a deeply spiritual person, so I derive a lot of my inspiration from my relationship with God. It drives every other experience that I have. As human beings, we are where we are today because of our relationship with our maker.
Research
A lot of research goes into my work. I had to do a lot of research around family issues. In developed countries, you would have a lot of data coming from those countries. One of the things that I was able to connect about family issues is how important the subject of finance is to divorced couples. I realized that in some developed countries, 50 percent of every divorce case is as a result of finance issues and not infidelity. It only makes sense that a couple that is able to resolve its financial issues will ultimately be able to keep their relationship together.
Nigerians don't read
If I was asked this question ten years ago, I would say yes that Nigerians don't read but right now, there is the generation that is getting interested in books and that is why, we now have many authors writing books. The trend is gradually eroding and we are beginning to see a lot of people reading and writing books.