ALLEGED NON PERFORMANCE IN AMAC: HAS HON. MICAH JIBA'S CRITICS PLAYED INTO HIS HAND?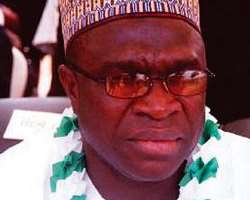 Anybody conversant with the activities of professional distracters in FCT would have by now seen established pattern in their operation. Not long ago, Senator Sidi Ali, the ousted Senator representing FCT joined issue with Hon. Danladi Zhin, the Chairman of Kuje Area Council. The grouse of Sidi Ali was that all the developmental projects completed by Zhin's administration in his first term in office were inflated. Sidi Ali utilized National Accord Newspaper in advertising has so-called petition to EFCC. The same tabloid was deployed this time around by Hon. Jiba detractors, incidentally, with the same caption: "EFCC swoop on FCT Area Councils over massive fraud" The opening paragraphs the report was still the same with that of Sidi Ali's, in the process, exposing it as a hatchet job.
The logical deduction that could be made from the uncoordinated attack on Hon. Jiba is that his political traducers were clever just by half. Hon. Jiba's critics probably reasoned that exploring Sidi Ali's option wholesale will expose their base intention, it will mean admitting that Hon. JIba had executed developmental projects, but at an inflated prices also. They were now left with the only option of wishing away his developmental efforts so far. It also presents National Accord Newspaper as one that has no pedigree in investigative journalism. Standard journalism practices demands that if they don't have reporter in AMAC for direct feedback on events, it would have been incumbent on them to cross check material given to them before publication. Inter newsroom collaboration with other Dallies would have afforded them the opportunity of obtaining report on projects completed by Hon. Jiba so far, and save them the embarrassment of being seen by reasonable people as mare blackmailing outfit.
A report in The Nation Newspaper of 17th June 2011 appeared to have made nonsense of the position of Hon. Micah's critics on the so-called non performance in AMAC so far. The entire report goes thus: Caption, PDP begins monitoring of political office holders. "The leadership of the Peoples Democratic Party [PDP] yesterday began the assessment and monitoring of the activities of its elected officers. The Acting National Chairman of the PDP, Dr. Bello Haliru Mohammed, who spoke while inaugurating some projects executed by the Chairman of the Abuja Municipal Area Council [AMAC] Micah Jiba, said the party had developed a blueprint for monitoring, observing public office holders elected on the platform of the party. "The directives to our officials, Local government chairmen and state governors is to concentrate on the projects that are of important to the life of the people," he stated.
Mohammed, who was accompanied by some members of the NWC and former National chairman of PDP, Senator Barnabas Gemade, added: "This time around, there will be a robust monitoring of the performance of all our elected officials. Those found not performing will be encouraged and guided". While saying that the essence of monitoring and assessment exercise is to ensure that elected PDP official delivers good governance to the people, he noted that the PDP is conscious of the fact that it will only win future elections if PDP office holders perform to expectation.
He congratulated Jiba for the project he executed since May last year, saying he did not betray the trust placed on him by the AMAC. "It is our pleasure and pride that PDP's manifesto is being praticalised with people we trusted and entrusted with power" he said. He, however, enjoined the AMAC chairman to ensure that priority is given to traders presently occupying shops in Karu when the market is rebuilt to international standard.
Jiba told the PDP chieftains that his administration project at Dnako village,18-kilometers township road in Jikwoyi, foundation-laying of new karu international market and another township road at Durumi. Impressed by the electrification project at Dnko village, Bangyi Tezhibeyei, presented a white ram to the PDP Acting National Chairman and assured the entourage that the resident of the village will help to secure the facilities.
President Goodluck Jonathan had during the groundbreaking ceremony of the new PDP national secretariat in Abuja, directed the national leadership of the party to monitor the activities of those elected in the office on the plat form of the party in order to ensure they deliver on their campaign promises to Nigerians".
With this verifiable fact about the practical performance of Hon. Micah Jiba in AMAC above, rational Nigerians will agree with this writer that the author[s] of the story in National Accord Newspaper on the 6th of August 2011, were either not living in FCT or that they are desperate Pull Him Down [PHD] fellows. To start with, the former Acting National Chairman of PDP who is now the Minister of Defence lives in Abuja and can be reached for clarification/verification on issues if doubts exist in the minds of Micah's traducers.
Thankfully, Senator Barnabas Gemade from Benue State was in Alhaji Bello Haliru Mohammed's entourage on the day projects completed by Hon. Micah Jiba were inaugurated. He too, can be contacted in Abuja by these arm-chair critics of Jiba's performance in office.
For comprehensive avoidance of doubt, here are comments from verifiable sources on superlative performance of Hon. Jiba as published in AMAC directory: "……I knew I need to come and support this very young and hardworking chairman. I say a round of applause for him. This is what achieving result is all about and we support you. We congratulate you; we congratulate the entire people of Abuja municipal Area Council for this success. We wish you the best, the very best. This is not all you are going to achieve but you have done this in 100days. I wish you the very best, I congratulate you "Mr. Chairman."
Chief Olusegu Awolowo Mandate Secretary, Area Council Service Secretariat. At the commissioning of project to commemorate, Jiba's 100day's in office, July 16th 2010.
"……..The first one hundred days in office represents an important milestone in assessing a leader at least on an administration the world over….. One hundred days in office is enough for you to show that you are a capable leader……"
Immediate past FCT Minister, Bala Mohammed (Rep. by FCT Perm. Secretary) while commissioning project to mark Hon Jibas's 100days in office.
"…….Our gathering here today is to rejoice and celebrate an achiever who has come to serve his people, who have something to show within first 100days especially, those who voted for him that their trust was not in vain after all…."
Former FCT Minister, Bala Mohammed (Rep by FCT Perm Secretary) while commissioning project to mark Hon Jiba's 100days in office.
"…..We have noted with admiration and support for Hon. and able Chairman of Abuja Municipal Area Council. Please join me to congratulate Hon. Jiba for a job well done to appeal to the people to utilize the project judiciously…."
Immediate past FCT Minister, Bala Mohammed (Rep by FCT Perm Secretary) while commissioning projects to mark Hon Jiba's 100days in office.
"…..I am glad to grace this occasion, as a grassroots man who believe that the child of a poor farmer must rise to the pinnacle of his God giving career. I want to thank Hon. Jiba for fulfilling his campaign promises to the people. Chairman, I want to commend you for fulfilling this promise this afternoon.
…….I will commission these projects today, so that we can achieve environmental cleanliness in FCT, in AMAC in particular.
……Everybody should maintain this market so that it will not be an eyesore".
Words of Navy Capt. Caleb Olubolade, Rtd, Outgoing Minister of State, FCT at the commissioning of the newly constructed Utako Market Extension Complex, 6th May, 2011.
The above words on the marble were made by the current Minister of the Federal Capital Territory, Bala Mohammed and the Minister of State FCT, first at projects commissioning ceremony, to mark Micah's 100 days in office. Secondly, at the projects inauguration ceremony to mark Hon. Jiba's one year of purposeful leadership in AMAC.
It could be clearly seen that non performance criticism of Micah's administration collapsed upon critical analysis. On the issue of allegation of lack of prudence in tenement rate management, this writer will like to recommend FOOT PRINTS Magazine- A directory that contains the entire projects executed/contracted by Hon. Micah Jiba in the past one and half year in office for the purpose of better information. The directory contained a graphic detail of completed projects in the following areas: [A] Educational Empowerment Road Construction [C] Primary Health Care System [D] Youth Development & Empowerment [E] Potable Water Scheme [F] Sustainable Rural Electrification Scheme [G] Agriculture And Rural Development [H] Market Development & Internal Revenue Drive. There is no doubt that Hon. Micah Jiba traducers misfired on his performance in office so far, for National Accord Newspaper, maintaining a reporter in AMAC will help them to track the performance of Hon. Jiba and help boost their investigative ability.
** Emeka Oraetoka, an Information Management Consultant & Researcher wrote in from Garki-Abuja. P.O.Box 18928. e-mail:[email protected]
Disclaimer:

"The views/contents expressed in this article are the sole responsibility of the author(s) and do not necessarily reflect those of The Nigerian Voice. The Nigerian Voice will not be responsible or liable for any inaccurate or incorrect statements contained in this article."
Articles by thewillnigeria.com