I' m in love again–Bukky Wright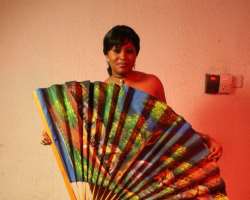 Even at 42, delectable actress, Oluwabukola Sekinat Ajoke Wright looks radiant and beautiful. She has always been a delight to watch in movies owing to her talent as a good interpreter of roles. Although she became an actress long after graduating as an Economist, Oluwabukola , popularly known as Bukky Wright said she got fascinated by acting and promptly joined the industry with a vision to make a mark.
Recently in Lagos Bukky Wright premiered her latest movie, Omotara Johnson which teaches the audience about incredible things love can do in the lives of people. And as an artiste who would not compromise on standards, she has used a number of Nigeria's best actors to interpret her message in the new movie. Some of these include Chidi Mokeme, Adebayo Salami, Akin Lewis, Aina Gold among others.
Wright who has earlier produced other hit movies such as Agbeke, Oluwaferanmi, Temi ni Nkem, Dugbe Dugbe, Owo Ale among others said acting has been fun without any disappointment. On her passion for quality films, Wright said " I don't produce rubbish. I always take my time, that is why I produce once in a year"
last year in Akure, Ondo State capital, Bukky Wright was sighted at a shooting location of a new film, Ofinga (Law is powerful) written by Akinwunmi Ishola but produced by the Biodun Ibitola –Led Remdel Productions.
Bukky's role in the film is that of a young widow who is faced with the challenges of raising her family and satisfying her in-laws. She is the protagonist of the movie which would soon be premiered to mark the 70th birthday of Professor Akinwummi Ishola.
Asked how she has been able to cope in the acting profession, Wright was quick to say the first condition for any actor to succeed is to overcome ego. Humility and patience according to her would propel any career-minded to succeed and make a mark in the industry. Said Wright " you also have to work hard to make money alongside to enable produce your own movies, otherwise you may not get respect. To succeed in this profession, one needs not to rest on his or her oars, major roles don't come easy except you have carved a niche for yourself"
When asked why most women in her profession often end with broken homes, pretty Bukky listed a number of factors. According to her, some husbands are hardly supportive when their wives take to acting. Also men can easily be intimidated and jealous when they see their wives succeeding in acting. Other factors exist including lack of love, dishonesty, lack of trust, greed and impatience. And as far as she is concerned, her own marriage which produced two kids crashed because of one of the factors but she would rather keep it to herself.
On the subject of love and whether or not she has a new man in her life, Wright beared her mind, "I believe in love, but I very much believe in "live and let live". If a man shows me love and care, I will definitely reciprocate and if otherwise, he will also find me in his shoes. I have now learnt to fall in love with my eyes open"
Although she disclosed she has a new man in her life, Bukky Wright was not prepared to disclose who the new man is. But she hinted she has fallen in love and has chosen not to mess around with men. Her words " I have fallen in love again and I am happy with my new man. We have been together for a couple of years and I think this is better than having to sleep around or have a chain of boyfriends"
While explaining her love life and the secret of her beauty, Wright who believes every woman loves to be cuddled and touched by a man said "we are all human, and we cannot deny that as a woman, you would always want someone to hold you and cuddle you, so someone has to satisfy that urge on a general not, I've always loved to keep my shape.
I usually take a lot of water in the morning after which I would do my normal jogging. I also a lot of fruits and vegetables.