"What My Son's death taught Me"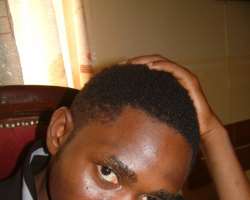 — Olalekan Fadeyi a.k.a Azadus, top Nigerian Musician
By Osamudiamen Ogbonmwan
When Olalekan Fadeyi, otherwise known as Azadus lost his young son about five months ago, he probably thought his life was coming to an end. Even death couldn't erase the love he had for his son. Yes he was sad and virtually torn apart, but he did learn a lesson from the incident– that life is indeed short no matter how beautiful it seems. The boy's death also opened his eyes to the disunity among religious sects in the country.
So, today, when you see Azadus, he is always complimenting his attires with Christian and Muslim prayer beads around his neck "This is my way of preaching one love," he told NFC recently.
Azadus is not a new name in the music industry. Infact, his first and second albums, Just Azadus and Distinguished which had hits like You is the One and Madam, respectively, threw him into limelight. His third album, Reflex was barely successful because as he put it, he was sentenced to the hospital after suffering gunshot wounds and thus couldn't promote it. Recently, he released his most recent work into the market and it is entitled Unbowed. He excitedly told NFC that it has started selling amazingly "even without promotion."
We believe you are going to find Azadus a very interpreting character as he talks about his beliefs on different subjects. He wouldn't disclose how old he is now, only saying: "I am just an adult." He was once a member of a group called Def-P-Clan before going solo and pitching tent with Kennis music. He is married.
It has been quite a while since I saw you in active performance. What has been happening to you?
I had to get off the scene for a while to see if I could actually get some form of challenges from up coming artistes and see if I can learn one or two things from them. It is like this: When you are a king in your own palace, you don't know how great the next king is in his own abode. You don't even know how skillful or stupid your chiefs might be or the villagers are. So I had to step down and watch from afar. Sadly, I have been disappointed. Recently I have not heard any challenging song or seen a very talented or innovative artiste on the scene yet. All I see is just the same old thing repeating itself again and again.
I really need to understand you here. You play hip-hop, don't you? And you say you've not yet seen one with talent?
I play my own kind of reggae music – I am the only one in the whole wide world who plays it. You have hip-hop in it, R&B, soul, fuji et cetera in it. Up to date I have not seen anyone who can match what I have done.
Are you expecting someone to come up with your kind of music before you can get challenged?
No. I am expecting to see someone who plays his sound like any other person but himself. I expect to see someone who is very controversial who can scale serious pitches like I have done. Till now, I have not seen any.
So how long ago did you step back?
A while. I released a song in 2006, then had to step back in 2007. Unfortunately, I had to get into the hospital to recuperate from a gunshot wound. I didn't promote the album. But really I had to step back to see what could happen.
So now that that person hasn't come out, what are you going to do?
I will step out again and be my own king in my little domain. On August 31, I released my new album (the 4th), entitled: Unbowed and I thank God it has being selling fast. I am not saying they should do my own kind of music but theirs. No body has been able to do it. I have not started promoting my album yet but its sale has been great.
How did you get the name Azadus?
I was in a group initially called Def-p-Clan. I wasn't the shortest but I was short and the most troublesome. After a while they all decided to say I am "too Azadus." From then I adopted the name.
So you are a very troublesome person?
You know, short people no dey gree. I am a short man and all short people are stubborn. I am terribly stubborn.
Who told you short people are stubborn?
It's because you are not short that's why you'll think am joking.
But you are married. I think your alleged stubbornness should have subsided by now. Come to think of it, did you take after some one in the family?
Well, it has gone down a little. One of my kid sisters came the other day and even said that I have calmed down a lot. Emm… I think I took after my father. He was very very stubborn but not that short. He was of average height.
Tell me about your immediate family?
My immediate family is one place I don't want to go with the press. That's my privacy.
But sometime ago, somethings were said and written about you and your family. How did you feel then?
I just kept quite. I didn't deem it fit to bother myself with what I see as irrelevant.
When you first came out with your album, you were with Kennis music, where are you now?
I am running my own label now. It is called Murphosis Entertainment.
Many people would want to agree that when you were with Kennis music you did quite well and became an household name. Would you
say it was the music or the management which propelled you?
To make your hands very clean you have to use both hands. They work together. With a little bit of my talent and a little bit of their input and mostly God's blessing I became known.
It is believed that your other albums didn't do as well as the first?
The second did far better than the first. It even gave me the international recognition I have today. Most people even thought it was a Jamaican who sang Madam. There was a time I went to Ghana, when I played Madam, they couldn't believe I was the one who sang it.
Did you at any point while growing up know you will one day end up a musician?
I was a carefree person while growing up and another thing was that I never wanted to do what others were doing? I did my own thing. I won't lie it has been hectic, but glory be to God for where I am today.
You seem well educated. Can you let me into your background?
I am not educated. Bob Marley said something and I'll quote him. He said: "If I had gone to school I would have been the greatest fool on earth." There was also a book I read which the author said, "if you want to be rich don't go to school." Fela even said. "Read that book and go your way."
And you believe firmly in all these sayings?
Why not? Apart from all these, in the nearest future, I hope to go to India to study Film making because I have this flair for film making. You don't expect me to waste five or six years of my life in a school because I want to tell someone that I went to a university; and when I get the pali (certificate) I'll end up dong nothing with it. It is called complex and that is one thing I don't have in my life.
So you have a flair for movies? Have you ever appeared in one?
Yes I have a flair for movies. I have always had it and by God's grace I will like to go to India or the United Kingdom to study it. I think it is more of a calling that I have for it. I started in church years ago when I acted in a play. It started even before music. I have acted in some Nollywood movies but I can't remember their names now.
What informed your style because for a while now, I have been seeing you put the tesbil (Muslim Rosary) and Catholic Rosary round your neck to compliment your dressing.
It is just my own way of preaching one love. I started wearing it this way since I lost my son.
We are so sorry. When did it happen and what did his death teach you?
He died last April. His death showed me how little, time is and how precious life is. The world is beautiful if you take it calmly, but if you take it harshly, too bad.
How old was he?
He was just going to be one.