NO BOMB COULD STOP ME FROM NIGERIA -COOPER, AMERICAN MEDICAL STUDENT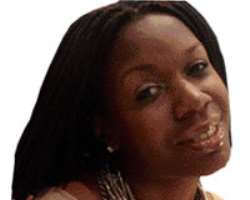 • Cooper
Take away her American accent and you could easily mistake Joy Alison Cooper for a Nigerian lady. The amiable 27-year-old medical student at Howard University Medical College was born in Philadelphia, Pennsylvania, United States. Currently, she is conducting a study on cervical cancer in Nairobi, Kenya as a Fullbright International Clinical Research Scholar.
In this interview, she talks about her excitement about Nigeria and why she came to the country for the MTN Lagos Fashion Week, where she helped to make up some of the models that featured in the event. She also parts the curtain for a peek into life in Kenya and her medical training.
What are you doing in Kenya and how is life over there?
I have lived in Kenya for three months now. I moved there in August. It's very interesting, a nice place to be. I always tell people that Nairobi reminds me of London. You can walk around and see as many Europeans you'll see on the streets of London. It's very developed to the point where there are lots of cafes; you don't feel you are in Africa half of the time.
Like I always say when am there, I rarely have to eat traditional foods. I used to eat traditional Kenyan foods when at work, but for dinner it's very difficult to find a nice place where they sell traditional foods. Nairobi is on the mount, so it's very cool, the sun doesn't shine all the time, it's very cloudy, I have lived in Dar Salaam, Tanzania before and it was like Lagos which is very warm, breezy and humid which is tropical but Nairobi is not tropical at all.
Recently there were terror incidents in Kenya. How did you cope with that?
Kenya and Somalia are neighboring countries. Recently, the Kenyan military forces invaded Somalia, because Al Shabab terrorists from Somalia had been kidnapping foreigners. They kidnapped a French woman and also kidnapped a British woman and killed another British man. The night before I left for Lagos at about 8 pm someone threw a grenade into a nightclub, injuring about 20 people. The next day, at about 8 am, these terrorists carried out another grenade attack in which one person died and four others were injured. Naturally, there was fear among the people.
I was scared in my apartment because my house is not far from a big mall, which is close to very major places. Honestly that was scary for me. I was even more scared because I was due to fly out of the country the next day. But somehow, I did not want any bomb to keep me from getting to Nigeria. I am glad I got here safely. I was so sad to leave Nairobi because I love to live where there is peace. In Nairobi, it is very hectic, we have traffic problem, but now terrorism has added to the situation. As an American, I am quite familiar with terrorism. I have never been in war, I have been hearing about it and this is a foreign place, so to live in a place of war is very scary for me.
Is this your first time in Nigeria?
Yes, and I love it here. Immediately, I got here I ate seafood and okro soup with amala. It was good. The people here are just nice. I came to help my friend who participated in the MTN Lagos Fashion Week. She was one of the designers that showcased on the runway on the Koke label. I met Koke two weeks before I left London, to resume medical studies in United States. We hit it off just like that. She's indeed an African businesswoman; she is very disciplined, very diligent, and very jovial.
We ended up becoming friends. We have a lot in common, we have been in touch in the last three years and we actually reunited here in Lagos. While I was in medical school in America, I hadn't time and had no money but now that am working in this programme in Nairobi I had to take out time to be with her in Lagos.
I met a lot of Lagosians and people in the fashion industry, which was kind of fun for me because this is not what I do everyday. This is a very welcoming place. Everybody said that I look like an Igbo lady from Anambra.
I'm here for two weeks but I will definitely come back. I will come back for my birthday; I want to mark my birthday here in February 27th. I need to be here for my birthday.
Tell us about Cervical Cancer
Most people don't know that Cervical cancer has been nearly eradicated from the developed world because there's a programme in screening women with a pap meas every year as it is done in the US and every two years in the UK, where this test would determine in the woman cervix and can determine whether or not she has pre cancer or cervical cancer.
Unfortunately in developing world, about 80 percent cases of cervical cancer happen in the developing world and 90 percent of all the deaths happen in developing world. Currently, I'm in Kenya doing a cervical cancer study working with sex workers and looking at the risk. Cervical cancer is actually caused by a virus HPV basically you get that virus through sexual contact, you can't necessarily get it only if you don't use a condom, it's something that is wide spread.
So many women especially in developing world dye of cervical cancer. I think that's why am passionate about it because it can be prevented, some cases of cancer like pecuniary cancer and the ovarian cancer that are difficult to prevent because you cant see the faces but the cervix you can see, you can get to a doctor spread vinegar on the cervix , like an African solution, it's very simple. I think there need to be a voice behind women as regards cervical cancer because it can be highly avoidable unlike the breast cancer that is difficult to diagnose because you need a mammogram machine to get it detect early. But cervical cancer you just spread vinegar on it with very little anesthesia and it's done.
Are your parents into medicines too?
Both my parents are teachers. My mother godmother she is an Afr… gynecologist, she was the first doctor in my family. She is my grandmother best friend while growing up. I saw her growing up coming to our family functions and she was too passionate about women and she's done missions all over the world. She has been in Mississippi in the US, from there to Senegal, places in the Caribbean, Barbados to give birth to medicine, she's like helping people all over the world because everyone needs a doctor, especially a woman doctor because people are having babies everywhere around the world.
How is it like being an American?
It's funny, I always tell people, and I never feel American until I travel. In the US a typical American doesn't look like me. I think I feel it a lot when am in Nairobi because there is a huge, a lot of expatriates live in Nairobi, European, when I cone to functions, they ask me are a Kenyan and I tell them am American, they giggled they didn't expect it because I'm not a face of American. My best friend in college is Ibo's She has two other sisters.
Her family and my family are close and they call me no 5 in their family. I'm like their first child. Any family function, we always eat Nigerian food. We eat pounded yam. They know everything that I like. College, I moved to London to get Msc in Sexually Transmitted Infections &HIV from University College London, London School of Hygiene & Tropical Medicine in 2007. When I was in London to help me have money to sustain myself because London is very expensive, I used to work in a fashion supermarket, I worked for Koke friend.