AN OPEN LETTER TO ADAMS OSHIOMHOLE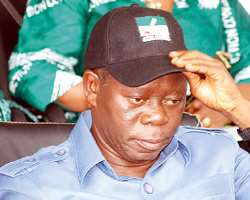 My resolve in writing this letter is hinged on the message of hope you are giving to Edo state. Of course, there is a long way to go but like hope, it does not immediately transform to reality.
While infrastructural development of dilapidated educational facilities in the state is crucial, more important is what happens next for these students and graduates when they finish school? Banks who used to be a major recruiter of graduates have undergone a lot of mergers and acquisitions with the concomitant loss of jobs and have basically closed its recruitment doors. Oil and gas has never really been a mass recruiter but the Niger-Delta crisis has even made it worse. The telecommunications industry has few players, and over the years reduced its recruitment drive. Governments (federal, state and local) need to be more efficient and so shedding its huge workforce is not unexpected. In effect, to succeed, a graduate requires skills that will make them relevant and entrepreneurial when they graduate.
I read English and Literature at the University of Benin, and I ask myself: What skills could I have been able to acquire in university to be able to eke a living for myself. My answer was, if my university syllabus was revamped and a course on script writing for films/home video and television was introduced, I would have been able to contribute immensely to the thriving Nigeria film industry. I also think in consonance with the state television network and other private television stations, students studying Theatre Arts for example will have the opportunity to learn technical skills in film/television production, camera and lighting, use of editing software etc. I think there is a music element within the syllabus of Theatre Arts, another opportunity to have a taste of music production. These students will leave school with a stronger desire to succeed. The effect of this is that students can put their talents together for independent movies with low budgets and eke out a living for themselves. They can produce songs for artistes and direct music videos. Your government funds Ambrose Alli University, and these are possible options that can be explored. The potential in the Nigeria film and music industry is huge especially when you consider a population of 160 million.
The benefit of Information Technology is familiar and rarely disputed. Again, I imagine the syllabus of the Computer Science department of Ambrose Alli University being revamped such that students are able to learn and study for external and universally accepted qualifications from reputable organisations such as Microsoft, Cisco, RedHat and the British Computer Society which will incorporate fields like information security, networking, software development, database management, application and infrastructure support etc. I tell you Governor, the time will come when these students are poached by employers even before they graduate. These are technical skills that are continually been sought overseas and in Nigeria, and we must develop our students so they can tap into this. Any pessimist may suggest a logistics nightmare, but I tell you this is a smooth sailing venture.
I think there are ways the government skills acquisition programme can be enhanced to create more value. I remember years back and I think you recall as well, when Leventis mechanics were the most sought after. An intensive scheme modelled in such light where experts (whether local and/or overseas) come to teach apprentices who then gain opportunity for placements. When this intensive scheme of say two or three years is over, the government can fund modern workshops for them with say a quarterly repayment scheme. To support them, all repairs and maintenance of government vehicles will be mandated to the now graduated apprentices. Even Auchi polytechnic students who continuously get disadvantaged in getting jobs can also be part of this scheme. I don't know what the contents of the programme of the various skills acquisition programmes entail but very crucial apart from the technical skills being acquired, is training on how to run your business. These apprentices must be taught leadership, management, sales and marketing, cash-flow, budgeting, customer service etc to ensure their businesses succeed.
In the United Kingdom for example, within a few miles there is a government health centre where you have an average of about 10 doctors and some nurses who treat general ailments of patients. If it is a medical condition that requires a consultant, you are referred to the main hospital or specialist centres. The question I ask myself: Why can this not be done in Edo state? Using Benin as an example, the government can establish health centres in Ugbowo, Uselu, New Benin, GRA, Ekenwan, Ikpoba Hill, Sapele Road etc and this will ease the pressure on Central Hospital and UBTH. People are cared for better; doctors feel a better sense of purpose with a duty of care. The reality is that duty of care to patients by doctors is at a very low-ebb, I have personal experiences that are shocking but I have hope. Hope that something can be done. I know issues of pay continuously rent the air, but a good
work environment and job satisfaction do at times douse pay issues.
Another proposal that I think is worth exploring is the issue of land acquisition and disposal. I propose a database and payment portal for all land acquisition and disposal within the state. The government can generate substantial revenue from all land sale, resale, and from those buying land or houses in the state. A percentage of the buying/selling price is payable to the government by both the buyer and the seller. Since this will be driven by Information Technology, the government's commitment will be to issue Certificates of Occupancy (C of O) in a speedy and timely manner. The quick issuance of C of O will make it easier for people to access loans from banks as the certificate of title can be electronically confirmed by the banks. For the banks to have access to this database, they would have to pay for this service.
While this next proposal will be a challenging project, I believe the benefits will be substantial. A database and payment system should be created to support transcripts management at the university the state funds. Getting transcripts after graduation remains a nightmare for students. It took me over a month to get my first degree transcript yet I know people who after 3 months still did not get their transcript and gave up all together. When you request for your transcript overseas, you get it within 48 hours. A system where going forward, all raw scores of students would be inputted into the database and all backlogs for the past say 10 years are loaded to the database. The reasoning is that the reliance on transcript by students who graduated over 10 years ago will be minimal. A premium will be charged, as students will be guaranteed transcripts within 48 hours of request.
Again, relying on the power of ICT, a comprehensive and robust database for the registration of births, marriages and deaths as well as a portal through which payment can be made for these services. Of course the regular fee would apply but to support the internally generated revenue of the state, if a birth is not registered say within a period of 6 months, a penalty would apply. This will reduce waste and lead to better records management. This will also eliminate the ever prevalent affidavit swearing regarding age declaration.
I firmly believe in the benefits that will accrue from these proposals and I believe they are worth exploring. As you have given us hope, I also hope you remain steadfast in your transformation agenda.
Written by Efosa Uhunmwangho. [email protected]


Disclaimer:

"The views/contents expressed in this article are the sole responsibility of the author(s) and do not necessarily reflect those of The Nigerian Voice. The Nigerian Voice will not be responsible or liable for any inaccurate or incorrect statements contained in this article."
Articles by thewillnigeria.com