Alaba traders kick against piracy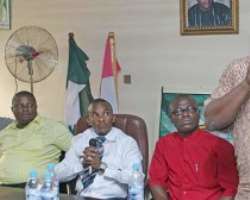 Chairman of the Alaba market association Chief Emeka Ohamdike addressing ther press at Alaba market during the week
Alaba International market has responded to the 3-day rally held through Tuesday, August 24 to August 26 by the coalition of major associations in the Nigerian music industry in protest of the continuous existence of the market.
The headquarter of music distribution and duplication no doubt, the Alaba market which is well famed for counterfeited electronics and piracy of creative works especially those of music and movies, has engaged in a one-day peace rally to combat the music coalition's move and emphasize the genuineness of marketers' interest in promoting the Nigerian art and image.
Led last week by the Chairman of the Electronic section and president of the Alaba International market; Chief Emeka Ohamadike, and Chairman of the Fancy and Furniture market; Chief Ozoemena Wilson, traders in the market found voice in their president's words who decried their worsening image and invited censor bodies including government officials and PMAN for an inspection of the market.
"A thief cannot steal from himself", he said, "the marketers who are marketing these CDs like Ahbu Ventures, Pacific, Sonic, Afro best, Oceanic and to mention a few have the license to do so .We want to work with anonymous agencies to fight against piracy. We are inviting censor and other government agencies to come and establish their offices here and monitor and see things for themselves", he ended while declaring Alaba safe for business.
Only two months ago, July 15 to be precise, an unmatched coalition of lead organizations in the Nigerian music industry had called a world press conference where they requested that President Yar' Adua direct the Inspector General of Police to serve a warning to the traders at Alaba Market that if within a specified period the traders did not clean up the market, the government should shut Alaba market.
On the 29th of July, a 30-man committee was formed by the electronics section of the market and a memorandum of understanding was signed clearly stating operations that are legit in the International market.
Chairman of the Furniture market; Chief Ozoemena Wilson emphasized that a large percentage of traders in the market are decent people seeking a honest means of living and called for government assistance in fishing out the pirates in the market.
He said, "If you say Alaba should be shut down its like saying Nigeria should not be allowed to relate with the international market when its only one percent of the population is corrupt.
We are not saying there are no pirates here but they are just a few of them that's why we need the assistance of the government to chase them away."
While likening piracy to a mortal sin equal to armed robbery, Chief Wilson warned that a closure of the market would yield in an increase in school drop-outs, armed robbers and pick pockets.