crooner ikechukwu parambulates london with girlriend sarah ofili.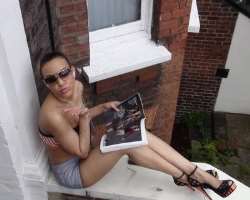 These lovers were spotted in London on friday august 28,2009
and the olofofo who spotted them is still in shock from what was spotted
''they were together shopping heavily at the popular Selfridges and Ikechukwu was buying a new bling necklace for her, maybe an apology/am sorry/engagement necklace.
ikechukwu had his hands on sarahs backside as they surveyed the necklace.they were interrupted by some fans who rushed over to snap with the crooner.sarah who is known in london as ''it-girl''stood by the corner as the pictures were snapped.later they were into the bvlgari shop and the crooner paid for the bling bling necklace and they walked out hand in hand and laughing''.
this couple were over the following days spotted almost everywhere in london together by various olofofos.
i hear wedding bells from other sets of 'close'friends but i cannot be ertain as the whisperers are still snooping for gist.fans of ikechukwu should know this as whispered by olofofos''he will soon sign out of the single club,its only a matter of time''.more update as soon as it is whispered in.
By Stella dk