NIGERIAN FIRMS INVEST $6.1B IN GHANA'S ECONOMY, SAYS GIPC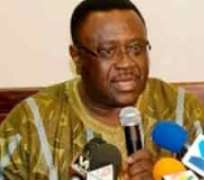 THE assessed alluring investment climate in Ghana may have raised stakes of Nigerian investors, groaning under lingering local parlous infrastructure, in the old Gold Coast's economy.
The rising profile of the nation's investors in Ghana's economy manifested yesterday, when Ghana Investment Promotion Centre (GIPC) disclosed that total investments by Nigerian companies in the fellow West African economy has hit $6.1 billion (N976 billion).
GIPC has even projected that the investment profile would grow by $500 million in 2015.
Ghanaians' investments in Nigeria was however, put at $1.5 billion.
The Chief Executive Officer of GIPC, George Aboagye, made the disclosure at the Ghana-Nigeria Business Forum held at the on-going 2011 Lagos International Trade Fair.
He said: 'Nigeria and Ghana are both countries in the West coast of Africa with business friendly environment. As at today, Nigeria's total number of registered projects in Ghana from September 1994 to June 2011 is 184, an estimated amount totalling $5.1 billion.'
He noted that Nigeria's investments have been in the agriculture, manufacturing, building, liaison, service, tourism, general and export trade sectors of the Ghanaian economy.
'Nigeria was Ghana's fifth and sixth largest source of investment in terms of value and number of projects registered respectively and both countries' relationship had been very warm, cordial and beneficial.
'Ghana is richly endowed with human and natural resources. These resources present numerous business opportunities in oil and gas, agriculture, manufacturing, tourism, energy and property development', he added.
He emphasised that the priority sectors for investments in Ghana were oil and gas services, energy, infrastructure, agriculture, manufacturing, tourism, ICT and financial services, stressing that, if a Nigerian comes to do business, the knowledge and experience he has will be very useful to Ghana.
Earlier, the President of Lagos Chamber of Commerce and Industry, Otunba Femi Deru, while making his remarks on the 2011 trade fair, said: 'Over the years, we have been able to build economic and commercial bridges between the local and international investors through the Lagos International Trade Fair. We have broadened the horizon and scope of investment opportunities for our exhibitors and visitors alike.
'These achievements we intend to sustain, with an even better delivery of value to our clients. We are committed to ensuring that the Lagos International Trade Fair remains the biggest and the best in Nigeria and possibly in Africa'.
He however, explained that 'as we strive to attract both foreign direct investment (FDI) and indigenous investment in our ailing economy, we must approach and do business in manners that will engender mutual confidence in our intentions, actions and policies.
'For our nation to be in the mainstream of the world economy, our economy must be driven by a mutually acceptable level of confidence both in the public and private sectors.'