NOW SHE NEEDS ANOTHER OPERATION TO CONQUER MALIGNANT TUMOUR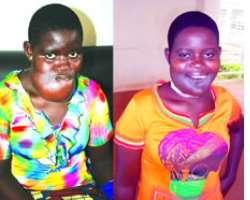 • The young lady before the surgery, Nkiruka with no jaw after the surgery
It is hard to believe, but the truth is that a certain lady, Nkiruka Alifose, at this moment has no jaw. For four years, Nkiruka lived with a malignant tumour, which ravaged her whole mouth and left her with untold pain. Heaven, however, smiled on her when a Non-Governmental Organisation, formerly known as Better Life Foundation (now Victory Health For All Foundation), picked her up from her hometown, Nnentu Ugwunagbo in Asa Local Government Area of Abia state and began to seek help for her.
On her behalf, the president of the foundation, Mr. Akpaka Victory Okwudili, through The Sun Publishing Limited, cried out to Nigerians for financial assistance to enable her undergo the surgery. Help did come and she underwent surgery at the University of Nigeria Teaching Hospital (UNTH), Enugu.
The operation, which was a spirited effort to remove the malignant tumour, necessitated the removal of her lower jaw. But now, she is living her life with just her upper jaw. Removing the entire lower jaw, according to health experts, remained the only option to stop the tumour from growing again. Akpaka disclosed that following the publication in the Tuesday, May 17, 2011 edition of Daily Sun, Nkiru's predicament drew sympathy from well-meaning Nigerians from far and near. According to him, 'as soon as the story was published, Nigerians started sending in donations.'
Continuing, he said: 'And as the donations came in like little drops of water, we were able to offset some medical bills. There was a certain anonymous donor who sent in the sum of N1, 000,000 into the account. This was how the surgery was made possible.' He further told Daily Sun that although the money came in trickles, the foundation was humbled by the magnanimity of Nigerians. 'We are indeed grateful to The Sun Newspapers for this form of corporate social responsibility. We are also grateful to God Almighty who makes all things possible, and to Nigerians, even some non-Nigerians whose moral and financial contributions made Nkiru's operation possible. We say, may God continue to bless them.'
Akpaka is also full of praise for the team of surgeons and other healthcare givers at UNTH who carried out the surgery. He stated that experience from his humanitarian involvement had shown that given the right environment, Nigerian doctors had all it takes to deliver effective healthcare. Presently, the 18 year-old woman survives only on liquid foods. But for her, no hope is lost. She said she was happy that Nigerians gave her a new lease of life, and she expressed gratitude to Nigerians for their prompt response to her clarion call in her time of distress. 'I am happy now that I am free of the pain that nearly killed me,' she muttered.
Although the young lady on one hand, has been relieved of the burden, she is still left with another yoke even as heavy or even more worrisome than the earlier one. She has no jaw and needs N1.5 million to undergo reconstruction surgery.
Dr. Felix Uzuife Chukwuneke who is head of the medical team that carried out the surgery described the operation as challenging, but highly successful. He is a consultant maxillofacial surgeon and Head of Department of Oral and Maxillofacial surgery at UNTH, Enugu.
He said: 'The operation was good. The tumour was malignant, destructive; if the tumour had not been checked early enough, it would have grown to the level that the jaw would have been reaching the chest. It was quite a challenging one and involved a lot of technicality. But, because it is what we have been doing all the time, it was not really that difficult.'
On how the young girl would go through life without a jaw, he said: 'Well, the fact remains that without a jaw, the quality of her life will actually be compromised because there won't be anything for her to chew. And if there's anything for her to chew, her eating condition will be compromised as well. Again, it will distort her facial outlook. And after sometime, because she has no jaw, her face will shrink. So, she will not look physically pleasing. Already, her facial outlook has been distorted.
'Now, Nkiruka would undergo another surgery. This will require either using the floating hip ribs, that is, the rib that is not attached to the chest or using one of the processes that would be imported from abroad. And then, ensuring that the working condition, especially the teaching hospital where the first study was done is upgraded. 'Otherwise,' he continued, 'she can go abroad to do it. But there are many of the teaching hospitals here that can do that kind of surgery. It's not a big thing for us at all because it is something we have been handling over the years.
I must be honest with you, in this part of the globe, because of our environment and the nature of our overused equipment and things like that, we've been having some failures and some successes. So, these are the things that we have to look into. 'So, we're appealing that she still requires all the help she can get, especially, financial aid to enable her undergo a second surgery.
Donors may contact Victory Health For All Foundation on 07060606563 or through Akpaka Victory Okwodili, First Bank Acct no.2015782595.