Copy right act, obsolete, says Aondokaa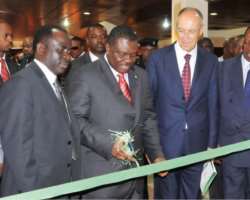 ABUJA —The Nigerian Copy Right Commission (NCC) yesterday celebrated 20 years of its existence, with the Minister of Justice and Attorney General of the Federation, (AGF) Chief Michael Aondokaa saying that the Copy Right Act, is obsolete and would be amended to meet modern trends. Aondokaa said this in Abuja yesterday at the NCC 20-year anniversary lecture.
This is even as the World Intellectual Property Organisation (WIPO) revealed that global piracy in print books is a steady $180 billion yearly, aside other forms of piracy.
Speaking, Aondokaa said, "Nigeria is now prepared to begin the process of ratifying the two WIPO Internet treaties as a first step in granting further protection to copy right woks in the digital environment.
"We are aware also that the last amendment to the Copy Right status was in 1999", he said. "My Ministry will therefore be assisting the NCC to embark on a comprehensive review of the obsolete Copy Right Act.",
"This review", he said, "will take into account Nigeria's interests while complying with its international obligations in this area. There is need to strengthened the enforcement provision of the Act and improve on the provision on rights management with a view of rewarding authors and right owners", he said.
The Minister said Nigeria cannot afford to be tuned into a pirate heaven, charging the NCC to use the anniversary to formulate a comprehensive action plan on how Intellectuals Property can best serve as a catalyst for Nigerian economic growth.
The Guest Lecture, Dr. Francis Gurry, who is the Director General of World Intellectual Property Organisation (WIPO), said that concerted international cooperation is urgently needed to tackle the rising profile of theft in Intellectual Property (IP) as global piracy on print books alone has hit $180 billion annually in the past few years.
Gurry, regarded as the world leading authority on IP Rights, said the rise of IP as major economic factor since the 1990s has become so phenomenal, that world average turnover on IP resources was around $1 trillion last year.
"Last year", he said, "there were new 500,000 trade marks of Intellectual Property worldwide", he said, noting however that about, 20,000 of them are disputed each year.
"In the past few years", he said, " we record 1.8 million inventions from the world technology society", he told the crowd
Dr. Gurry noted that in 1990 Japan, China, South Korea and India contributed only 7.6% IP content to the world, with most of their economies reliant on production.
"Today", he noted, "these countries contribute 26% of global IP, with India as the world leading software maker", he said.
He charged up the hall when he announced that, "I am also please to confirmed that Nigerian also contributes highly to the global IP with the second biggest film industry in the world" as the Hall clapped happily.
The Australian born Gurry, however expressed concern that with the sophistication of the internet, the cyberspace has become a veritable place for digital piracy of movies and music.
"In England alone, £400million was lost to internet piracy", he said.
He said the IP is fast melting into digital medium as e-books are fast becoming attractive.
He said the world must come together to forge a common front to fight piracy, especially Internet based piracy, if IPs must optimally be of benefit to their owners.