FREEDOM OF INFORMATION [BUT WHAT ELSE DO THEY WANT FOR FREE ?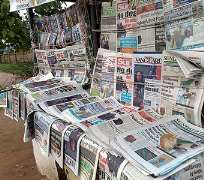 It is all very well to have free information but sometimes you just do not want it. Even when it is free it is most expensive.
Here are few case studies :
(i) Front page headline: "Daily Sun" newspaper October 25, 2011.
"WHY WE KILLED JOURNALIST – Boko Haram."
"The Jama'atu Ahlus Sunnati Lidda 'awati Wal Jihad, otherwise known as Boko Haram said that they were responsible for the killing of Zakariyya Isa, a reporter with the Nigerian Television Authority's (NTA) Maiduguri Network Centre.
The group has also claimed responsibility for Saturday night's multiple attacks on a police station and banks in Saminaka, Kaduna State as well as last week's attack on a Mopol barracks in Kwami, Gombe State.
The group said Zakariyya was killed because he was "an informant of security agencies," Spokesman of the group, Abul-Qaqa in a telephone conversation with huhuonline.com, said, "Zakariyya was not killed in error. We killed him because he was spying on us."
There were earlier speculations that Zakariyya was a victim of "mistaken identity" because this is the first time that a journalist was killed since the beginning of the violence in Maiduguri, but Abul-Qaqa said the killing was "carefully planned and executed."
According to him, "We have ample evidence beyond reasonable doubt that he was giving vital information to security agencies on our modus-operandi……. We investigated thoroughly before we killed him."
Asked to give more details on what the late journalist did, Qaqa said, "He gave information to security agents that led to the arrest of many of our members." He added. "We sent him a text and told him that we would visit him. We killed him not because he was a journalist, but because of his personal misconduct. His actions were against the ethics of his profession.
"And I want to tell you is that we have no grudge against journalists that are working in line with the professional provisions of their work. Whenever they misquote or misrepresent our position, we normally call them and tell them to correct the error," Qaqa said.
He said the group will not hesitate to kill anybody that "steps on our toes." According to him, "Zakariyya was responsible for his actions and the consequences that followed. Nobody, no matter who can go free if he or she spies on us."
On the issue of dialogue, Qaqa said, "We cannot talk on that because it makes no sense to us. How can you talk of dialogue when government and security agencies are busy arresting and persecuting our members?" He said the group will continue to attack government and security formations in Nigeria.
When contacted on phone, Borno State Police Commissioner, Simeon Midenda said he was in Abuja. Efforts to speak to officials of the Joint Task Force (JTF) were not successful. Also Colonel Victor Ebhaleme, the Head of Field Operations of the JTF did not answer a call to his line.
The killing of Zakariyya had sent jitters into the nerves of journalists in Maiduguri, with many thinking on how to strike a balance in covering the crisis in the state. Late Zakariyya, who worked as a cameraman and Hausa translator at the NTA, was shot at close range on Saturday night in front of his house at Bulunkutu area of Maiduguri. Witnesses said two gunmen trekked to the house and shot him in the head and chest before they fled.
A native of Potiskum Local Government area of Yobe State. Zakariyya had worked at the Maiduguri network centre of the NTA for many years. He was married with children."
(ii) "The Punch" newspaper [October 25, 2011]
Headline: "NIGERIAN ROADS SECOND WORST OF 192 COUNTRIES – FRSC."
"Nigerian roads have been rated among the most deplorable in the world, says the Federal Road Safety Commission.
According to the FRSC on Monday, Nigeria has been rated the 191st country with the worst roads in the world.
The Corps Marshal and Chief Executive of the FRSC, Mr. Osita Chidoka, said this at the 2011 Nigerian Institute of Safety Professionals' Conference in Warri.
He said, "Nigeria is currently 191st out of 192 countries of the world's unsafest roads. This calls for a concerted effort to ensure that Nigeria improves on its ranking.
"The World Health Organisation estimates that over 1.3m people are killed by road traffic crashes and 50m suffer injuries on the world's roads annually. Over 80 per cent of this figure occurs in developing nations with Africa having the highest number of deaths."
Chidoka predicted that if nothing radical was done by countries in Africa to rectify the bad state of roads in the continent, crashes on the highways would increase by 65 per cent between 2015 and 2020.
The FRSC boss maintained that data on auto crashes had indicated that at least 162 persons die per 100,000 of the Nigerian population, a development, he said, was unacceptable.
Chidoka, who was represented by the Unit Commander Warri, of the FRSC, Mr. Udo Aba, called for close collaboration with the non-governmental organizations and other government agencies, whose activities impact directly on road safety.
The Chairman, NISP, Dr. Lateef Alebiosu, called for a closer working relationship with the National Industrial Safety Council of Nigeria and other agencies to ensure safety in public places and industries.
While noting that the objective of the body was to prevent the loss of lives and property, he said the NISP would continue to enforce standards and ethics in the practice of safety in Nigeria.
He added, "We are aware that the traditional strategies and methods for preventing and controlling hazards, particularly occupational ones, need radical updating to respond effectively to the continuous change in the workplace."
(iii) "The Punch" newspaper (October 25, 2011)
Headline: "SUBSIDY ON FERTILISER, A FRAUD" – Sanusi
"The Governor of the Central Bank of Nigeria, Mr. Lamido Sanusi, said on Monday that there was no subsidy on fertilizer in the country, contrary to the claim of regulatory authorities in the agricultural sector.
He told the House of Representatives Committee on Agriculture in Abuja that farmers were made to believe that they were buying subsidized fertilizer when it was indeed a fraud.
Besides the alleged deceit, the CBN governor said 89 per cent of the product was delivered to people, who were not farmers, leaving real farmers with only 11 per cent.
According to him, many of the bags making up the 11 per cent do not weigh up to 50kg, adding that they are sometimes filled with sand.
The CBN governor had made a presentation to the committee on how government could develop the sector by funding it.
He said that one way of doing this was to fix commodities values so that banks could find the sector attractive to invest in it.
"It is difficult to fix the financial value chain until the nation can fix the commodity value chain", he told the committee, which is headed by Mr. Mohammed Monguno.
Sanusi put the net importation of agricultural products into the country annually at N630bn.
He, however, noted that with adequate funding, Nigeria's current output of N14.85tn could jump by 160 per cent to N34m in 2030.
Sanusi added, "This growth potential comes from the potential to increase yields to 80 to 100 per cent of benchmark countries; increase acreage by 14m hectares new agricultural land, approximately 38 per cent of Nigeria's unused arable land of 36.9m hectares; and shift 20 per cent of production to higher value crops."
Sanusi cited poor funding of research and development, lack of infrastructure, lack of local storage and processing, threats from pests and climate change as some of the challenges facing the sector.
He recalled that in the late 1960s when the country paid adequate attention to the sector, it led in products such as cocoa, groundnuts, ground nuts oil and palm oil.
Sanusi said, "In the 1960s, Nigeria had over 60 per cent of global palm oil exports, 30 per cent of global groundnut exports, 20-30 per cent of global groundnut oil exports and 15 per cent of global cocoa exports.
"By 2000, Nigeria global share of exports of each of these crops was five per cent or less."
(iv) Headline: "Saturday Mirror" newspaper [September 17, 2011]
"THERE IS NO WORK AS REWARDING AS ROBBERY"
"The dream of any university graduate is, more often than not, to secure gainful employment in any establishment of their choice, where they would be able to put to practice what they spent years to study in the ivory tower: The dream is no less that of their parents.
But, while his peers were falling over themselves to put to practice what they studied in school, Tayo Adegbola thought otherwise. He chose robbery and this he practised it with panache.
Adegbola, 24 is an Engineering graduate of the University of Ilorin, in Kwara State. He had a strict Christian background, his father (now dead) having served as a senior pastor of an orthodox church in Akure, Ondo State while his mother currently heads a secondary school in the same town.
But Adegbola was recently paraded by the Ondo State Commissioner of Police, Mr Sanni Mogaji as the leader of a notorious six-man robbery gang specializing in dispossessing vehicle owners of their prized assets.
The modus operandi of the alleged Adegbola's gang stood the members out in their chosen career.
As the gang leader, Adegbola would go to either Lagos or Ibadan, the Oyo State to hire an exquisite car which he usually paid N40, 000 and N50,000 for, seeking to take it on a tour. The driver of the car hire firm would sit with Adegbola in the passenger's seat and head for the journey. But just before the car left the town, Adegbola would stop at any eatery close by, pretending to buy some items. He would immediately pull a call through to his partners-in-crime, already waiting at designated spot on the way.
Once they got to where his gang members laid waiting in the bush, Adegbola would ask that the driver park for him to answer the call of nature. That is when the hiding robbers would come out of their hiding and snatch the car from the driver, beating him, Adegbola as pre-arranged. Some lucky drivers would escape unhurt from the scene of the incident, while some others were not so lucky.
Upon seizing the vehicle, Adegbola and his gang would ride the car back to their base in the town and would later sell the stolen vehicle to some car dealers, with whom they had an arrangement.
The nefarious activities of the gang had been a recurring decimal in the Ondo State Police Command, which made Mogaji issue red alert to officers and men of the command for the capture of the notorious gang.
The hunt for Adegbola and his gang eventually paid off in the wee hours of Thursday, August 11, 2011. Working through a tip-off, policemen swooped on the robber at his hide-out. Five other members of the gang were arrested in company of Adegbola, while some exotic cars stolen in their operation were also seized. The arrested gang members are Vincent Agu, Monday Akam, Amaechi Chiekwe, Uche Azuka Onyenweni and Izunna Ukwesi.
In his confessional statement, Adegbola, who said he could not do any other work other than robbery, confessed to being the leader of the gang. Though he said that the gang does not kill their victims, he however said that he never for once thought of quitting robbery for another profession because of the money he made from there.
He begins his story thus, "I was well brought up in strict Christian faith by my parents, but when I was in school, I met a friend called Uche, who eventually introduced me into robbery". Adegbola claimed his friend Uche also died in the hands of police gunfire sometime last year.
Narrating how the gang carried out their nefarious activities, Adegbola continued: "I always go to either Lagos or Ibadan where expensive car rental operators are. I will hire a car from them on the pretext that I am going on a tour. While the car company's driver is driving, I will contact my people and inform them of our movement. Once we got to where they were hiding in the bush, I would tell the driver that I needed to answer the call of nature. As the driver parked the car for me, the gang would come out and take the car at gunpoint."
The suspected robber said that he often sold the stolen vehicles to some car dealers with whom he had an arrangement for such purchase in Ibadan.
He claimed that those cars with complete papers he sold for N500,000 and those without papers often go for N700,000.
The Ondo State-born robber continued his confession, "Since I entered this business, I find it very lucrative and rewarding. I do not see myself doing any other business other than robbery. That is the truth."
Speaking on the latest arrest, Commissioner of Police Mogaji said that the gang has been a thorn in the flesh of residents of Ondo State and surrounding towns.
Mogaji said that the suspects would soon be arraigned in court.
(v) Headline: "POLICE SALARY STOLEN FROM POLICE BANK (PM NEWS 4th October, 2011)
"Hopes of scores of policemen in Lagos State, South-West Nigeria, to receive their September salaries were dashed this morning as the N11.7 million meant for their salaries has been stolen.
P.M. NEWS investigation this morning revealed that the money was stolen from the Nigerian Police Force Micro Finance Bank situated within Ikeja Police College at GRA.
The money was paid into the bank on Friday yet there was no sign of burglary when it was discovered missing, this morning.
When P.M. NEWS visited the bank today at about 10.15 a.m., a large number of policemen who stormed the bank were disappointed as they could not collect their salary.
They were directed to go to another branch of the micro-finance bank at Obalende for the payment of their salaries.
When P.M. NEWS attempted to speak with the manager at the Microfinance Bank, he declined to comment on the incident.
Lagos State Police Public Relations Officer, DSP Samuel Jinadu said he was driving.
At the bank located at the back of the office of the Commandant of the Police College, P.M. News correspondence saw police detectives attached to the State Criminal Investigation Department, SCID, Panti, Yaba, investigating the incident.
Before the N11.7 million simply grew wings and disappeared between last Friday and yesterday, corruption cases had been reported and investigated at the Police College.
Police sources told P.M. NEWS that officers who attended promotion courses from the rank of Inspector to Assistant Superintendent of Police, ASP, were compelled to pay N7,000 each.
The officers are said to be divided into three batches. A batch has up to 15,000 policemen and there could three of such batches for the promotion course that last only three weeks.
Our source said Constables and Corporals are also compelled to pay at least N5,000 each before they are allowed to take part in promotion courses.
P.M. NEWS learnt that because of these alleged sharp practices, policemen now lobby to work at the Police College.
The corruption allegations at the college are being investigated by a panel headed by ACP Noah Adesanyin. Other members of the panel are CSP Emmanuel Ighodalo, a former Lagos State Police Public Relations Officer, PPRO, and four high ranking police officers."
(vi) Frontpage headline: "The Punch" newspaper (September 27, 2011)
"VIOLENT CHANGE MAY SOON TAKE PLACE IN NIGERIA IF ………..Soyinka
"Nobel Laureate, Prof. Wole Soyinka, has warned that violent change is possible if nothing drastic is done to arrest the current spate of violence within the country.
The playright said in Abuja on Monday that some forces were desperate to take over the affairs of the nation.
Soyinka suggested that the jobs of those in leadership positions should be made part-time, with a view to making them less attractive. He also advised that those who saw leadership positions as profitable enterprises should be shut out of governance.
Nobel Laureate, Prof. Wole Soyinka, on Monday warned that the current security problems in the country might lead to violent change if nothing was done to arrest the trend.
Apparently, referring to the security challenges resulting from the Boko Haram bombings in parts of the country, the playwright cautioned that some forces were bent on taking control of the nation's affairs for selfish reasons on account of the abundant natural resources the nation was endowed with.
Soyinka stated this at a lecture titled, "Nigeria in 21st Century Governance", presented at the 50th anniversary of the Nigerian Institute of Management (Chartered) at the International Conference Centre, Abuja.
The lecturer, who said the theme of the conference was as timely as it was crucial, said governance had taken a new course globally and that it was left for Nigeria to move forward.
Soyinka said, "If we fail to act now, some forces will take control of the affairs of the nation for selfish reasons as Nigeria, as a nation, has a lot in terms of natural resources to be coveted.
"The theme of this paper is timely also because the uprising we are experiencing in all aspects of our national life is a testimony to the fact that if nothing is done soon, violent change might take place.
"The presidential system of government has failed us as the people in leadership are more alien to the needs of the people now than in pre-colonial time."
According to him, the status quo creates opportunity for public officers to rule without knowing or feeling the needs of the led.
Soyinka suggested that the job of those in leadership should be on a part-time basis to make it less attractive to those who had seen it as a profitable enterprise.
He added that religion should be left out of governance, saying morals and values could be derived from religion.
He said the 1999 constitution should be redrafted to address some glaring inadequacies which were being exploited at certain quarters.
In her address, the NIM President, Mrs. Sally Adukwu-Bolujoko, called on the Federal Government to combat the high level of corruption in the country.
She explained that corruption had accounted for the failure of the nation to experience a meaningful development.
She said NIM would continue to campaign against corruption in government and the political and social affairs of the country.
She stated that the institute had plans to establish an academy that would provide a blueprint for the country on agriculture, economy, health and education to facilitate the development of these sectors."
(vii) Front page headline: "Daily Trust" newspaper (September 27, 2011)
"YUGUDA APPOINTS 1070 AIDES"
"Governor Isa Yuguda yesterday appointed 1,070 political aides, among them hundreds of special assistants and dozens of senior special assistants whose salaries and other perks would cost the Bauchi State treasury more than a billion naira yearly.
Among the new appointees are 810 special assistants, 94 senior special assistants, 24 directors-general, 20 special advisers, 20 deputy local government chairmen and 20 secretaries for the local government caretaker committees.
Others are four members for each of the 18 local government caretaker committees while Alkaleri and Ganjuwa councils have five members each.
In a statement in Bauchi yesterday, Secretary to the State Government, Barrister Ahmad Ibrahim Dandija, said the appointments were with immediate effect.
No mention was made of how much the new officials would be paid for their services.
But Daily Trust gathered that monthly salary of a special adviser in a state is about N400,000 while a senior special assistant takes about N350,000, in addition to other perquisites of office like official cars and domestic staff. A special assistant receives around N50,000 monthly.
The new appointments in Bauchi yesterday saw the re-emergence of some of Yuguda's former aides, Abdulmumini Kundak is now Director-General Special Assignment and Duties; Kabiru Baba Maji is DG, Projects Monitoring and Evaluation; Sheikh Sidi Ali Dahir is Director General for Tsangaya Education; former commissioner Mu'azu Musa Badara is now DG for Monitoring and Evaluation of Higher Education; while Isa Kufai rose from council chairman to DG for Abuja Liaison.
Former water resources commissioner, Mr. Bukata Bukar Bayero is now Special Adviser representing Bogoro Local Government Area and Ahmed Yerima is Special Adviser from Misau LGA.
Other new Directors-General are Sirajo Garba (Due Process), Jibrin Adamu (Assembly Liaison), Sanusi Aska (Hajj Affairs), Phillip Elam (Agriculture Mechanisation and Rehabilitation of Government Equipment and Machinery), Abdullahi Gwaram (Local Government), Mohammed Lawal (Information Communication Technology) and Babani Umar (Protocol).
Also appointed were Ibrahim Babaji (Societal Re-orientation), Mohammed Chindo Higher Education), Sale Hussaini (Education), Aliyu Jibrin (Projects), Nura Danmadami (Debt Management Agency), and Adamu Toro (Youth and Women Rehabilitation and Development).
Others were Tanko Dutse (Rehabilitation and Resettlement), Muktar Abdu (Public Enlightenment), Danladi Mohammed (Community Relations), Garba Dahiru (Poverty Alleviation), Mohammed Ningi (Establishment of Youth Empowerment and Job Placement) and Isa Tahir (Petroleum and Solid Minerals.)"
(viii) Back page headline: "ThisDay" newspaper (September 22, 2011)
(a) "DAUDU TO JUDICIARY"
Nigerian Bar Association (NBA) President, Mr. Joseph Daudu S.A.N.
"It is common knowledge that justice is now for sale in Nigeria. There is a growing perception backed up by empirical evidence that justice is purchasable and it has been purchased on several occasions in Nigeria."
(b) "RAPE ON THE CAMPUS"
"Originally titled "Day of the Woman" but known more for its 1980 edition title, "I Spit on Your Grave", this controversial rape revenge movie was very popular in the eighties even though film critics had nothing but harsh words for its graphic and lengthy depiction of violence and gang rape. Last year, the film made TIME magazine's list of ten 'most ridiculously violent' movies of all times. I watched the film almost two decades ago yet I remember weeping as the central character was made to endure criminal debasement from five men. But I also enjoyed the revenge that followed even with all its bestiality. Because I believed the men who so cruelly raped and brutalized the woman before leaving her for dead deserved their equally violent end.
There is currently a video circulating on the internet of a young Nigerian lady being gang-raped by a group of four young men. The girl and those who violated her are believed to be students of Abia State University. Three prominent lawyers and human rights activists, Dr. Chidi Odindalu (who chairs the National Human Rights Commission), Mrs. Maryam Uwais and Ms Carol Ajie have helped to bring the issue into public consciousness, following up on the initial intervention by Ms Linda Ikeji who circulated the video.
Instructively, they are collaborating with the Minister of Youth Development, Mr. Bolaji Abdullahi, who waded in the moment the video was posted on You'Tube at the weekend. Like many Nigerians and several other people across the world, I watched the video which brought back memories of how I felt during the early part of 'I Spit on Your Grave'. I don't want to describe what I saw in the video but the statement from the Ministry of Youth Development captures the essence.
In condemning what happened, the statement said: "the young woman was threatened, rough handled, and sexually exploited by the men, who are said to be cultists. To make matters worse, this despicable and wicked act was recorded and circulated by the alleged rapists, who blurred their own faces. This behavior has rightly caused outrage among young Nigerians, parents and all those who have seen the video recording. The Honourable Minister views the behaviour of the perpetrators as decadent and barbaric; and believes the attitude of these men, if indeed they are young Nigerians, does not represent the character and nature of the Nigerian Youth."
Bashorun J.K. Randle is Chairman & Chief Executive, JK Randle Professional Services, Chartered Accountants. E-mail: [email protected]
Disclaimer:

"The views/contents expressed in this article are the sole responsibility of

thewillnigeria.com

and do not necessarily reflect those of The Nigerian Voice. The Nigerian Voice will not be responsible or liable for any inaccurate or incorrect statements contained in this article."
Articles by thewillnigeria.com