Adobe Throws In Towel To Apple In Web Software War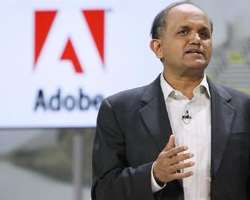 ADOBE CEO SHANTANU NARAYEN SPEAKS AT THE SAMSUNG KEYNOTE ADDRESS ON THE OPENING DAY OF THE CONSUMER ELECTRONICS SHOW (CES) IN LAS VEGAS JANUARY 6, 2011
Adobe Systems Inc is halting development of its Flash Player for mobile browsers, surrendering to Apple Inc in a war over Web standards, while signaling a strategic about-face that left Wall Street nervous about future growth.
Adobe's concession to Apple and its late founder Steve Jobs, who famously derided Flash as an inefficient power-hog, comes as the design software specialist warned that revenue growth will slow next year when it shifts toward leasing its software on a subscription basis instead of selling licenses up front.
The news, detailed Wednesday at the company's annual analyst day, caught investors by surprise and sent shares in the company tumbling about 7 percent in afternoon trading.
Adobe announced a restructuring plan on Tuesday that involves laying off about 7 percent of its workforce.
Adobe said revenue growth is expected to slow to 4 to 6 percent in fiscal 2012 -- below the roughly 9 percent Wall Street was projecting, on average.
Analysts were uncertain when Adobe's moves would deliver, despite executives saying that top line growth should return to normal in 2013.
"Shifting from a license model to a recurring model is hard," said Brigantine Advisors analyst Barbara Coffey.
"Longer-term, Adobe will be a stronger company. However, in the meantime we believe that the shares will languish until revenue growth is evident."
Adobe is waving the white flag on Flash more than a year after Jobs, who died in October after a years-long struggle with cancer, wrote his nearly 1,700-word Flash "manifesto," calling it unreliable and ill-suited for mobile devices. Adobe retaliated by taking out newspaper ads saying Jobs was just plain wrong.
The decision by the software maker means that Web developers will probably stop using its Flash tools to produce video, websites and applications for delivery over mobile browsers.
That would be a relief for tens of millions of iPhones and iPad users, whose browsers are not capable of viewing content built in Flash.
VICTORY FOR JOBS
While the difference between Flash and HTML5 might seem like inside baseball for the average person, it is of keen interest to developers and device makers from Motorola Mobility Holdings Inc to Samsung Electronics Co Ltd.
Analysts say the cessation on Flash development might be a setback for some of the major manufacturers that had partly relied on their ability to support the standard as one reason for choosing them over Apple's gadgets.
"It certainly changes the position a little bit for those who said that iOS products such as iPhone and iPad were disadvantaged for not supporting flash. Clearly that's not the case anymore," said Michael Gartenberg, an analyst with Gartner.
But "Flash is definitely not going away. It's still going to be an integral part of the Web experience, particularly on the desktop (where) some of these technologies will continue.
"In the mobile space, Adobe was simply was not able to create a version of Flash that worked across the board range on mobile devices it needed to and it's probably wise to retreat a little bit."
Jobs refused to build Flash technology into his company's mobile browsers, insisting they offered an inferior browsing experience. Adobe refuted those claims and sought to pressure Apple to incorporate Flash into iPhones and iPads.
But HTML5 has taken off since Apple refused to adopt Flash because developers who used Adobe's proprietary technology did not want to miss out on getting their content viewed by iPhone and iPad users. The newer technology also uses open standards, which means a single company like Adobe does not have control over the technology.
"Steve Jobs kicked the industry forward a notch toward HTML5," said BGC Partners analyst Colin Gillis. "Open-source always wins, even it doesn't mean innovators are going to make money on it."
Adobe conceded that HTML5 has become the preferred standard for creating mobile browser content. Indeed, in the past year, the company had begun diverting resources to supporting the standard.
The company said it plans to infuse HTML5 technology across its entire product line over the coming years, offering increasingly sophisticated tools and services to design professionals, publishers, retailers and other businesses.
David Wadhwani, head of Adobe's digital media business unit, said the company was in "close collaboration" with Apple as well as Google Inc, Microsoft Corp and others as it developed these new products.
"There is rocket science in this," he said. "There is enough innovation here to last a decade."
He said the company would continue to invest in Flash technology for use in mobile applications that would run on devices through its Adobe AIR platform. To access those applications, a user must first install Adobe's AIR software.
Adobe shares were down 7 percent at $28.24 on Nasdaq, while Apple shares were down 1.7 percent at $399.21.
REUTERS