I handle men politely -Biodun Okeowo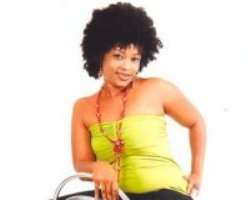 Biodun Okeowo might not ring a bell among avid lovers of Nigerian movies but Tolani Osinrin definitely would. moniker is the beautiful Yoruba actress, who was born, many years ago.

Miss Okeowo is the commercial arts graduate of the Lagos State University (LASU), Ojo, cut her teeth in the industry after the production of her own flick, Tolani Osinrin, where she played the role of a young and desirous lady.
According to her, her desire to be on the screen began several years back and she was given the opportunity by one of the Eyiwunmu brothers.
"I actually started out as an actress in 2006 through Eyiwunmi Productions. I have always loved Nollywood and when I got the chance to prove myself, I grabbed it with both hands and did my best to make my name," Biodun said.
What has it been like for the lady, who looks quite pretty, since her entrance into the world of make-believe?
"Well, it's been okay and fine since I started. This is what I have always wanted and I'm grateful to God that I'm able to achieve my dreams but I still have much to attain in the industry," she said.
And what could that be? Klieglights wondered.
"I still want to achieve more and that is getting an international award and recognition for any flick that might be worth it. I have not gotten any recognition on the home front at the moment but I know it's just a matter of time because I am doing all I can to become the best in Nollywood," Biodun insisted.
Though she claims she has lost count of movies, which she has acted in, Biodun stated that her favourite flick remains Lagos-Benin, a comical movie done in Yoruba language.
Asking what her parent's reaction was when she took the plunge into the make-believe world was gave Biodun the opportunity to talk so much about her parents.
"I have wonderful parents, aside the fact that they have remained supportive of my choice to be a movie star, they are the most wonderful parents in town. This is not because they are my parents but simply because that is just what they are," she said delightedly.
Having successfully produced flicks like Tolani Osinrin, Oke Irapada and Okanjua, Biodun is of the opinion that she has not made excessive wealth as an actress.
"I would simply say I'm okay. I'm not begging for alms and God has been kind to me, so, I would just say I'm okay."
She not only believes Nollywood has brought her fame, acceptance, dignity and self-respect but that the industry has top Nollywood stars like Bukky Wright who give her inspiration.
"I have God as my role model and He's the only one that I look up to as an individual and as an actress but I would readily tell you that I appreciate and admire top Nollywood actresses like Bukky Wright, Fathia Balogun and Opeyemi Aiyeola.
"However, I would tell everyone who will listen that Nollywood has brought me fame, acceptance and I have earned my respect as an artiste. I mean, these days, I don't have to struggle for roles, I get called up because I have been able to prove my worth and I am now being respected for that."
Biodun is beautiful no doubt, so how does she feel like whenever her beauty is complimented?
"I don't see myself as being beautiful, I believe I'm just normal but whenever I'm told that I look beautiful, naturally, I feel good," was Biodun's honest response.
Thus, it is only natural to ask how she has been handling advances from men including colleagues.
"I handle men politely," was her terse reply.
So, if she handles them politely, who is the man in her life and how soon is she planning to head for the altar?
"Well, I won't want his identity revealed at the moment, so, I would simply tell you that he's fine and good and I believe I would tie the knot in God's time," she tactically said.
Speaking further on what attracts her and turns her off men, she said, "I hate people or men that tell lies but I like honest and humble people, they make me feel loved and good."
Biodun described herself as a "godly and normal person that you can find around you. I am down to earth and I don't have airs because I simply don't need it."