'My soft spot for the needy' -----Foluke Daramola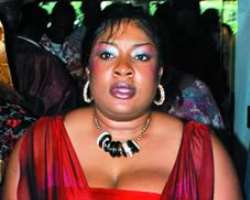 Foluke Daramola is one of the few Crossover actresses you have made a mark in both Yoruba and English movies. She also has not stoped ... there, Foluke is also well known for her roles in various soap operas, even on cable.
She recently premiered he lattest effort, Wakati Eda which she says is yet to be released for public viewing. She spoke with HAZEEZ BALOGUN and MOYOSORE ODEBIYI during the week.
What can you say about the kidnap of Pete Edochie?
Its very sad. But to a large extent, I think we need to watch the society. There is something wrong somewhere. It's not about the kidnap, its way beyond the kidnap. Like I was reading in the paper, he said that they didn't harm him, and they treated him with respect, they were just trying to show the society how they were feeling. I think people out there need to be sensitive to the youths more. I'm not a politician but I'm a person that believes the youths are the future of tomorrow. A hungry man is an angry man, and that is part of why I'm doing fulfilling desires. There are many ways in which you can reach out to people. It might be in little ways but at the end of the day, it would make a whole lot of difference. I believe that there are ways that the government and individuals can work around trying to compensate frustrated youths. Most of them are desperate and they don't care if they die. So we can actually do a lot of things for them and, make them useful to the society and something good will come out of it
Tell us more about your new movie, Wakati Eda and what inspired it.
Well, Wakati Eda is about perseverance of mankind, believing in oneself, diligence and honesty. What really inspired me was the rate at which people nowadays want to make quick money, not getting to do real work. I just thought to myself that I should do something different from the conventional stories that we usually have.
We hardly see premiers like that in Nigeria. Why did you go to such length to premier the movie?
Well, I have produced over nine movies so far, but I have never premiered anyone. I'm a perfectionist, and when you talk about premiers, they are meant to be for people that hardly have time to watch our movies, and they are also for the glamorous people, the politicians and all that. So I wanted to get to them and I decided to. It wasn't like I had so much money to do it, but at least it took about four million from my pocket. But I just wanted something different from what every other person does.
You also promised the launch of a talk show
That was the launch. I also launched it at the premier. I gave wheel chairs to cripples like Abacha, and money to other helpless people. The talk show will not be like a conventional talk show. It's called fulfilling desires. We want to bridge the gap between the average rich man and struggling Nigerian.
Is the programme going to be on the television and when should we be expecting it?
Yes, definitely it will be on television. It will be coming up in the next couple of months.
Does this mean you have a foundation?
It's not a foundation but it is a base for foundations to come. We want to help people that want to start foundations. It's just a way of reaching out to the society, giving back to what the society has given to me. So, it is not a foundation at all.
From the show, we could see that you really care for the less privilege, you even had a cripple band play for you.
Well that has always been part of me, I've not always make it public, but my close friends know, that I have friends among the less priviledge that I gist with. Some blind, some cripple and when they need my assistance, whatever I can give at that point in time, I make it a point of duty to give them, and the people I deal with are not those that beg for alms and I believe that though they are handicapped one way or the other, they still find it in themselves to do something for themselves.
They are not beggars, one of them is a master degree holder, his name is Clement he works at First Bank, the other person teaches. The cripple guy was directing traffic when I met him around Oregun/Opebi link road and that is Abacha. It challenges me when I see people like that despite their challenges, they still find it in their innermost heart to be useful to the society, they are not condescended to just begging, and that's why I relate with them. I don't see any reason for begging.
Now that Wakati Eda has been premiered, when will it hit the streets?
Yes(laughs). well very soon, by October or November this year, its coming out.
Why is it taking that long?
For us to bring it out, we are still going to have another show for the ordinary Nigerian, but it is on that day that we would declare it opened to the public. I want to combine it with the festive period
So what other work are you embarking on other than movie ?
Movie wise, I've decided to do just one movie a year apart from my television serial. Its not out yet,then I just shot about 7episodes, I have Joke Silva, Taiwo Obileye, Yemi Sholade. And then I have, fulfilling desires, another movie.
When will the serial be on air?
Like I said, I have shot 7 episodes already, and its quite capital intensive, but I just don't want to have people coming to act, I want to have the professionals, like I said I'm a perfectionist. That has cost me over four million, so I have to take my time to finish it.
Can you give us a brief history of how you started?
I have been in the industry since about 13 years ago, even before I got into the university. I started with Palace, a soap opera, then I did everyday people, also did some English home movies, I did blood brothers, I did Ibinabo, and several others. When I got admission into the university, I could not combine schooling with acting, so when I graduated from Obafemi Awolowo university I went for my youth service, decided to come back to the industry. ButI didn't want to go back to the English industry because I discovered Icouldn't speak English more than the average English man, and I can speak Yoruba more than the average English man, so I decided to throw a challenge and act Yoruba movies and I also direct and produce most of them.
But don't you believe that the English industry is more lucrative
It depends on the way you look at it, I'm not one person that runs here and there,I take my time and when you take your time on production, you would get the best. Wakati Eda has the standard of any movie any where, and I can take it to any film festival, and that is the way you can make even more money. I don't believe that one makes money more than the other, it just depends on the way you go about it.
Which of your movie is the most challenging
Well, I wont say one is more challenging than the other.. Emi too was challenging because I was eight months pregnant, and I directed and produced it. Ori Ojori was challenging because I was also pregnant and I was producing a job. My most exciting movie was a Cable soap opera, It was the first time I was working with celluloid and I was paid handsomely, and that was my highest paid job for a very long time, it was that movie that got me my first car. Though, I was just new in the movie industry and I had a very nice time
Did your parents actually supported you?
Well I lost my father when I was little, and my mum at the initial stage didn't want to support with the fear that I won't want to further my education. But I showed her that for the fact that I'm an artist, it won't change anything in me and it has not changed anything in me. I'm doing my masters in International law and diplomacy at Ife- so it has not changed anything in me, acting is just part of me.
Would you allow any of your children go into acting?
I would never dictate to my children. But one thing I would always affirm is Education. I'm not going to allow them do anything unless they have at least a first degree. If they do that and they still want to go into act, why not. I would never restrict them.
A lot of people say a lot of negative things about you, especially about your marriage.....
No comment about my marriage.
What will you say is the major problem Nollywood is facing?
The pirates are suppressing our creativity. If you spend so much on what you are doing, you would have the fear of making the money back. When you do a movie of about six million, and it comes out this week, the next week you will find out that its been pirated. Sometimes you will see a movie that is ten-in-one. I think the government should just do something about it, by giving a higher penalty to the pirates. Creativity in Nigeria should not be wasted because we have a lot of talented artiste in Nigeria.