2015: S' EAST POLITICAL LEADERS MEET OVER IGBO PRESIDENCY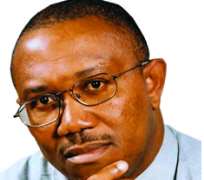 • Obi
South-East political leaders comprising the governors, members of the Federal Executive Council from the South-East met yesterday in Enugu to discuss matters concerning the zone. The leaders refused to tell the reporters what was discussed in the meeting which lasted for about four hours at the Enugu Government House.
Chairman of the South East Governors' forum, Mr. Peter Obi of Anambra State merely told newsmen that they discussed matters affecting the zone. A source however told our reporter that the Igbo leaders looked at the possibility of achieving the Igbo presidency project in 2015.
The meeting which, coming less than 24 hours when the Igbos held a special ceremony to honour Igbo leader Dim Chukwuemeka Odumegwu Ojukwu is believed to have considered the option of presenting a presidential candidate of Igbo extraction.
Senator Uche Chukwumerije who canvassed the position during the Ojukwu's 78th birthday celebration was among Igbo leaders at the meeting. Another issue believed to have featured at the Enugu meeting was that of additional States for the South East Zone. Those who attended the meeting were Governors Sullivan Chime of Enugu State, that of Anambra, Mr. Peter Obi, and Governor Martin Elechi, of Ebonyi State.
Others were Minister of State for Foreign Affairs, Prof. Viola Onwuliri, Minister of Finance, Dr. (Mrs.) Ngozi Okonjo-Iweala, Ministers of Aviation and Health, Mrs. Stella Odua, and Prof. Onyebuchi Chukwu, as well as Minister for Power, Prof. Barth Nnaji.
Also in attendance were the Deputy Speaker of the House of Representatives and and member of Reps from Enugu State, Hon. Ogbuefi Ozomgbachi.