WE'RE LOSING N50BN ANNUALLY TO SUBSTANDARD GOODS- ODUMODU, DG, SON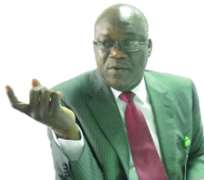 •Odumodu
Listening to Joseph Ikemefuna Odumodu, the director-general of Standards Organization of Nigeria (SON), as he tells the story of why he is passionately at war against sub-standard and counterfeit products in the country does not come across as one of your everyday interview with an agency's chief executive, who simply wants to be heard. As he takes you on the awe inspiring journey through the abyss the country has found itself with virtually all consumer products being culpable, you wonder how things have gotten this bad.
Take one: 'Toyota in Japan has disowned most of their supposed auto spear parts currently in circulation in Nigeria. They say they don't know how we came about them.' Scary, isn't it? Take two: 'There is no single electric stabilizer in the Nigerian market as of now that is of acceptable quality. They are mere extension cables, and I challenge the dealers to come out and prove me wrong.' If you think that is alarming, now hear this: 'If PHCN improves their power supply in the country up to 50 per-cents of what it should be, we are in trouble because a lot of houses will go up in flames because of the use of faked cables in the wiring of houses!'
He tells you 'all that must stop!' Nigerians, he says, must all rise up and join in the battle against the few unpatriotic elements in the society who are benefitting from this cankerworm. In this encounter, Odumodu reveals the real identity of those who are behind the whole mess to include…hold it, a handful of black legs amongst the agency's staffers. 'I find out that I'm no longer able to come to (management) meetings openly and make certain disclosure of what we are going to do, because somebody is going to pass the information to the outside. Some of them are reputed to also become conduit pipes to warehouses and all that.
'It is satanic! It is appalling having to keep such people in the system.' He also talks about the new antics of these rather ingenious counterfeit agents and how the new SON is meeting the challenges. It is quite revealing.
You assumed duty in February this year… nine months down the line, what is your score-card?
I don't want to blow my trumpet. As of today, there is nobody in the country that is in the business of importing or selling, or in Alaba market (in Lagos) who does not know that the landscape has changed. In fact, our next strategy…because when you make a strategy, you cannot think for the people who will react, what we see today is that people are now routing their goods to Warri and Calabar (ports).
Some are shipping through Sokoto and Niger Republic. We are going to meet them. No wahala! We now have reports that people are no longer very disposed to routing their goods trough Lagos. Ask the owners of warehouses in Lagos. They are fretting. Most of the warehouses are in locks. I am sure you see a lot of goods out there (referring to a long chain of impounded containers and truck load of goods lining up the Victoria Onibudo Street, V/Island location of SON's headquarters).
You can go and give your bribe in the ports; once you step out of there, we'll grab you and ask you to tender your papers. We are even using that to check the activities of SON (officials). Because, for example, the laws are clear on SONCAP and all that. So, if you see a document stamped without a SONCAP…and we ask you for it and you fail to produce it, then we can use it to indict our own staff. So, there are lots of revelations. We know that they are also flying containers at night. We are also waiting for them, even at night!
In fact, now I don't know when they remove these containers (out of the ports). This is because if you go to the ports now, containers are being released, but are not being removed from the ports. They don't want to live because they know that once they get to the gates, they have to contend with SON enforcement staff. You see, people can always say 'they give whoever bribe'. I am still looking for these bribe givers and those taking it. Why are the people giving the bribes not showing up to identify who they give.
I have not met one single person who claims to have given something to a SON staff. I have people who came from my town, and I said to them…'my brother….' And they say, 'no, no, no, you will spoil our business.' That's what they say. For me, it's like there is an oath of secrecy about the whole thing because people are not speaking out. So, they talk in the air, and nobody is ready to come forward and substantiate such allegations.
It's people that show us all the warehouses we are sealing; these facilities where they store sub-standard products. Show me somebody who is not doing the right thing and leave me with that information, whether I'll not have the courage to do the right thing. So, people talk about bribery, and if they say the bribe has now come to the office, let them substantiate that. As for me, I am not a bribe taker. I preach against it on TV, radio and everywhere. I have not sent anybody to collect anything on my behalf, and I am looking for that person who has collected…and I know what to do with him or her.
Let's go straight to this point. There are allegations from a section of importers and clearing agents that for every container or truck load of imported goods your men impound on account of suspected sub-standard, you make them to pay N200,000 supposedly for testing…and that such payment is also indicative of an understanding that the N350,000 they paid earlier as refundable deposits is, therefore, forfeited. They say some importers happily comply, since that is a form of guarantee that their products will not fail the test.
Let me say this, that I can't remember ever meeting with any group or persons to strike such a deal. An agent is a service provider to an importer. In principle, and as related to the person who is also fighting, I want to deal with the importer who is the one who puts the money down and brings goods to Nigeria. And the story about where corruption comes from. Like I said earlier, it is neither here nor there. I am not aware of that and I am not prepared to give answers to little talks any more.
Two months ago, you had given importers of non-SONCAP compliant goods up till August 15 to regularize their documents or have such goods impounded. Now that the deadline has expired what is the situation of things?
Let me tell you that I am a very meticulous person. When I came, we tried to implement the law. People shouted: 'Ah, you are making new laws'. Then we sat back. I even remember that we gave May 31 (2011) as a deadline, and they said, 'no, no, you have to explain to us…you have to give us time. Some of the supplied goods have been on sea, so you need to give us time so that they can be cleared'. And I said, okay!
Then let us shift it to August. And we calculated it in a way any ship that was already on the high sea would be able to come and discharge before then. And so, August 15 came. We also capped it with a stakeholders' meeting…and we had opened the market desks then in Alaba. Now if you go to Alaba, you have the SON Help Desks. You want to buy something, you can now ask them, 'what should I buy and how do I buy it. How do I know which is real and which is not? They are all there. But after that day, I announced that 'today, we start the process. The rules will now have to apply strictly'.
Go out there and ask them. Ask the people in the Board of SON; ask the importers, ask the people (traders) in Alaba. They all know that the market has changed! We have sealed about 22 warehouses in the Alaba area. They are mainly electronics shops; electrical and all that. I am sure that there must have been a lot of people there because they are all coming now…and what we are asking you, when we seal, is that you show us the documents with which you brought the products into the country.
So, it is no longer that you enter a safe haven because you have given whatever you gave (bribe) at the port and you pass through the gate. Now, there are many more gates. So, if you want to 'settle', be ready to pay, and pay and pay until you get tired! If you don't like it, then go and do the right thing. The law is clear: get SONCAP, put 'made in' wherever it came from…bring your goods, clear them. I am actually looking forward to the day that someone will come with SONCAP, and will not clear his goods within two hours! If you have SONCAP, if you have your entire papers ready, if you seal your consignment, we sign it up immediately.
We won't even test! What we are now doing is, because we have been accused of 'causing' congestion, we allow you to carry your goods to your warehouse. We will come to your warehouse and pick some samples and then test. Trouble will only start when the result of the test reveals that your product is not in conformity with our standard. Nothing more, nothing less! So, all those ones (containers and truck loads of goods lying outside the street at the SON office in Lekki…some inside the SON wharehouse) are products that are leaving the ports with items like medical equipment, sanitary wares, heavy duty pipes that they use in Oil and Gas installations, everything!
You must have the right documents. If you don't have it, even when you escape into the market, you will meet us there.
What is the fate of the huge pile-up of impounded goods…?
We are waiting for their owners. You know when a container leaves the port; there are certain basic documents you should have. For example, there is a certain document called verifying sheet. It shows that SON has finished its assignment on (your goods). If you have your verifying SONCAP document, you don't have any problem with us. We will only take a sample and let you go. All we require is that you just give us the address of where you are taking your goods, just in case we have an issue to clarify.
How long are you going to keep these containers and trucks…if their owners fail to show up?
We have commenced talks with a land speculator. We want to rent space to put them. We need a huge space for them. In fact we are now negotiating for about 50 acres of land in Ikorodu area. We will fence it, and then it will become a haven for people (importers) who don't want to do the right thing. Let me also say that we don't want to continue burning seized items. The reason is obvious: every time you burn a product, you are in fact burning Nigeria's wealth:
This is because it is money that is used to import these faked and substandard products. And so when you burn, you are invariably burning money. But what we have learnt now is that there are certain products that we can actually recycle. So if for instance somebody brings in aluminum products that do not meet the standard requirement which is 0.4mm; we will seize it and sell to aluminum smelting companies. There are now lots of opportunities that we have that we really don't want to involve in a lot of goods burning again. But when we seize your goods, they remain forfeited.
What do you do with seized items that could not be recycled?
We burn them, but sometimes… I will give you an example of what they call 'energy saving bulbs'. These bulbs are imported in millions into Nigeria. Of course they are not energy saving. They are all sub-standard. And because they burn too frequently, the frequency of use and change is high, and they are all discarded all over the places. But we look at the hazard of throwing mercury into the roadsides… into the gutter, because they all contain mercury.
So, we are just creating health problems for ourselves. You know what happened to lead in Zamfara state. So many people died. We are going to create an epidemic of mercury within metropolis and urban areas, because of the way we use and dispose these so-called energy saving bulbs. So, we need to… you know, it's good for people to make money, but I think we should do it in a judicious way, so that we don't also kill people in the process.
Having said that, let me warn that from now onwards, if you bring in (import) a product that has the potentials to kill somebody, we no longer will stop at merely seizing the products and you forfeiting all that..We will be prosecuting. We have also found out that even though the SON Act does not cover than (prosecution), but Nigeria has laws that prosecutes people who have intentions to kill people… weather wittingly or unwittingly. So, I am actually very excited about that opportunity.
The only thing is that, we now have to work… because we don't have prosecution powers, but the state governments all have those powers. And so, we intend to collaborate with them to make it a huge success. So that if you bring (imports) something… in fact, we are already discussing with the Attorney-General of Lagos state, and I can tell you that I am very excited, because people need to be punished. If you don't punish them they will just think its business as usual. People need to know that things have changed! And they really have changed.
I am aware that residents of this street (Victoria Onibudo) where these seized items are pilled-up are already complaining about the obvious security implication it portends for them….
The residents have all the rights to express this kind of fear but, there is nothing to be afraid of. These containers have always been living amongst us. If they were not here, they would have been in Surulere, or Ilupeju and all the rest. It's just that unfortunately there is a concentration of them here. And I do really sympathize with them on the vehicular movement hardship, but we also have over 70 mobile policemen who are working with us interchanging duties.
We applied to the Inspector General of Police and got them posted to us on regular basin. So they are working with us for the next two weeks, after then, they will release them and we will get a new batch.
And so it's not really a very loose matter, because we have to be moving elsewhere. We have realized that the people we are working with are also very smart, so we have to be smarter. So, it is one of the residents that are helping us to source for a place to relocate the seized goods. We do appreciate the fact that this is a residential area.
Why has it been apparently difficult for the management to relocate the operational office of SONCAP to Apapa, closer to the importers?
Skeletal operations have already started with the SONCAP verification office at Nnewi building (in Apapa). It's not on full scale yet… but I think within the next few weeks… it's all because of internet problem and space constraint. But we now got a place that will minimize that problem. There is not enough space within the ports (area) and we really need adequate space that can accommodate some equipment and all that.
What palliative measures do you have in place to assuage importers who have to come all the way here for SONCAP verification and all that?
None! We don't have any palliative measure in place. It is necessary for the importers to respect Nigeria's laws. Obtain a SONCAP, they should indicate the sender or where the product is made… and so they will not have any need to even know where our office is located. They should just do the right thing and go in peace.
Do you have the capacity to test all imported goods coming into the country?
No, we don't have. No country in the world has full capacity to test all its imported products. What happens is that there are certain things we can test, and there are others that we can't because we don't have the capacity to test them, but capacity is outside we don't do all our testing in SON. There are some private companies that we have arrangements with that help us to test certain products which they have equipments for. So, it's nothing strange.
There are some organizations we are involved with that are also into testing.  In fact there was a time we were testing tires in Ghana. But now, we are doing it here. Some items were even taken to South Africa for testing. But in such cases we allow the importer to take the goods away and then, we do the testing. And even if there are those who may want to play smart, we will wait for your next consignment… and when it comes, we hold you. Even right here within this compound, we are building a laboratory and before December, it will be functional. Today, we can test major electrical and electronics, food products, paints and all that.
We can test paints…and you know there are a lot of elements involved in paints making. If you don't have enough of it, you paint your house blue today, in a short while it begins to turn another color. It is because of certain oxidizing agents that they don't have enough of it. So we test for those critical elements. We are not able, for example, to test bulb now. This is because bulb testing is a very intricate, complex process. It takes time. In fact it takes about 42 days to carry out full testing on bulbs.
You have to carefully observe the intensity performance and then the issue of them… not just safety, but longetivity. You want to test a bulb to know its accelerated longevity. On the average, a bulb should last for at least one year or about 4,000 hours. But averagely, Nigerian bulbs are lasting for less than 10 hours!
Don't you think that some smart importers may take advantage of your lack of capacity to test lightbulbs, to flood the market with them, knowing your handicap?
The internationally recognized bulb testing standard is what we don't have. But we have also created a local testing ability. I will give you an example. Generator: simple generator. That is one funny area that is intriguing. They put KVA, they say 7KVA, but we don't have the equipment to test. So what we do is to take such a generator and connect to equipment and we continue to add more load, until we see it dying off to determine its capacity. Then look at the issue of stabilizers. Not one single stabilizer in the market today is of good standard. I challenge the importers to come out and prove me wrong on this. I gave almost N1million to my people and said, go to the market and buy stabilizers randomly.
They came up with different brands that we tested. When you impute 180volts into the thing, it returns the same thing. They are mere extension cables! Somebody imported a container load of stabilizers that were sub-standard. Very unusual of me, I took him downstairs to the laboratory, and we put the machines on. We impute 180 volts and it returned 180volts! He couldn't talk again. What he did was to go to the market and obtain a sample of what was selling… and took it to China. Of course, the people (in China) made for him what he brought. And unfortunately, most of this people (importers) are my tribesmen.
A lot of them are illiterates who just want to make money, without looking at the quality of what they are bringing to Nigeria. And when they bring in cables of 1.5mm, they indicate 2.5mm. If I put it in my house as 2.5, and it carries the load of 2.5, it will start melting. I took some samples to the laboratory and connect 1.25 on a supposed 2.5mm; the whole thing started melting like candle right before me! And that is what happens to several… let me tell you: If Power Holding Company of Nigeria supplies regular electricity in Nigeria, a lot of houses will go up in flames! This is because a lot of houses are wired with substandard cables. But luckily, these intermittent power outages is helping to cool the system before the next light (power) comes. That is the danger we are facing!
So, back to the generator issue, what we now do (in testing) them: is that, we now buy bulbs from abroad. You know 60 watts, 100watts and all that. So, if you say your own (generator) is 1KVA, when we put ten hundred watts light bulbs, so we start your generator and connect it to those bulbs. So, we continue to add more and more bulbs while recording the output…. As we continue to put more bulbs, you discover the generator's (sound) is changing. By the time you put the seventh (bulb) the thing (generator) has gone off. It goes off because it doesn't have the capacity to carry what you indicated.
That is our own way of testing capacity for now! That is what we do, and it works. So, even though we don't have the laboratory for testing gene capacity for now, we have devised our own ingenious way of testing to ensure that the product is substandard or ok. And one major thing that we must admit here is to solve the bulb testing issue. This is because it affects the average Nigerians, and it will afford the opportunity for people to also judge us. The public need to assess us weather we are performing or not. All we need to do is take one bulb in your house… and be recording how long it takes it to die off. Everybody has to be part of the story.
We can save Nigeria N500 million every year, only on bulbs. I have done the arithmetic over time.
How?
Okay, in your house, just check the capacity of one bulb point… and record how many bulbs you will need to change in that particular point in one year. You will find out that sometime it will be up to 20 or more. Most times they sell this thing at N50 each, which is N1000 per point per year in each house! If you also have gone to buy the real standard bulb that will last 4000 hours that will last you one year, it costs about five hundred and something naira. And it will last for one year!
You will find out that you are actually spending over N500 per unit in a year! And you consider the number of points in one hundred households… and the number of households in Nigeria. In our general estimation, Nigeria is losing over N50billion to faked and substandard products utilization in one year. Spare parts: An auto spare part is another area where these things (faked) are prevalent. Out of this N50 billion, almost N20 billion is coming from that auto spare parts sector alone.
A lot of spare parts, supposedly from Toyota Company are faked. Toyota has said that they don't know anything about them. They don't even know how they came into the country, because they are not Toyota spare parts. So this is a direct loss. I am not talking about other losses like in health hazards! The loss of lives and the losses of opportunities by the local manufacturers for not being able to supply his own goods because of the preponderance of substandard products to Nigeria is another issue.